You probably already know that keywords are important for SEO, but what do we really mean when we talk about SEO keywords? How can you find the right keywords for your website and, most importantly, how to use them in your content and maximize your SEO?
Difference between SEO and keywords?
SEO means "search engine optimization." It is the process of getting traffic from the "free", "organic", "editorial" or "natural" search results in search engines. A keyword, in the context of search engine optimization, is a specific word or phrase that describes the content of a web page.
What are the SEO keywords?
Let's start with a definition. SEO keywords are words or phrases (search terms) that people use when they search for information through a search engine.
By adding these keywords to your content, you increase your chances of appearing in the search results of those terms.
SEO keywords make it easier for search engines to understand the content of their content and help users find the information they need.
Why keywords Are Important For SEO?
As you may have guessed, keywords are very important for SEO.
Without using the correct SEO keywords in your content, search engines have a hard time understanding the meaning of your content. And it decreases your chances of getting organic traffic to your website.
The way search engines work is by combining user search queries with the pages available in their index.
During the crawling and indexing phase, search engine crawlers visit a web page. They extract the necessary information and add it to their index. They use this information later during the "matching" process (also known as the ranking process).
Some of the information extracted is the keywords with which a web page is associated.
If during this process, your site is associated with the wrong keywords, you will not be able to appear high in the results of keywords important to your site.
Let me give you an example to understand this better.
Let's say you want to rank for [electric bicycles]. Create a page and display your products (product name, product images, etc.).
Unless you mention on the page that they are electric, Google will probably associate your page with bicycles and that is not what you want.
What you should do is find out what keywords people use as search terms when they search for electric bicycles and make sure those keywords are part of their content.
What Are The Types of Keywords In SEO
Keywords are classified into two categories: head keywords and long-tail keywords.
The head keywords (also known as seed keywords) generally consist of one or two words and have a high search volume.
Long-tail keywords consist of more words, have less search volume compared to the main keywords, but account for 70% of all searches.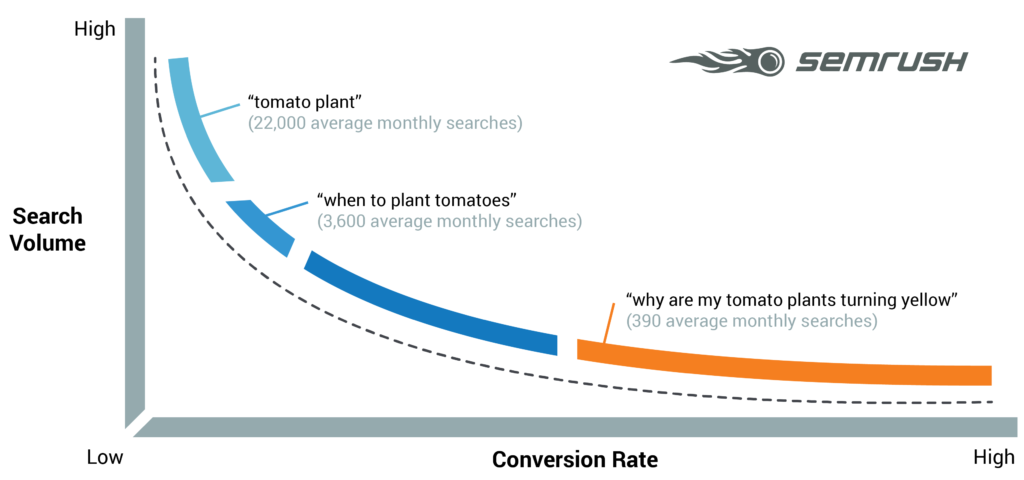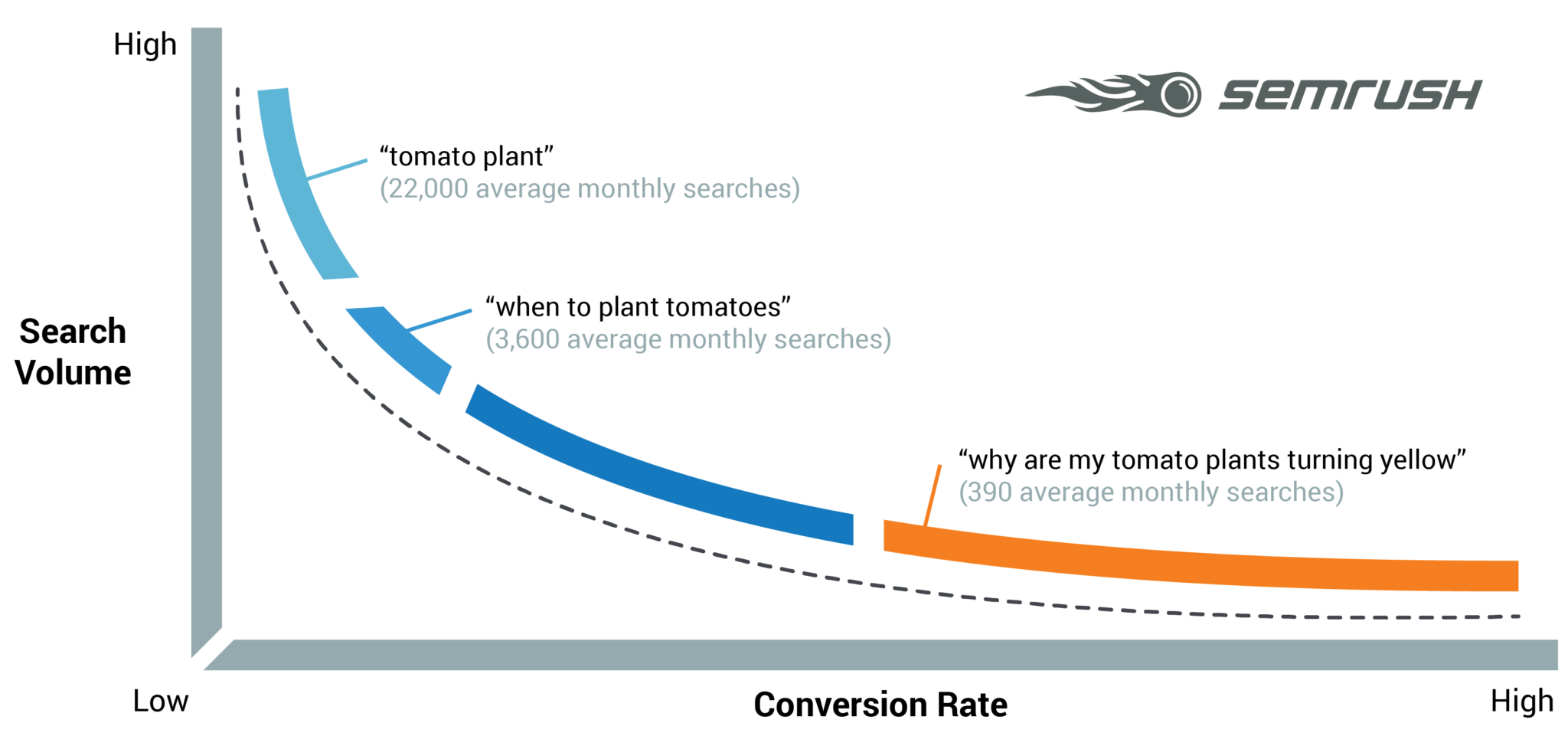 What is important to understand at this point is that the head keywords may have more search volume, but they are also highly competitive.
This means that thousands of sites compete for one of the main SERPS positions and makes it almost impossible to rank new sites (or small businesses) under these terms.
The solution is to focus on long-tail keywords.
They have less search volume, but with the correct SEO plan, it is possible to rank in the top positions of Google and get organic traffic directed to your site.
How To Find Best SEO Keywords For Free
Let's see how to choose the "right" SEO keywords to use in your content.
This process called in SEO keyword research.
Step 1: Decide 'Search Terms' 
Your first step is to spend some time thinking about the following:
What search words or phrases people can use in search engines to find you
What words best describe your products or services?
What words best describe your niche?
The result of the previous exercise should be a list of phrases that we will use to transform into a list of keywords in the next step.
Step 2: Create a Keyword List
To create a list of keywords, it is necessary to take the previously created list and associate it with the actual keywords that people type in the search box, that is, SEO keywords.
To do this, we need the help of keyword research tools. There are several tools that you can use, but my recommended tools are Google Keyword Planner (Free) and SEMRUSH (paid).
Google Keyword Planner
Google Keyword Planner is part of Google Ads and Google offers it to Google Ads customers for free.
However, it is an excellent keyword research tool and you can use it to find your SEO keywords.
Go to Google Ads and create an account. Follow the steps to create a campaign draft so that the system allows you to access the Keyword Planner.
After completing the campaign draft, select TOOLS> KEYWORD PLANNING.


Click FIND NEW KEYWORDS
For example, let's say you are a dog trainer who sells an online course that teaches people how to train their dogs.
If you enter the relevant keywords in the keyword planner, a list of keyword ideas that match the selected topics will be displayed.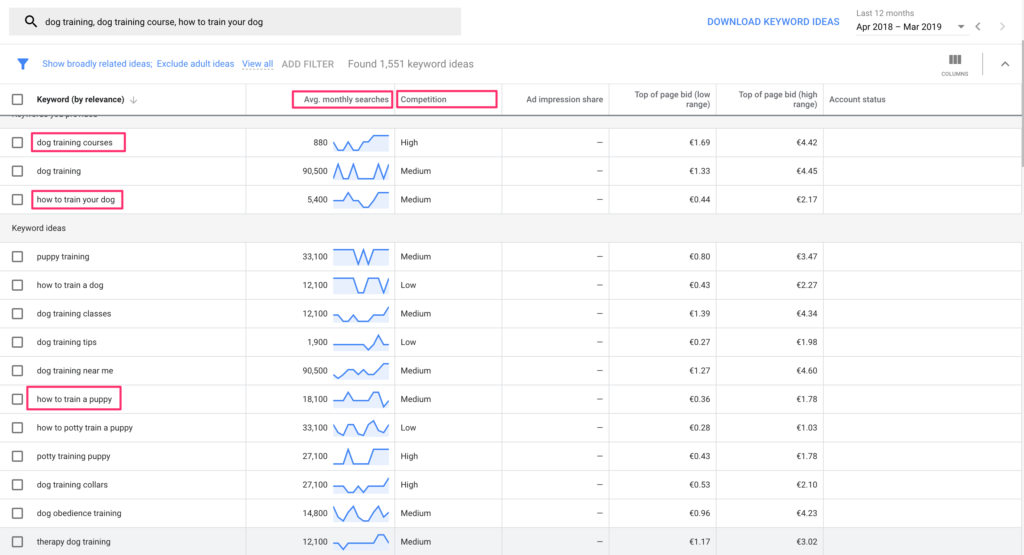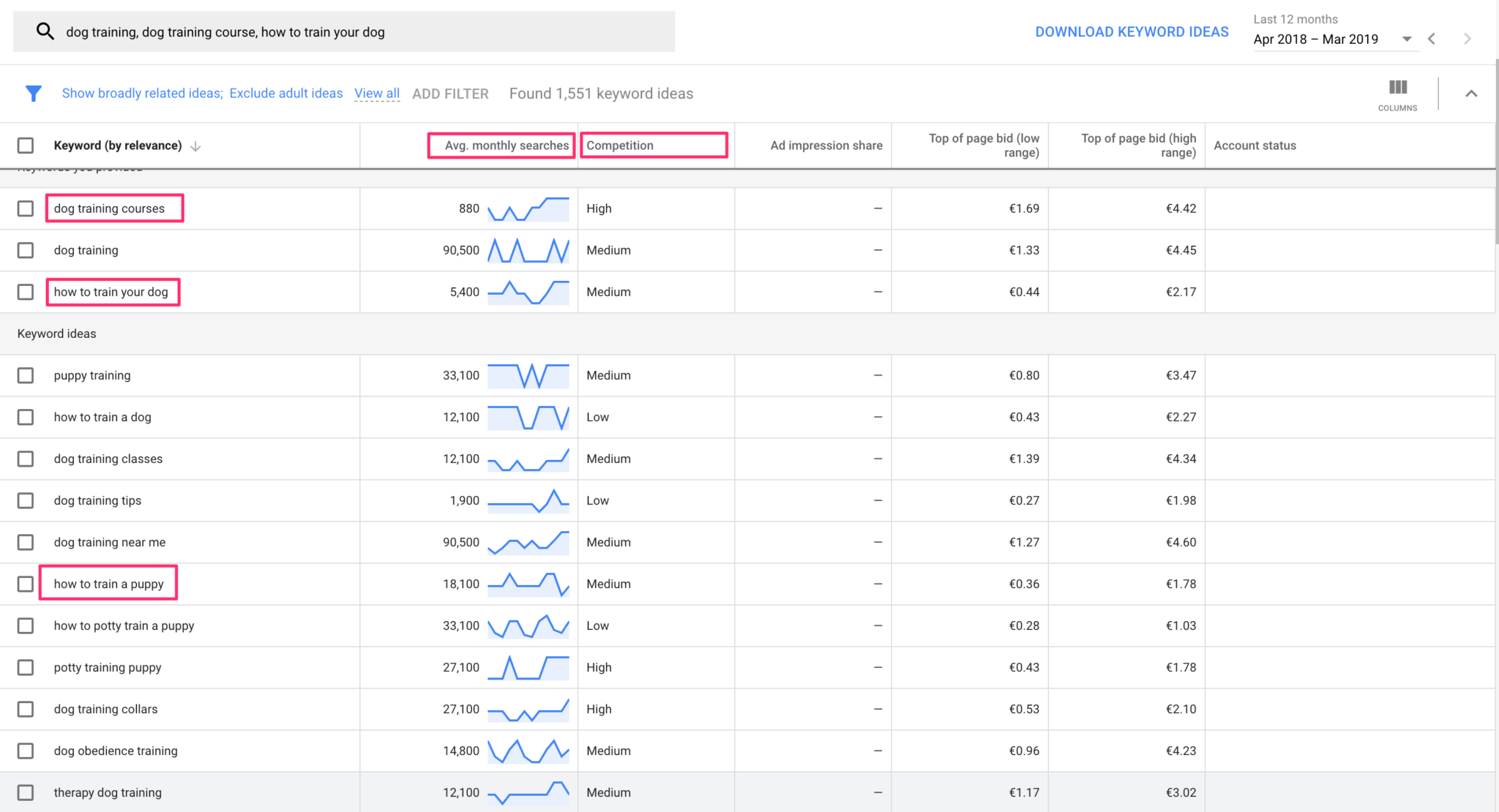 Note that, in addition to the keywords, the tool has some more columns.
The "Average monthly searches" shows how many searches are conducted on Google per month for that term, and "Competition" gives you an idea of ​​how competitive a keyword is.
By "competitive", we mean how many people are bidding to advertise that keyword in Google Ads.
Keep in mind that a keyword planner is a tool for Google PPC ads, not for SEO search results.
Select some of the keywords that are highly relevant to your site and products, "head" and "long tail" keywords, add them to a spreadsheet and continue with the next step.
Step 3: Find Semantic SEO keywords
The next step is to find keywords related to the target keywords. These keywords are known as semantic keywords or LSI keywords.
A semantic keyword is a keyword that is strongly related to another keyword.
The reason you want to do this is that Google no longer ranked pages that target individual keywords, but is more subject-oriented.
Therefore, finding LSI keywords for your main keywords and including them in your content helps Google better understand your content and this translates into a higher ranking.
The best way to find LSI keywords is to use the LSI keyword generator and Google search.
LSI keyword generator
Go to LSI Graph and your head keywords and click search and dd them in a second column in your spreadsheet.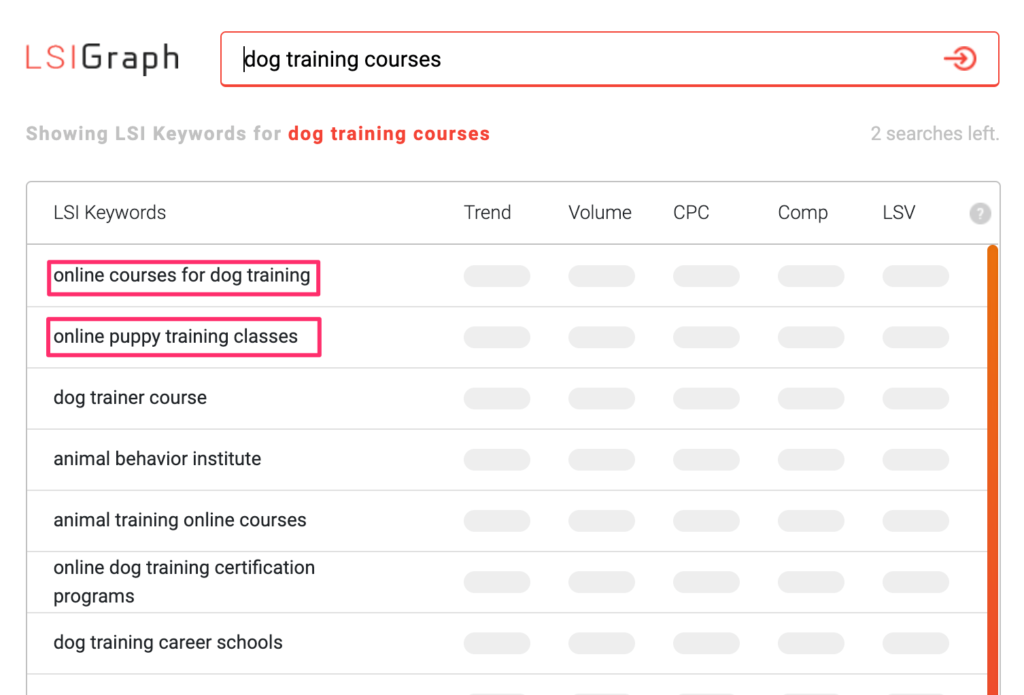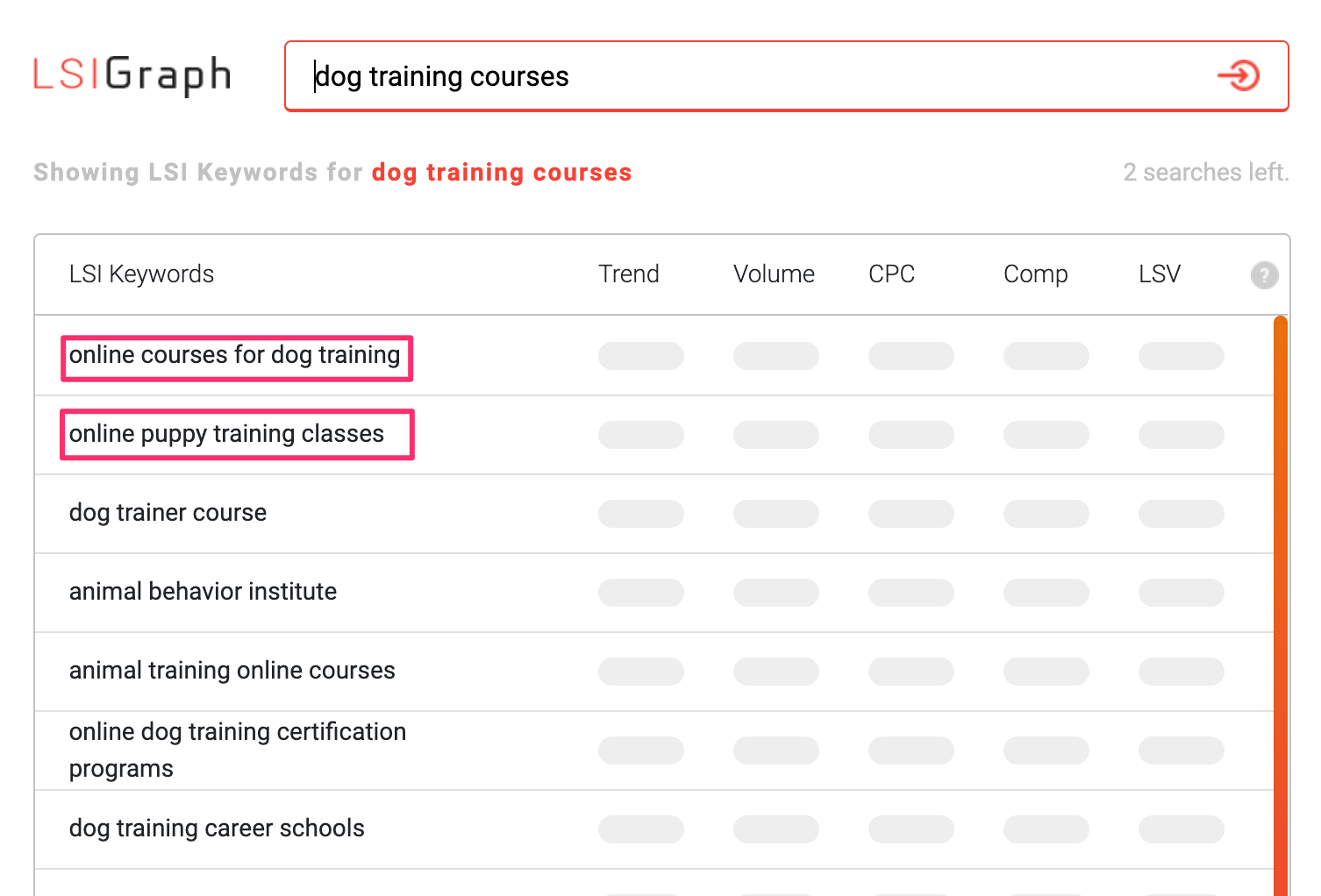 Google search
When you search for a keyword on Google, there are two ways to find out what Google considers keywords related to a particular search term.
The first is to look at the "People also ask" section.

And the second is the "Research related to …" section.


SEMRUSH
SEMRUSH is my favorite keyword research tool.
Among many other useful resources, it has two very powerful tools for keyword research.
The first is the "Magic Keyword Tool" and the second is the "Search for topics".


With SEMRUSH, you don't have to go through the process of creating an account with Google Keyword Planner or accessing LSIGraph and Google Search to find related keywords.
Everything is done in SEMRUSH.
Keyword magic tool
The first step is to create an account (there is a free 7-day trial).
Then select the KEYWORD MAGIC TOOL in KEYWORD ANALYTICS.
Enter your head keyword and click SEARCH.
SEMRUSH will group the related keywords.
Sort keywords by volume and KD (keyword difficulty). Unlike Google Keyword Planner, KD refers to the difficulty in RANK for a specific keyword in Google.
A very useful metric, because what you want is to choose the correct SEO keywords, with a higher search volume and lower KD scores.
Topic Research
Do you remember what I mentioned earlier, that Google now ranks sites according to the topic and not just keywords?
The topic search tool will help you find long-tail keywords related to a topic.
Click TOPICS SEARCH on the left menu and enter your head keyword.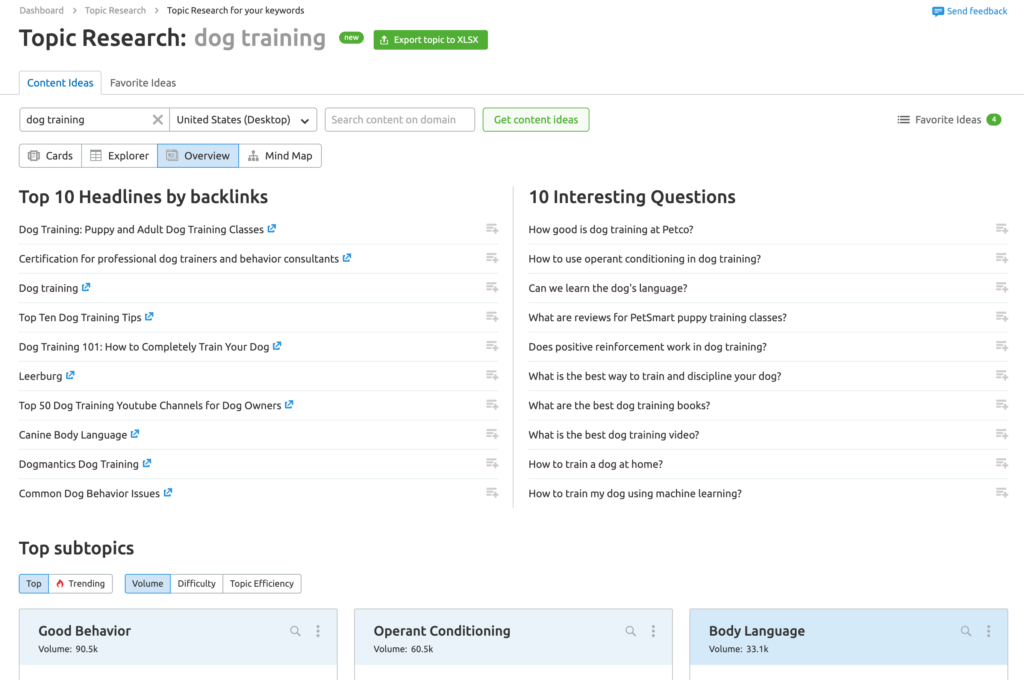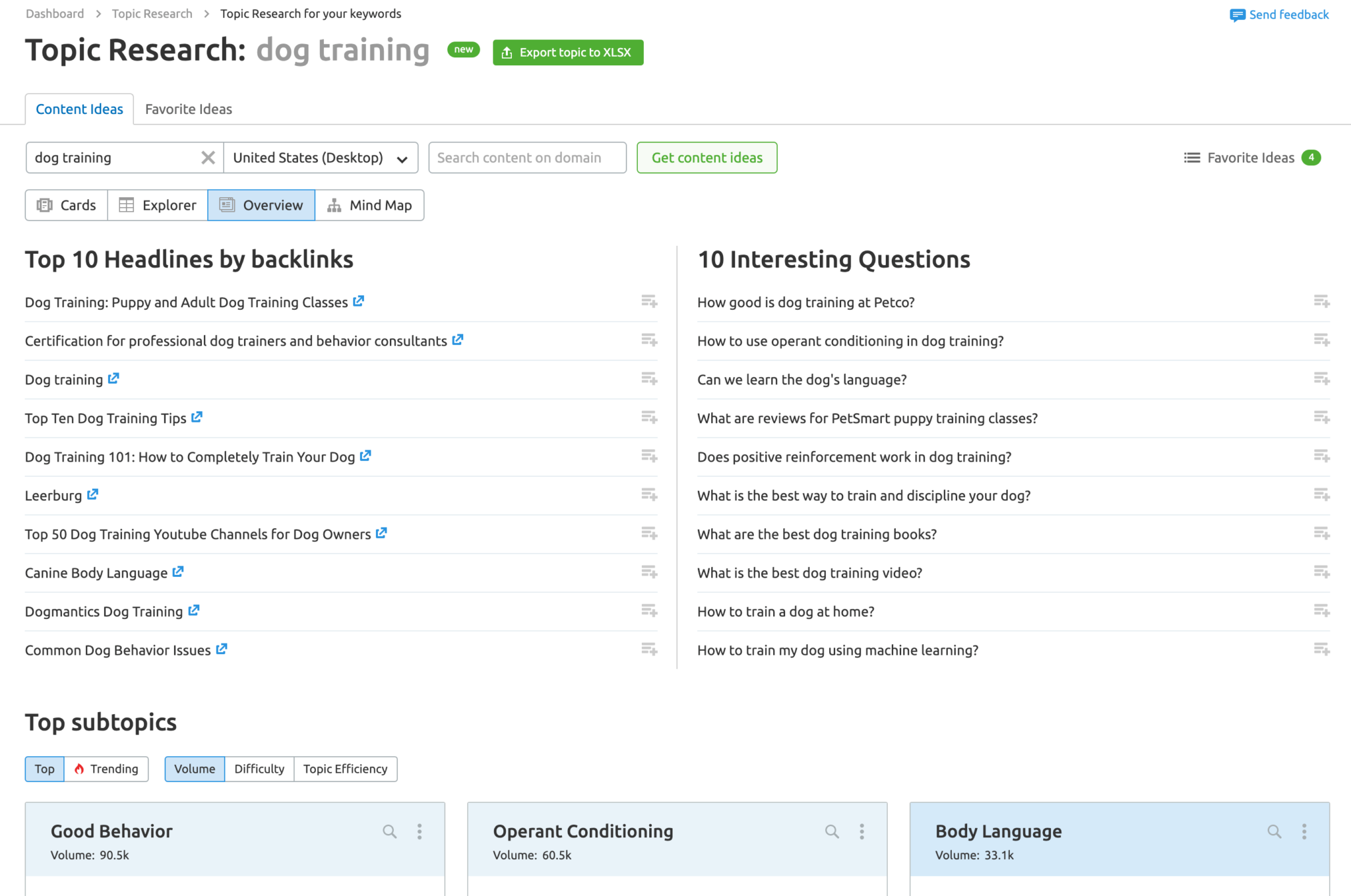 What you see on the right (in Interesting Questions) are questions related to your niche. It is similar to "People also ask," but it is more complete as it includes questions from various sources.
How can you take advantage of this?
These questions can help you create TOPIC RELEVANCE, which is what you want if your goal is to get a higher ranking on Google.
How can you do this in practice? Optimize your homepage for your main keywords and create content (through a blog) aimed at each of the questions (which, in essence, are long-tail keywords).
Make sure that, within your blogs, you are linked to your main pages.
HOW TO USE SEO KEYWORDS IN BLOG POST
Doing good keyword research and having a keyword list is not enough.
To benefit from this process, you must know how to use these keywords in your content.
This is known as SEO content, which is a subset of on-page SEO.
Here are some tips to follow:
Optimize your homepage for your main keyword
The SEO of the homepage is very important. Search engines begin the crawling process on the homepage and follow the links from there.
When it comes to keyword optimization, you should optimize your homepage for your main head keywords (even if your difficulty is very high).
The reason is that you want to make it clear to crawlers and users what your site is.
Create a separate page for each of your main keywords
Let's say your company sells services, you need to create a page for each of your services, each page to be optimized for the main keyword.
Create pieces of content to target long-tail keywords
Once you have completed your main keywords, it is time to harness the power of blogs and start creating content directed by long-tail keywords.
You can use the topic search results to decide which keywords you want to target in your blog posts.
Optimize your content with SEO keywords
When writing content for your pages and blog posts, you must ensure that:
Use keywords in the URL: include the target keyword in the URL of the page.
Use keywords in the page title: include your target keyword in the page title.
Use keywords in the H1 tag: include the target keyword (or close variations) is the h1 tag
Use long-tail keywords as subtitles (h2, h3): include related keywords in your subtitles
Use LSI keywords in your content; Include LSI keywords in your copy.
The following guides will help you understand this better:
SEO keywords: Conculsion
It is important to choose the right keywords for your website.
When choosing keywords, try to think outside the box and consider all possible search phrases that people can use in search engines to find their products.
Add these keywords to a spreadsheet and take advantage of the data provided by the different keyword tools to expand your keyword list as much as possible.
Group your keywords into two categories. First, the keywords that will be used on the home page and the main pages of the site, and then, the keywords that will be used on your blog.
Follow the SEO tips on the page described above to intelligently include keywords in your content, but always pay special attention to the quality of the content.
Publish content related to the target topics to create relevance in the content and view its ranking and increase traffic.