In our modern world, social media is now one of the first places where many customers interact with businesses. But what's really interesting to note is that social media now has a huge influence on consumer search behavior as well, and some platforms are becoming real search engines.
In fact, 54% of social media users researched new brands and their products specifically through a social platform: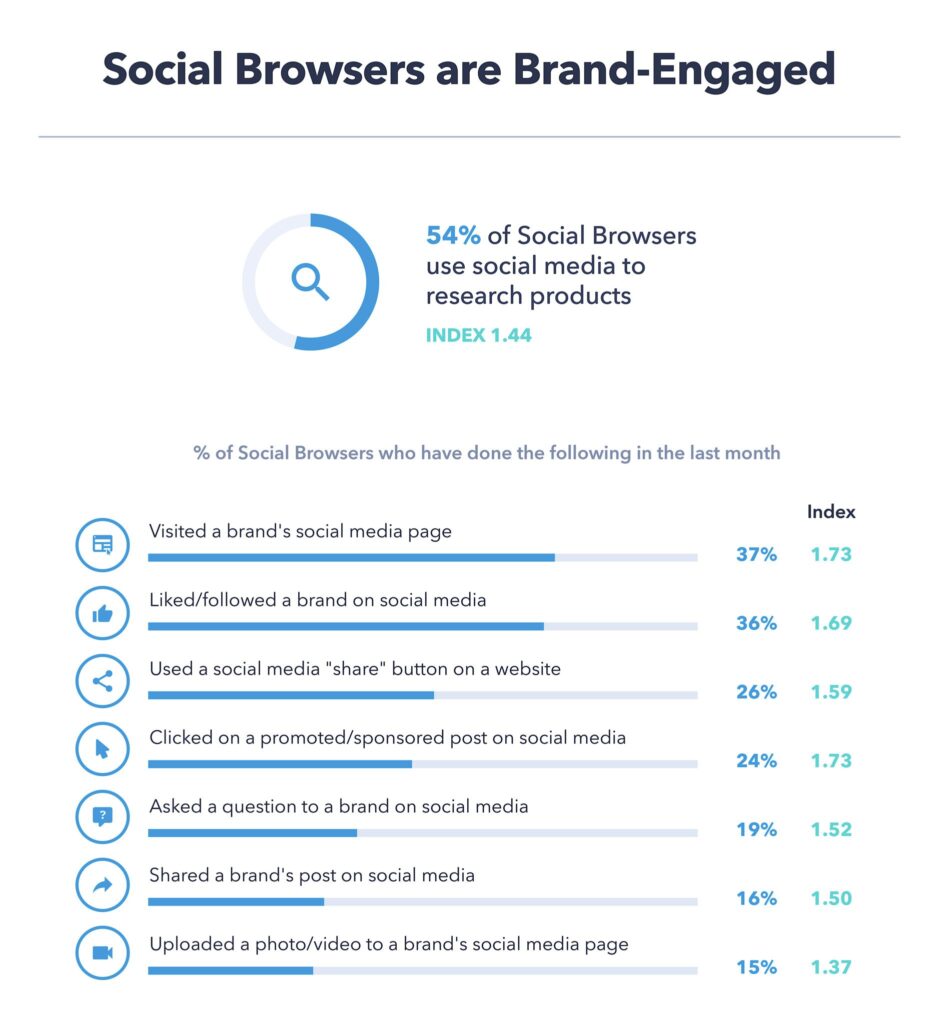 Now, all good marketers know that social media plays an incredibly important role in the marketing mix for both B2B and B2C organizations. But many don't see the connection between social media and SEO.
To be clear here, social media is not a straightforward SEO hack. However, in terms of the influence of social media on search engine optimization, the lines are still a bit confusing. In 2010, Google and Bing stated that social signals were being used to determine SERP rankings. However, Twitter temporarily blocked Google's access in 2014, sparking a backlash that resulted in Google's announcement that it was changing its policy on social signals.
But even though Google has claimed that social media doesn't directly affect SEO, it still appears to have some effect on search engine ranking factors.
Let's look at the ways that social media has proven to be important for search engine optimization.
Social Media's Significance for SEO
First, social media influences SEO factors because it can give your business more credibility and visibility, two of the most important ranking signs Google uses. One of the most basic SEO rules is to increase the number of internal and external links, as well as brand mentions and keywords, in order to increase visibility.
The more active your company's social media platforms, the greater your web presence, and these accounts will often show up in the SERPs.
Another important SEO factor that social media can influence is intent.
Search engines are constantly trying to provide their users with the most relevant results, such as giving an answer to a question. Social media posts (mostly videos) can be used for these results. For example, when you search for "How to clean roof gutters," the top results are all YouTube videos, thanks to the Google and YouTube partnership: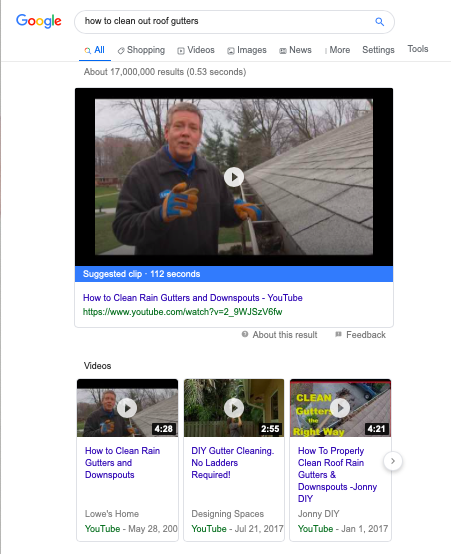 So if a social media post can clearly answer the researcher's question or contains similar keyword phrases, it can appear as a search result.
It's also interesting to note that although Google doesn't use social media as a ranking factor, Bing still does. Google certainly has the largest market share in terms of online search engines, but keep in mind that about 25% of all queries in 2018 were handled by Microsoft's service.
Clearly, social media comes into play in one form or another, and marketers need to pay attention and incorporate social media tactics into their SEO strategies. While using social media cannot guarantee your business a prominent position in the SERPs, it can help in many ways.
Let's take a look at some viable strategies your marketing team should use to influence their SEO with social media.
Use Social Media to Promote Relevant Links
Although social media does not currently qualify as an external do-follow link on Google, sharing content on the site through your social accounts can increase visibility. Additionally, people often share content that they find interesting or relevant to their own followers, which can help improve your company's credibility and online social presence while reaching a wider audience.
However, it appears that social engagement plays a role in Google's ranking factors. According to Moz's latest report, social signals (including Facebook and Twitter engagement rates) accounted for 3.47% of Google's ranking factors. Although this number is very small, it is interesting to note that Google recognizes the importance of social engagement and takes it into account when determining search rankings.
Clearly, the type of content you are sharing on your social media certainly matters if you want to increase engagement rates. The reason most people will actively follow a brand or share a post is because they find the content useful, funny, or revealing.
But it is also interesting to note the type of content that people do not want to see in companies on social platforms.
The Sprout Social survey found that 41% of people would unfollow a brand if they did not share information relevant to them, and 30% would unfollow it if they discovered that the content does not necessarily fit the brand's voice:
Filler content can often affect a company's online participation rates. When brands share content that doesn't necessarily resonate with their audience, engagement numbers tend to be quite low.
Some companies mistakenly think that the best way to generate engagement is by sharing content similar to "normal" accounts, such as funny memes, or asking important questions to encourage people to respond in the comments. However, this type of content really has nothing to do with the company's target audience, so it does not generate significant engagement.
Often times, these posts are also the result of the company's attempt to reach its Facebook post share. Instead, your company's social pages should focus on sharing content that generates genuine engagement, because it is directly applicable to your followers.
If you take a look at Trustpilot's Facebook page, you'll see that they often share links directly to the company's blog on topics highly relevant and informative to their audience: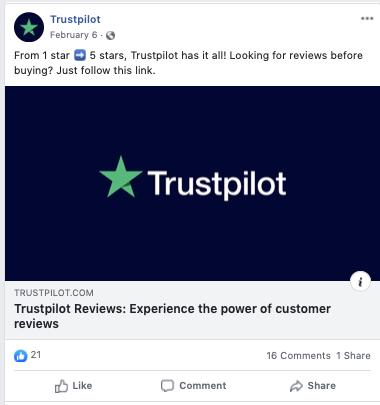 As a result, these posts are heavily engaged and more likely to be shared.
Also, using social platforms to promote internal links is an advantage for everyone. In general, it is more engaged due to relevance and can also help increase organic traffic, as followers share it on their personal pages, generating new traffic when they follow the link.
As always, when it comes to sharing on social platforms, the most important thing to remember is to connect with your audience.
By focusing on the relevance of your content, you can significantly increase your engagement numbers, which in turn will help your overall SEO.
Optimize Your Profiles with Important Information
Remember that social media platforms are becoming their own search engines nowadays. It is now quite common for people to search for a business's contact information on their Facebook or LinkedIn account page. In addition, Google will also use this data to create profiles with relevant information for search queries.
You can see how information from social media comes into play for Paw Commons Pet Resort. Google pulled data from your Facebook account specifically to highlight comments, and a direct link to your account appears directly on your Google profile: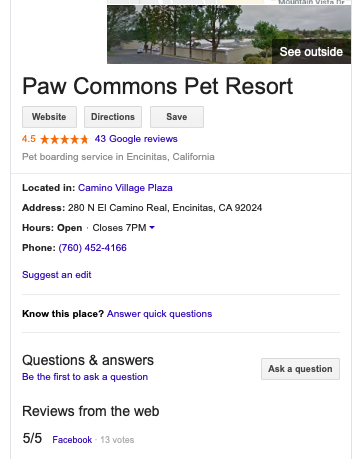 Customer reviews are another important factor in SEO. Moz's report also states that review signals  (including quantity, speed, and diversity) make up 15.44% of the ranking factors.
By posting customer reviews on Facebook and other social platforms, you can work to increase the visibility of the reviews. This not only influences your ranking, it can also help you attract more customers.
The average customer reads at least ten reviews online before feeling like they can trust a business. By making these reviews even easier to find across social channels, you can simultaneously improve trust and drive more conversions.
Marketers need to be well versed in ways to use their social media profiles to supplement the necessary information that Google searches frequently during regular customer inquiries. Facebook and LinkedIn are the main sources of basic contact information, such as office or store address, opening hours, and phone numbers.
Note that this doesn't just apply to your company's social accounts. If people in your company use their personal social profiles to promote their work or are considered leaders in their industry, they should also optimize their profiles.
For example, people can include a link to the company's website in their Twitter and Instagram bios to help increase brand awareness each time they share an idea: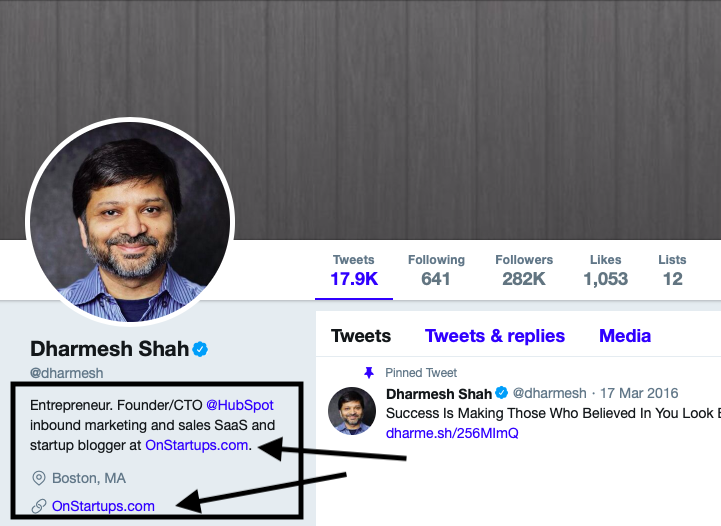 Including these links and information can also be very helpful to Google when users are searching for specific people who work for a company, such as when trying to find the CFO, CMO, or head of HR.
Use Social Channels to Build Awareness
Finally, social media can have a more indirect influence on SEO, creating brand awareness that leads to organic traffic. Many customers are now learning about brands and products directly through social channels, either by searching specifically for them, like using Pinterest to find a piece of furniture or by following accounts of influencers who share them.
It is great for all businesses to diversify their reach by using various social platforms to interact with different segments. Each social channel offers its own style of networking, and the people who use them have different preferences and intentions.
Take a look at the Convince and Convert survey. The age groups for the most popular social platforms vary widely, with LinkedIn, Pinterest, and WhatsApp being the most used by audiences over 35. Snapchat, Instagram, and Twitter, on the other hand, have more users under the age of 35: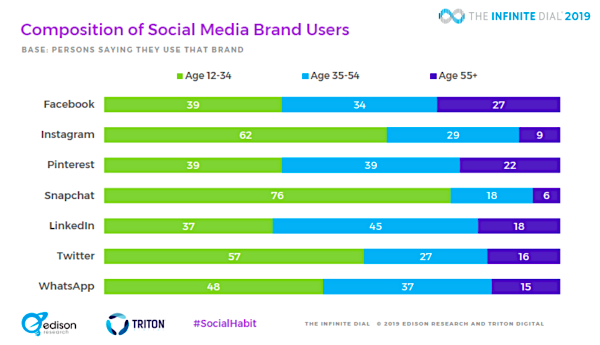 By diversifying their content specifically for each channel, companies can increase their following by connecting with larger audiences. Brands should take advantage of these platforms and see how their content can work into their sales strategy to increase awareness and drive traffic to their website.
Conclusion
While social media may not be a direct SEO ranking factor these days, there is little doubt that things may change as these network platforms become even more important in the sales cycle.
However, there are certainly some research benefits that social media can offer to brands, so marketers need to understand how to capitalize on them to improve their SEO strategies.