Even longer if, like me,  you start off the wrong way, don't know best practices, or don't have access to intense traffic generation methods.
Over the past few years, I have brought three sites to over 100,000 combined pageviews per month.
This is the way to drive traffic to your blog if you have 0 visitors.
Check Your Engine
If you're not getting traffic to your site, it could be because of how you've set it up.
Your best bet is:
Start a self-hosted website like WordPress.org or Bluehost.
Use a fast and simple theme like Astra to set up your site to load fast.
Create the necessary legal pages, including the disclaimer, privacy policy, terms and conditions, and information page.
Use a simple and easy navigation menu that separates your content into large related groups (beginner questions, buying guides, etc.).
Make sure that most of your content is accessible on the home page (via the menu and links to your posts). I like to include the most recent posts in all my categories right on the home page. Also, I add a link so that site visitors (and Google's crawling bots) can quickly access my full list of blog posts with a click or two.
Limit the number of plugins you use on your site because they can slow down your site (my best-performing site has 12 and that's probably too much).
There are plenty of YouTube videos that walk you through each step of setting up a simple and fast website.
Complete this step before trying anything else to drive traffic to your blog.
Use These High-Traffic Sources
Basically, there are two main ways to drive traffic to your blog.
You also can:
Pay for traffic (not recommended)
Earn free organic traffic
The first is fast but expensive. It is also not very sustainable. The second way is free but slow.
I'm talking 8-12 months slow.
But it's also more sustainable in the long run. Therefore, I strongly recommend that you go for organic traffic.
How do you do that?
You write 1,500-2,500 word blog posts on low-competition topics
Use basic SEO by following the free Rank Math plugin tips
Copy blog post structures from sites like GoDownsize.com and BestCornPopper.com
Write Traffic-Magnet Blog Posts
Certain blog posts get more traffic than others.
You'll drive more traffic (and backlinks) by writing blog posts that include original research, statistics, online tools, and helpful resources.
A good example is this blog post on how much boats weigh from GoDownsize.com.
In the post, blogger Morten Storgaard provides a nice table of information on the average weight of different types of boats.
Hassan, the man behind the H-Educate YouTube channel, also runs a website that generates traffic by offering a suite of free SEO and blogging tools on his website, H-Supertools.com.
Here is a screenshot of his organic traffic from Ahrefs: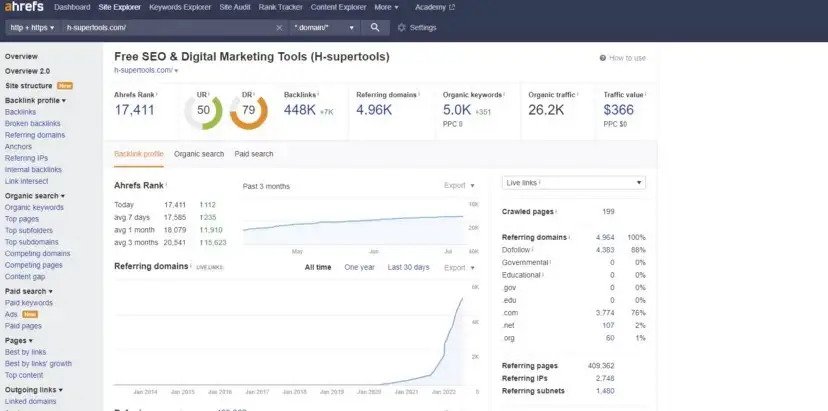 There are many great tools:
AI writer
Keyword research
Backlinks checker
SEO Analyzer
People keep coming back to your site month after month to use these free tools.
Many other sites include calculators, video downloaders, PDF editors, and other traffic-generating resources.
Try These Two Traffic-Triggers
I don't use social media much for blog traffic; however, there are two traffic-boosting platforms that I like.
These two platforms are:
I prefer these two platforms because anything you post stays viable on the site for weeks, months, or even years.
Videos I made years ago can still drive some traffic to my blog posts.
The way I use YouTube the most is to make simple faceless videos with voiceovers to accompany my blog posts.
You can make a short 1-5 minute video sharing information related to your article. Then, post the video and link the YouTube video to the article.
I know people who get a lot of traffic from these two platforms.
Final thoughts
Other ways to drive traffic to your website are to create Facebook groups in your niche, answer questions on forums (Quora, Reddit, Yahoo Answers), and guest post on other blogs.
All of these can work, but I highly recommend that you focus on posting high-quality articles based on low-competition keywords.
Maintain a steady diet of 10-20+ articles published per month.
At the end of 8-12 months, I think you will be very happy.