Trying to understand the difference between WordPress.com and WordPress.org and which is the best place for your website? Despite sharing the same name, they are two different tools with different strengths and weaknesses when making a website. So how can you choose?
Well, that's why I'm here to help in this post.
I will explain the basic difference between WordPress.com and WordPress.org so that you understand what is happening.
WordPress.com vs WordPress.org: The Basic Difference
Before we delve into the comparison, let's first look at how each tool works and the basic differences between the two.
Let's start with WordPress.org.

WordPress.org is the home of the non-profit open-source WordPress content management system. Anyone can go to WordPress.org, download the open-source software for free, and use it to create a website by installing it on their own web host. This is why you will also see WordPress.org called "Self-hosted WordPress". Self-hosted WordPress.org and WordPress.org are exactly the same.
The WordPress.org software is maintained by a large group of contributors. If you have the skills, you can even become a contributor to participate in the open-source project.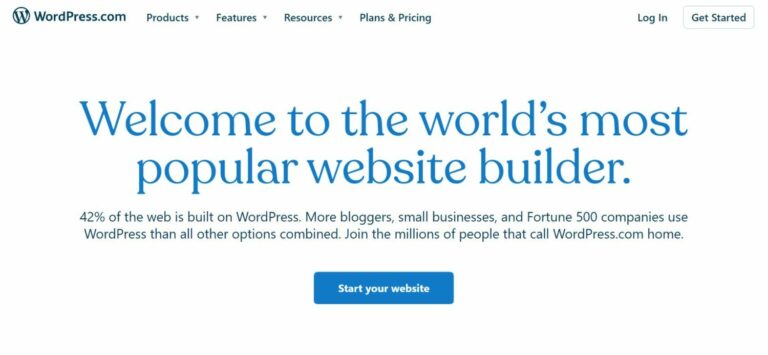 WordPress.com is a specific way to use WordPress.org software from a for-profit company called Automattic. It offers a simplified way to create a website with WordPress.org software, but at the cost of some flexibility. In a way, WordPress.com acts like a hosting service, although it creates its own personalized experience, unlike other hosts. It offers a free plan for simple blogs or websites and paid plans for people who need more flexibility.
WordPress.com is similar to a premium type of WordPress hosting called "Managed WordPress Hosting," which will make more sense as you continue reading this post.
Another way to think about it is:
All WordPress.com sites use WordPress.org software, but not all sites that use WordPress.org software are based on WordPress.com. In fact, most of the sites that use the WordPress.org software are not on WordPress.com. Here's a "wacky" (off-scale) diagram: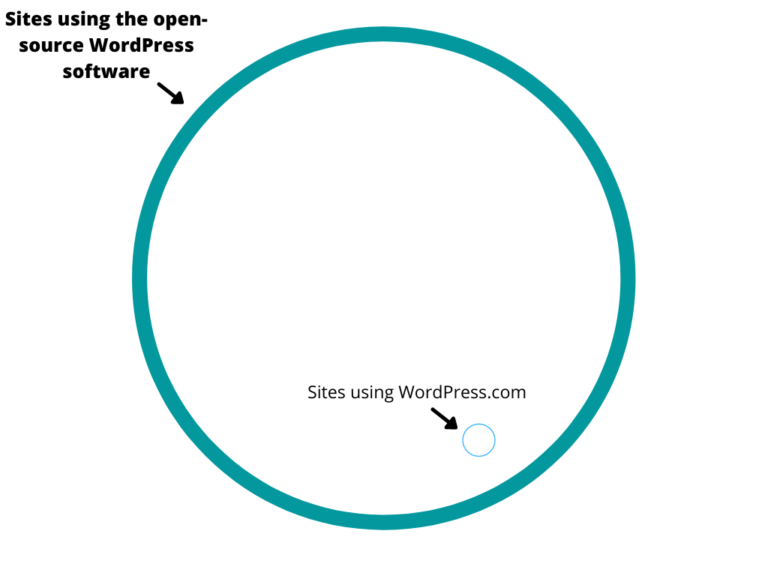 When most people say "WordPress", they mean the open-source software WordPress.org.
Similarly, when you see statistics like "WordPress powers 42% of all websites on the Internet", it refers to all websites that use open-source software WordPress.org, not just WordPress.com websites.
How to Create a Site with WordPress.org vs WordPress.com
Next, we will go through the basic process of creating a website with WordPress.org and WordPress.com, as this will help you better understand the high-level differences.
WordPress.org
Creating a website with WordPress.org is a bit more complex because you need to configure the WordPress software on your own hosting.
First, you will choose a web host. You will then need to install the WordPress software on that host.
While it may sound technical, it actually isn't. Because WordPress is so popular, most web servers offer beginner tools for installing WordPress.
WordPress.com
Creating a website with WordPress.com is very simple: go to WordPress.com and sign up for an account. By following the simple setup wizard, you can have a website up and running in minutes.
First, you will choose a name: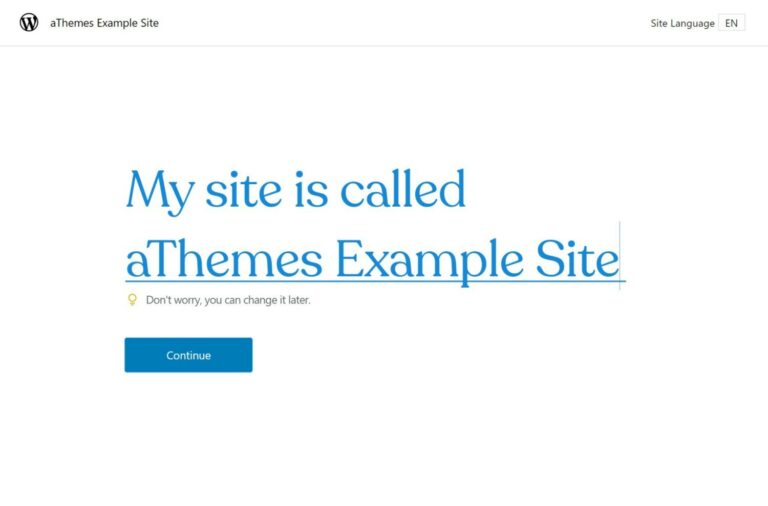 Then you can choose a layout: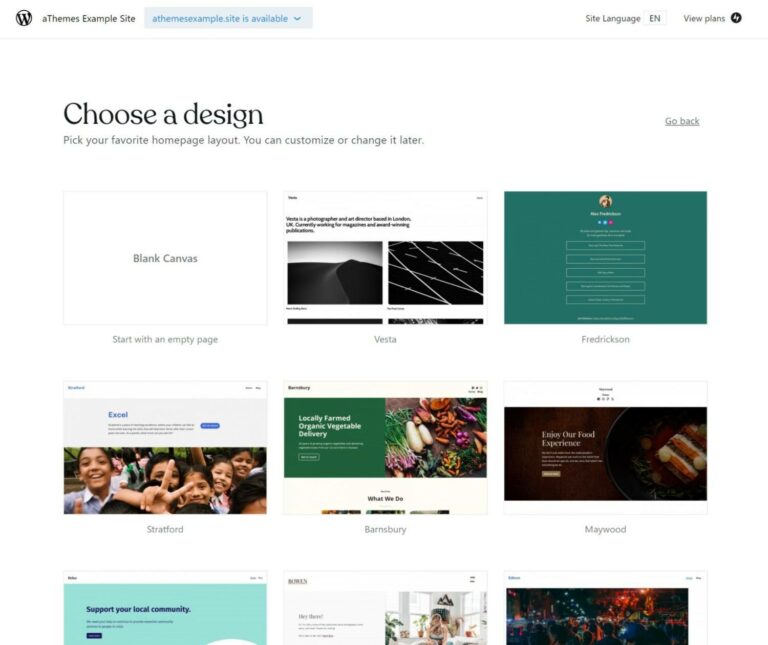 After launching your website, you can manage it from a simple dashboard.
The dashboard is basically the same as the one on WordPress.org but includes modifications in a few areas. You'll also get a good getting started guide to help you set up the important basics: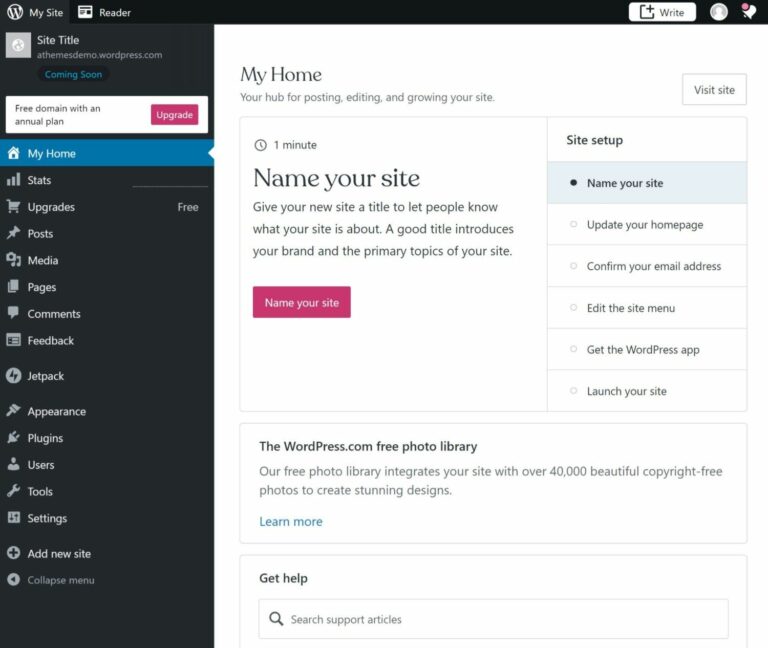 So while WordPress.org is still something a non-technical person can handle, WordPress.com is certainly simpler because it's as easy as registering an account.
WordPress.org vs WordPress.com Pricing
Pricing is difficult to compare between WordPress.com and WordPress.org because there are so many variables.
However, in general WordPress.org offers a cheaper way to access the full flexibility of WordPress software.
Why is it difficult to compare? Well, WordPress.com has fixed prices, while the cost of running a WordPress.org website depends on the hosting you choose.
Cheap WordPress hosting for low traffic sites can only cost ~ $ 5 a month, while premium hosting can easily cost more than $ 30 a month.
See how this compares to the price on WordPress.com. The image below shows the monthly prices on WordPress.com; You will also receive a discount if you pay annually: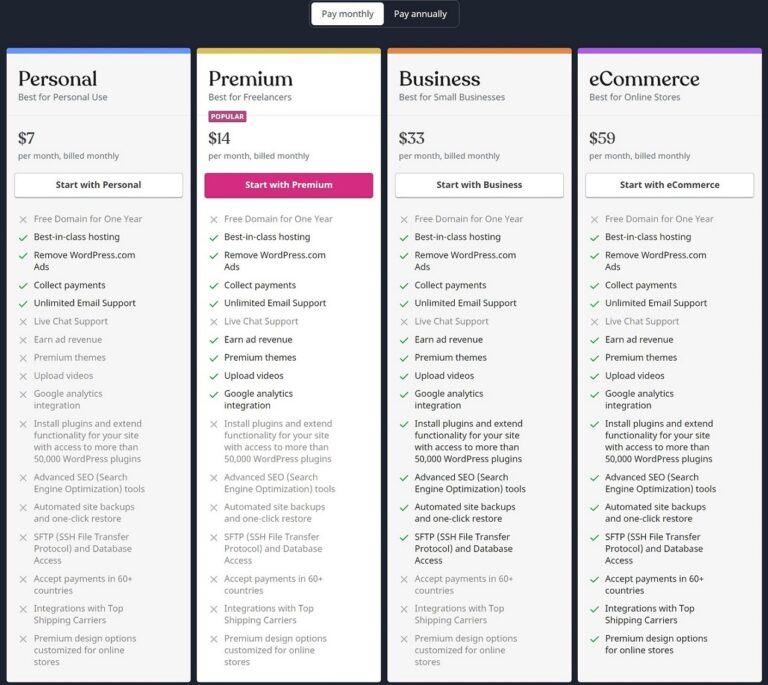 In addition to these paid plans, WordPress.com also offers a limited free plan (though that doesn't make it obvious).
A very important distinction to understand when it comes to pricing is the difference between WordPress.com's free or cheap plans and their business and e-commerce plans.
These plans are radically different. In fact, I would say that they are almost completely different services.
The free plan, the personal plan, and the premium plan are very limited. You do not have access to the full flexibility of the WordPress.org software because you cannot install your own WordPress extensions.
On the other hand, the business and e-commerce plans are much closer to WordPress.org in terms of flexibility. But the downside is that they are more expensive. You'll pay a minimum of $ 30 a month, while you can run a simple WordPress.org website that hosts $ 5 a month.
More on this below.
4 Meaningful Differences between WordPress.com vs WordPress.org
Now that you have a history, let's talk about some of the significant differences that you will find between using WordPress.com and WordPress.org. These are the differences that should shape your decision.
Third-Party Extensions (WordPress Themes and Plugins)
WordPress themes and plugins are some of the best things about using WordPress:
Themes – Control the appearance of your website. I always call them "clothes" on the site.
Plugins – Add new features to your website. These can be small features like a contact form or large features like a full-service ecommerce store, online courses, a drag-and-drop visual page builder, and much more.
With self-hosted WordPress.org software, you can always install any theme or plugin, no matter where it came from.
With WordPress.com, you won't be allowed to install your own plugins and themes unless you have more expensive plans.
On the free and cheap plans, you can't install WordPress plugins or themes, which means you're pretty much limited to basic blogs or simple portfolio sites. This is a huge restriction as it is not really "WordPress" if you cannot install plugins and themes (at least in my opinion).
However, if you pay for the more expensive business or e-commerce plans on WordPress.com, you can install custom themes and plugins, making it almost equal to the flexibility of your own home-hosted WordPress.
I say "almost the same" because there are still some issues, such as the list of banned plugins from WordPress.com and the fact that some plugins are not compatible with the WordPress.com dashboard (especially plugins that affect media/the Media Library, because WordPress.com uses a custom Media Library interface).
Monetization
If you want to monetize your website, there are some major limitations with WordPress.com that you need to understand.
With WordPress.org, there are no limits on how you make money from your website. You can use affiliate links as much as you want, display ads, sell sponsored posts, and much more.
This is not the case with WordPress.com, although the restrictions vary depending on the WordPress.com plan you have. For example, in the free or personal plan, you cannot show ads. You must upgrade to at least the Premium plan to earn advertising revenue from your site.
In terms of other popular monetization strategies like affiliate links and sponsored posts, WordPress.com allows this, but with a few caveats.
For example, with affiliate links, WordPress.com says "We…do not allow sites that exist primarily to drive traffic to affiliate links."
So including some affiliate links in your exclusive content is good. But it is not allowed to create a website specifically to generate income from affiliate links. The same idea applies to sponsored content.
You can see all the WordPress.com restrictions here.
Basically, if your goal is to make money from your website, especially affiliate marketing, you will probably want to go to WordPress.org just to avoid problems or ambiguities.
Security and Maintenance
A great advantage of WordPress.com is that it greatly simplifies the process of creating and managing a WordPress website. I already mentioned this a little bit above when I talked about how you can build a website with both platforms, but that simplicity doesn't stop after launching your site.
With WordPress.com, the WordPress.com team will also take care of maintaining, updating, and securing your website to keep it running. You basically never need to think about these questions – you can focus on creating content and growing your site.
However, with WordPress.org, you are responsible for basic security and maintenance because you host the software yourself on your own web server.
Is this relevant? Not really, it's something most non-technical users can handle. However, there is definitely an additional liability compared to using WordPress.com.
If you want to keep things simple with self-hosted WordPress, you can either use a type of hosting called Managed WordPress Hosting or pay for a WordPress maintenance service, but you'll have to pay more for them, which negates some of the cost savings to use WordPress.org.
Platform Ownership
This won't affect all sites, but it can affect you if you value self-ownership and control.
With WordPress.com, you don't have full self-determination because you must adhere to the WordPress.com Terms of Service (ToS). If you don't follow the ToS, WordPress.com may suspend your website.
For example, in November 2020, WordPress.com suspended a website called The Conservative Treehouse for violations of the Terms of Service.
I'm not trying to debate the morality of WordPress.com in making these kinds of decisions. I'm just saying that WordPress.com has the power to make those kinds of decisions because it's their platform.
With WordPress.org, you control the platform, so no one can shut down your site. If you are the type of person who values ​​having 100% control over your platform, you should go for WordPress.org.
Should You Use WordPress.com or WordPress.org?
Now for the bigger question: what approach should you use to launch a WordPress site?
In general, I think most people will be better off with WordPress.org/self-hosted WordPress. However, I don't think all people do, and there are definitely some people who will do better with WordPress.com.
So let's talk about when you should use each platform.
When You Should Use WordPress.com
I think there are two main reasons to consider WordPress.com.
The first would be if you were a blogger creating a simple hobby blog that you have no plans to monetize or turn into something serious. In that case, I think WordPress.com's free plan is a great choice. I would not recommend it to anyone because it is very limited. But for this specific use case, it's great.
The second reason would be if you are willing to pay a small premium and sacrifice some flexibility in exchange for not having to think about the technical details of your site, such as security, maintenance, etc. In this case, WordPress. com Business plan can be a great place to host a WordPress website.
I think non-technical users can deal with self-hosted WordPress.org, but if the idea of ​​clicking an update button or thinking about security best practices sounds bad to you, then the WordPress.com business plan is an alternative. what it offers You have almost all the flexibility of self-hosted WordPress.org software in a fully automated package; it may cost a bit more.
When You Should Use WordPress.org
Basically, I think if you don't fit the situations I described above, you should probably use WordPress.org.
WordPress.org is not as simple as WordPress.com, but it is definitely something that non-technical users can handle.
In exchange for enduring a slightly longer learning curve, you get the following benefits:
Flexibility: You can unlock the full flexibility of WordPress software. You can install all the plugins, monetize your site however you want, create the content you want, etc.
Control: You control your own website, which is important if you are running a serious business.
Price: For many websites (especially those with low traffic), WordPress.org will be cheaper than WordPress.com for full WordPress (for example, being able to install themes/plugins). Instead of paying $ 30 a month for the WordPress.com business plan, most sites will be totally fine with WordPress.org hosting, which costs around $ 10 a month.
Can You Change from WordPress.com to WordPress.org?
Yes! If you start at WordPress.com but decide you want to move to self-hosted WordPress.org, you can migrate your site and content in the future. It will require some work on your part, but it is not too painful or technical.
That being said, there may be some costs. For example, if you use a WordPress.com subdomain and want to redirect it to your new self-hosted domain, you will need to pay a recurring fee of $ 13/year.
If you already use a custom domain name, you don't have to pay the additional fee. This only applies to the WordPress.com subdomain redirect.
Conclusion
In my opinion, WordPress is the best way to make a website. And the fact that over 42% of all websites on the internet use WordPress means that many other people agree with me.
Whether you use WordPress.com or self-hosted WordPress.org, you can still benefit from WordPress.
Choose the approach that best suits your needs and budget, and you can be sure that your website is set up for success.
Still, have questions about WordPress.com vs WordPress.org? Let us know in the comments!