I'll guess and say that most people wonder what it would be like to start their own online business, even for a few seconds before letting that thought slip into their daily schedule.
If you are reading this, it means that you have finally made the decision to get your ideas out there for the world to see. And you have questions like all of us.
For example, where to start? Or how much money do you need? The answer is: it is neither complicated nor expensive. At least not at first.
And if you're in doubt about whether it will ever be worth the effort, it's time to change your mind. There is room for everyone under the internet sun. The most important thing is to stop overthinking and start doing it. Only then can you reap the rewards of your work.
Let's talk about how you can start an online business with little money: $ 145 or less. We will guide you through the first steps you need to take to become an online professional.
How To Start Limited Budget Online Business
We will divide the process into six steps:
Find your business idea
Validate your idea
Build a website
Display your offer
Promote your online business
Build a blog or start a YouTube channel
For each step in the process, we will let you know how much to expect to pay.
Find Your Business Idea And Mission
You may already know what type of business you want to build. There are people who set their eyes on an idea but don't know how to make it work and where to start.
If you fall into the other category and you're still not sure what your business is about, you should brainstorm and write down everything you can think of. If you are still undecided, you must investigate and assign yourself a mission, a purpose.
First, recognize what type of business is popular and make good money.
It could be:
blogs (if you have writing skills),
website development (if you are a programmer),
product reviews (software, food, clothing, gadgets, etc.),
podcasting/vlogging (if you have experience editing audio and video),
technical writing/copywriting,
online courses (if you are a teacher or specialist in a field).
But those are just a few suggestions. If it's not on this list, get more ideas from other resources. In addition to providing more money-generating businesses, the linked post presents the skill level required for each idea and provides details on income, investments, and resources to help you achieve your goal.
Second, analyze your skills and areas of interest. It makes more sense to go after something you already like and understand than to choose a niche you know nothing about just because it guarantees good money (which is false, nothing guarantees money if you don't work hard).
Last but not least, you can start an online business that stands out for its authenticity. Be original and try to become the problem solver you face every day.
We all live in an imperfect society and we are part of communities that are far from perfect. You can have an innovative idea that will make people's lives easier and end one of your most frequent problems.
Approximate cost: $ 0
Validate The Idea
Now that you have understood the idea and discovered what your mission is, you need to check people's interest in it. Before investing a large amount of money, you must find out how the target audience will receive your business idea.
While some entrepreneurs still love personal interaction (going to a public event related to their business and asking potential clients for feedback), social media is still our primary tool for raising awareness when other options are limited or non-existent.
So what is to be done here? Create a Facebook page for your business and give it a professional look. Describe your idea in detail and tell people how you will solve their problems. You can even post a landing page, video, or prototype (demo), but make sure you don't spend too much on these before validation.
To get a real idea of ​​how people are understanding your idea, you can create Facebook ads with what you want to promote (your product, your services, your goal). You can boost an existing post, create a new ad, or boost your own business page. After the ad expires, you can check engagement and evaluate people's reactions.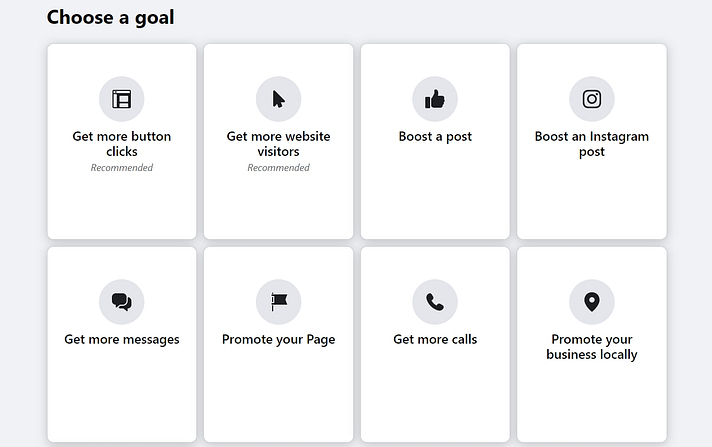 The costs are very low, you decide how long you want the campaign to run. You can choose a higher price to run for a shorter period or a lower price to run for a longer period (for a week, for example).
Each goal comes with a different reach range, so let's take the example of a page promotion:
$ 1 per day offers a range of 894-2,600 per day.
The $ 2 per day option comes with a range of 1,800 to 5,200 per day.
For $ 5 a day, your ad will reach 4,500 to 12,900 a day.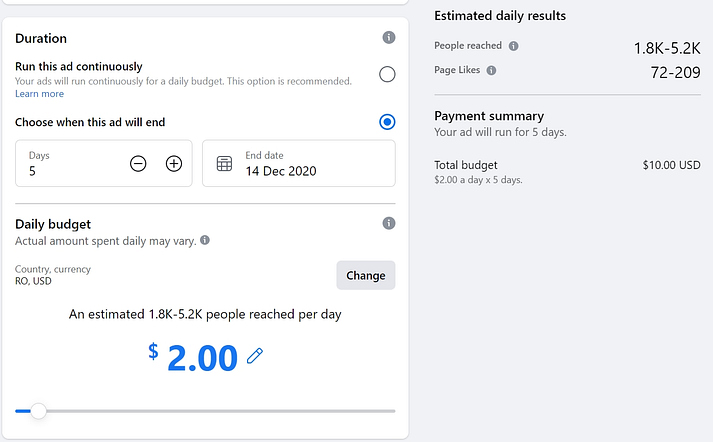 Don't forget to share your idea through your personal social media channels and ask your friends/contacts what they think. Find fan groups or online communities that are on your target and ask for opinions there, too.
Approximate cost: $10-$15
Build A Website For Your Online Business
If the stats look good enough and people are showing the least interest in your offering, you can now think about moving to the next level – building a website. Also known as getting to work hard. This is also the stage where you will spend the most money.
WordPress is the best content management system for creating business websites because it gives you full control over what content you choose to display and how you want to present it. The fact that WordPress is used by more than 39% of all sites in the world only confirms that it is a reliable platform for professionals.
Let's quickly go over the key points you need to follow to create a WordPress site from scratch:
Find a domain name. ~ $ 10 per year
Buy hosting. We recommend Bluehost because it is cheap, popular, and users rate it an 8/10. ~ $ 40 per year
During the hosting setup, you will have the option to install WordPress. Follow the steps of the integration process and you will have your website up and running in seconds.
Choose a free WordPress theme for your design. Bluehost also comes with some suggestions on the integration interface, but the WordPress market is full of themes (free and premium), so don't hesitate to search for your niche on the internet. ~ $ 0 to $ 60 per year
Install free WordPress plugins to extend functionality such as SEO, security, marketing, website performance, etc. to make your site functional.
Customize the interface of your website and publish your own content through posts and pages.
Approximate cost: $ 110 (with a premium theme) or $ 50 (with a free theme)
Make Your Offer Visible On The Site
Okay, the site is live and it looks great. Now, how can you make the most of your offer?
First, do you know who you are trying to connect with? It is very important to identify the group of people who would benefit from your services and to use the language that will speak the most to them.
For example, young people are more likely to engage with overly conversational tone, idioms, and visuals. If you are speaking to agencies or organizations, your tone will be more formal and direct, with less joy.
But no matter what language you use, make sure you clearly state your services. Clearly state what your offer is about and what problem it solves.
Also, be sure to include pictures or other visual aids. Where there is visual content, there is also greater participation.
This is an example of a simple and direct message, with representative animated logos.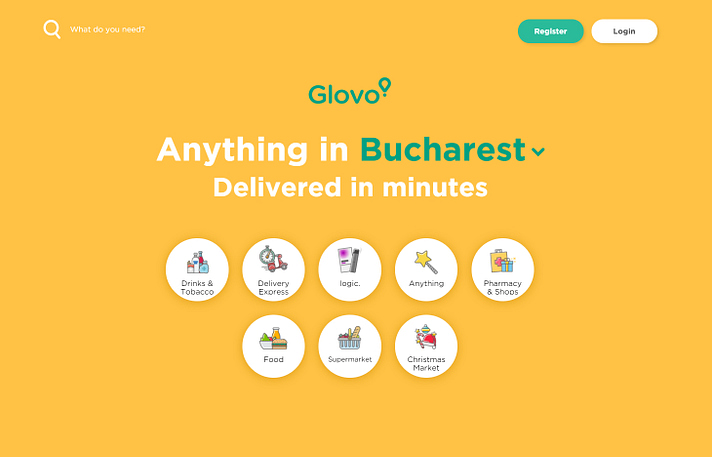 The most essential thing here is the call to action element. Depending on what you offer, it can be an appointment form, content subscription, download button, or order system.
In the Glovo example, you can click on a category and you are taken to a page where you can sort in a few intuitive steps.
Another example of inviting people to join your cause is to present your mission in a nutshell and ask visitors to contribute to your program/project.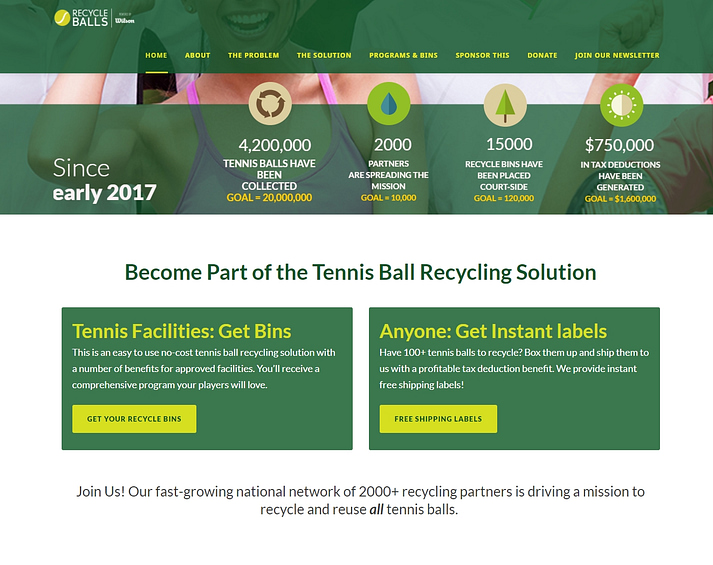 If your business consists of selling products online, be sure to drive visitors to your store page. See how to add an online store to your WordPress site.
Promote Your Online Business
The next step after starting an online business is reaching a wider audience. The first thing you can do is create social media profiles (Facebook, Twitter, Instagram, LinkedIn) and link to the website from there. You can also add your new website to your personal social media profiles and promote it to your contacts.
Once the commercial channels on social media are activated, you can use the advertising method again, making sure to target the website this time. If you can drive visitors to your website, this is a promising entry into your niche.
Select "Get more site visitors" as your goal and personalize your ad.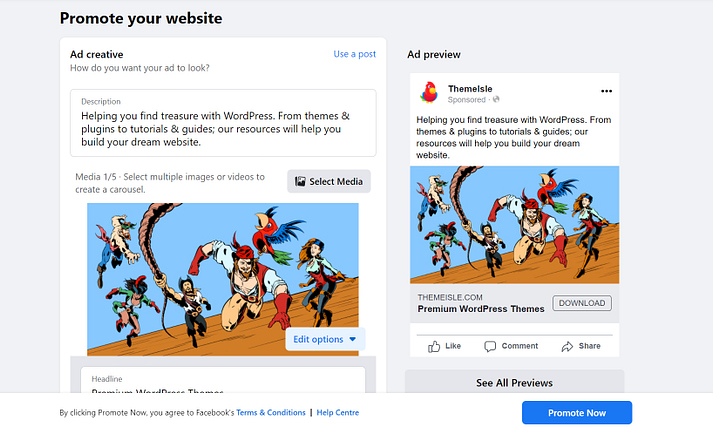 Stay on top of the latest developments in your business niche, keeping in touch with potential customers, and making new contacts. You can join Facebook groups related to your area of ​​interest and chat. Pay attention to the needs, questions, and wishes of members so that you can develop your services according to their contributions.
Approximate cost: $ 20 initially
Start A Blog And A Youtube Channel
Content marketing is one of the most efficient ways to promote the promotion of your services. Posting regularly will not only give you the opportunity to talk about your business, but it will also be your main gateway to search engine optimization. The more you type, the higher your site will appear in search results when people search for services like yours.
But you don't have to write about your products or services in every article, you can broaden your range of topics to get expert advice, tutorials, reviews, and simply provide information on your niche. People will find your content and therefore will know about your site.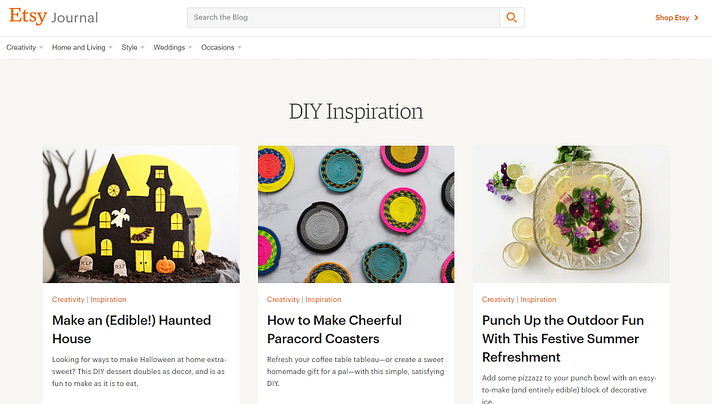 Starting a blog will weigh heavily on your SEO efforts. This will bring you traffic that can eventually turn into conversions.
Another advantage of the blog is that it is a great source of social media content. You can share your posts on social media frequently and your business pages will remain active. The more you post, the more visible your business will be.
It is the same if you start a YouTube channel. Except when your business is primarily based on video content and a YouTube channel is required, you can also use video marketing for other purposes.
For example, if you sell flowers, you can post a video showing how you are making a flower arrangement for Mother's Day. With each video, you will receive new viewers until you really create a community around your company.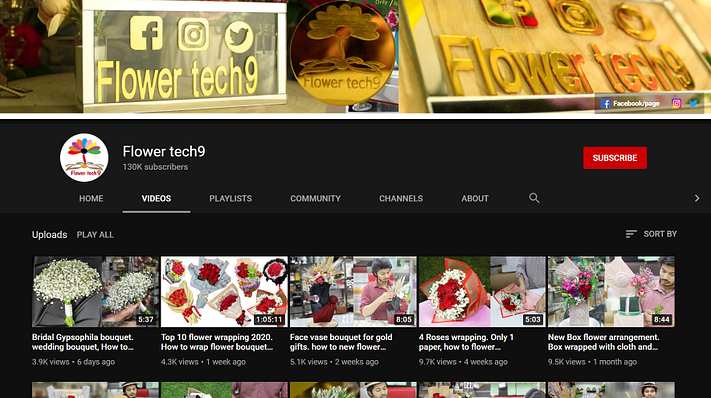 YouTube is like a blog, but for video content. It is the second-largest search engine after Google, which means it will bring exposure, expand your audience, increase brand awareness, and win over customers. Video marketing is the hottest trend right now, so try to make the most of it.
Approximate cost: $ 0
Start An Online Business
The fact is that anyone can start an online business because the Internet is full of resources and the budget is decent for every pocket. The hurdle is really getting down to business and being consistent in delivering high-quality content. And be patient, the results won't come overnight.
You have all the time in the world to be successful, but that can only happen after you start. Let's quickly recap how:
Find a business idea: $0
Validate the idea: $10-$15
Build a website: $110 (with a premium theme) or $50 (with a free theme)
Promote the online business: $20 (initially)
Start a blog and YouTube channel: $0
Total: $80-$145
Now we want to hear from you. Have you launched your online business successfully? Tell us more about your experience and the methods used to start the engine. If you haven't done so already, what's stopping you from doing it?