Trying to decide between WordPress Vs Joomla for your next website? While there are many good reasons to use WordPress, we recognize that WordPress is not the only content management system that helps you build a website.
We'll dive into each content management system and give you a better idea of ​​the pros and cons of each platform.
WordPress Vs Joomla
Both WordPress and Joomla are self-hosted, open-source content management systems that have been around for over 10 years.

Originally launched as a blogging platform in 2003, WordPress is now a multifunctional content management system that controls 40.0% of all sites on the Internet (including much more than just blogs!). In terms of market share for content management systems, WordPress has an even more dominant market share of 40.0%.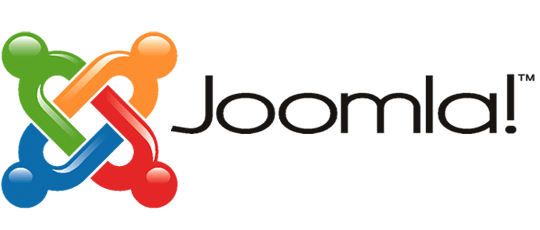 Released in 2005, Joomla is almost as old as WordPress. Behind WordPress, Joomla is the second most popular content management system, powering around 3% of all sites on the Internet and owning 5.4% of the content management system market.
Although Joomla still holds the second-place crown, for now, its content management system market share has decreased since at least 2010 and its overall website market share has decreased for the first time in 2017.
Advantages Of WordPress And Joomla
If you search for WordPress Vs Joomla, you can find many ideological battles between developers on both sides of the spectrum. In general, these are some of the general reasons you will see on each side to explain why one platform is the best:
Advantages of WordPress
Ease of use:: WordPress is generally considered the easiest content management system to use, especially for non-developers.
More suitable for blogs: WordPress includes a distinction between "blog posts" and "static pages" out of the box, while Joomla includes only one type of "article" that you can handle with categories.
Extensibility: WordPress has by far the largest ecosystem of WordPress plugins and themes, making it easy to extend your site with a variety of different features.
Large Support Community: Because WordPress is so popular, it's easy to find help through the huge ecosystem of blogs, Facebook groups, and third-party developers.
Lower Development Costs: This huge community also means that you can usually do development work a bit cheaper.
Joomla Advantages
More advanced user management: Joomla offers a more advanced system for user access controls and user management out of the box.
Flexible for different types of content: Joomla components and modules offer a bit more flexibility to display non-standard content types.
Multilingual support: Joomla has multilingual support built into the core, while WordPress requires you to use a third-party plugin.
Multiple templates: Joomla allows you to use different templates for different pieces of content, whereas you can only use one WordPress theme.
How Can You Extend Your Website With Joomla And WordPress?
Both Joomla and WordPress offer several types of plugins that you can use to extend your website:
Functionality: WordPress calls these plugins, while Joomla calls them extensions.
Aesthetics: WordPress calls these themes, while Joomla calls them templates.
The WordPress extension market is larger in terms of sheer numbers, but both platforms have a wide variety.
How many plugins and themes does WordPress have?
WordPress currently has:
Over 54,000 free plugins in the official WordPress.org plugin directory, plus thousands of premium plugins
5000+ free themes in the official WordPress.org plugin directory, plus thousands of premium themes
How many extensions and Templates does Joomla have?
Joomla currently has:
~ 8,000 extensions listed in the official Joomla extensions library
There is no official Joomla template library, so it is difficult to get a number for the available Joomla templates. However, some basic Google searches reveal a wide range of premium Joomla models.
Security Comparison of WordPress vs Drupal
WordPress security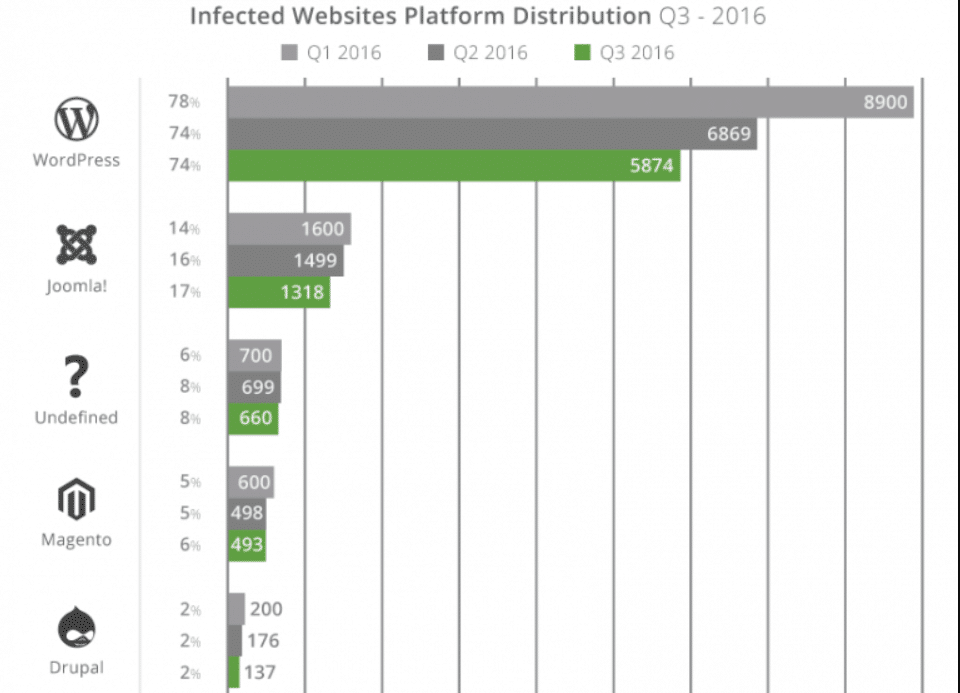 According to the Sucuri Hacked Sites Report – 2016/Q3 or WordPress was responsible for 74% of two hacked sites in Sucuri show, or that it is about 25% higher than its market share of 58.9% ( at the time):
Despite that, WordPress really did better than Joomla according to Sucuri data …
Joomla Security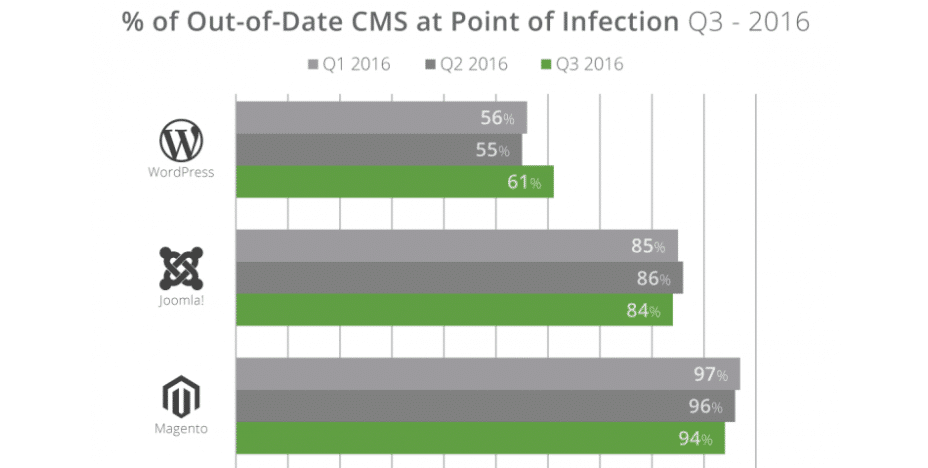 In that same report, Joomla sites accounted for 17% of all hacked sites, which is roughly 132% higher than Joomla's 7.3% market share at the time:
Interestingly, however, 84% of hacked Joomla sites were running outdated software at the time of infection, compared to just 61% of WordPress sites:
WordPress vs Joomla: Which CMS to Choose for Your Website?
Both platforms have their advantages and neither is superior in 100% of situations. Instead, you should ask, "Which platform is best for the specific needs of the website I am building?"
WordPress is probably the best for the vast majority of sites and should be your default choice for most situations because:
It is the easiest content management system to use, especially for non-developers.
You can quickly get started with an attractive website without many hours/development costs
It's easy to find free professional help if you have problems.
But if you are a developer or are willing to hire one, Joomla can give you more flexibility to display different types of content and manage users.
The only thing to consider here is that Joomla's market share is declining, which is not the case for WordPress or Drupal.
While Joomla is still in second place and not going away anytime soon, there is something to be said for choosing a growing content management system when looking to the future.