WordPress content locker plugins can be a very effective tool to make your WordPress blog a success. You can hide some of your content with these plugins and make them available when your users help you with predefined actions.
It can also dramatically increase your social engagement, which will help your site get a good amount of traffic, as well as rank high in search results.
If you create good quality and valuable content on your site, users will be curious and won't be able to resist helping you get another social share or subscription to your email list (depending on the type of action you define).
There are some high-quality WordPress content locker plugins available, but you need to select the best one to be professional and easy to use. In this post, we collected some of the best social content locker plugins that can help you get a lot of traffic from social media sites.
Top WordPress Social Content Locker Plugins
1. Content Locker Pro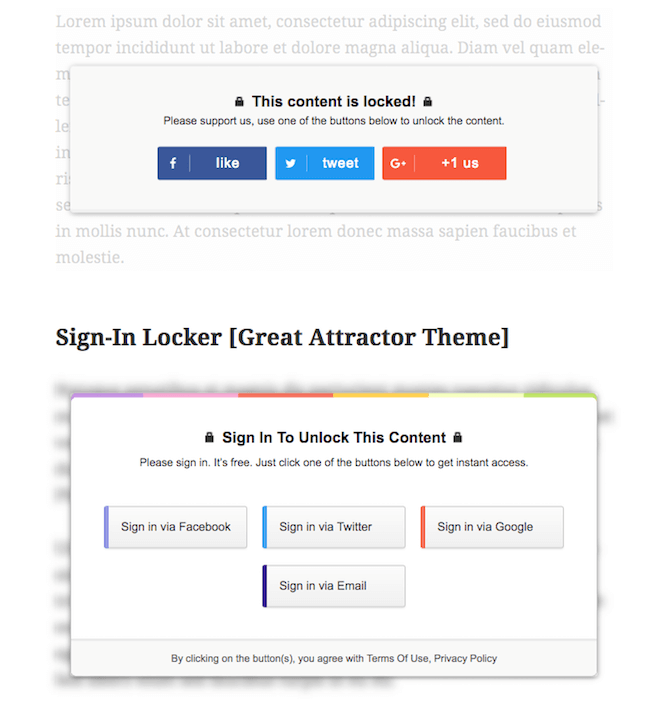 One of the best content locker plugins, this MyThemeShop product can help you get more shares and likes for your content. I am sure that this plugin can increase engagement on your website to a great extent, which is very good for your site's overall SEO.
This content locker plugin works with any WordPress theme, so you can take advantage of this plugin right away. If you have basic SEO knowledge, you will know that engagement, bounce rate, and social share count are some of the most important algorithm parameters, and they are all handled by this plugin very effectively.
When it comes to design, this plugin offers sixteen different design layout options to choose from, and a panel of advanced content design options to fit your needs.
2. Bloom Plugin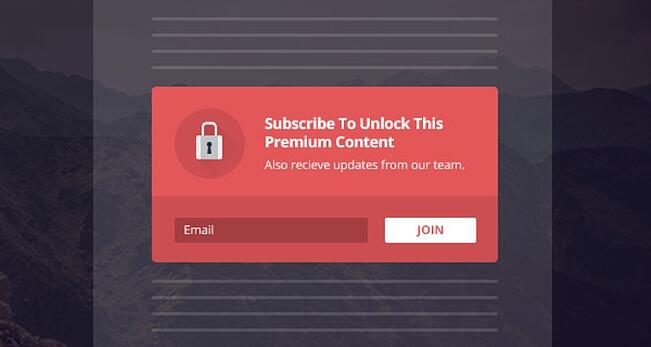 One of the best email opt-in plugins for WordPress, Bloom offers a content locker option, as well as a few other options to grow your email list.
If you are a member of the ElegantThemes club, you will have access to this plugin with over 87 amazing themes including the Divi theme and also the Monarch social sharing plugin.
Bloom is a comprehensive plugin that will help you increase the number of email subscribers by offering a modern and easy to use interface to subscribe to your email list.
3. Social Share & Locker Pro WordPress Plugin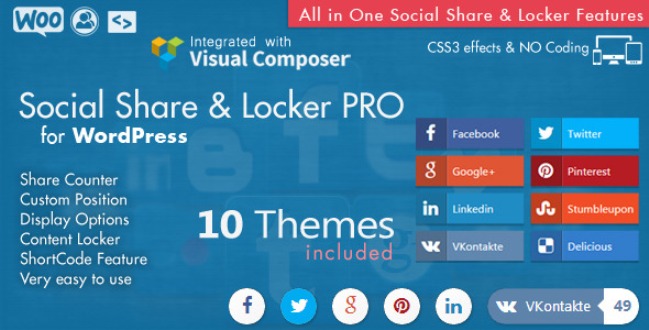 A high quality and highly effective social sharing and content Locker plugin that can play a huge role in the success of your site.
It offers ten amazing and modern social themes with flat icons that you can use on your website. It also offers some location options for the social sharing buttons. For example, you can place it in the sidebar, above and below content, popup, in images, lock content, and more.
Regarding the content locker feature, it offers eight different themes.
4. Opt-In Content Locker for WordPress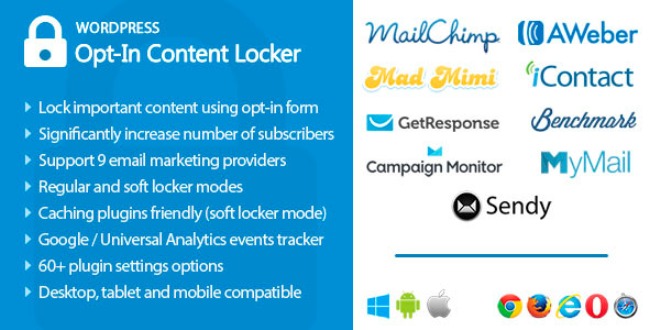 Opt-In Content Locker is a premium content locker plugin for WordPress that allows you to lock important content on your WordPress site and show it only to registered users.
Growing your email subscription list is extremely important because it can generate on-demand traffic and increase your revenue greatly.
You can place the widget anywhere with the provided access code, and users will be able to see all the content at once by signing their email address. All saved data can be exported to your email service via CSV file.
It is supported by some email service providers such as MailChimp, AWeber, GetResponse, Contact, Campaign Monitor, Mad Mimi, Benchmark, Sendy, and MyMail.
5. Social Traffic Pop for WordPress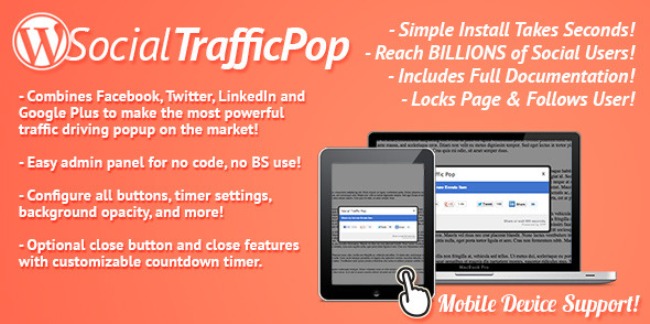 Social Traffic Pop for WordPress is another great tool to increase the social share count for your posts. This plugin will lock the usability of all pages until the popup is closed.
Provides an optional close button, if you want to give the user the option to close the popup by clicking the button or outside the widget (the widget will be centered while the user scrolls up and down the page).
It offers a smart mobile stand option so that you can use the plugin effectively on any mobile device or tablet.
6. Viral WordPress Locker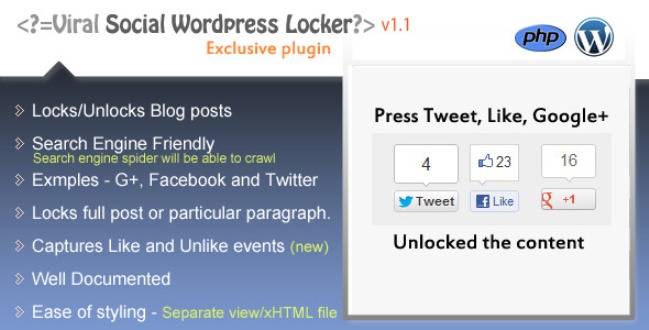 As the name suggests, this plugin was created to lock your content, which will increase the number of social sharing counts.
This plugin allows search engine robots to index your content but restricts human users until they take the defined action to open the content. Another great aspect of the plugin is that you can configure it for special blog posts where you offer a valuable product or information that is useful to your users.
It is a very easy and SEO friendly WordPress plugin that will help your blog grow.
7. WordPress Like Locker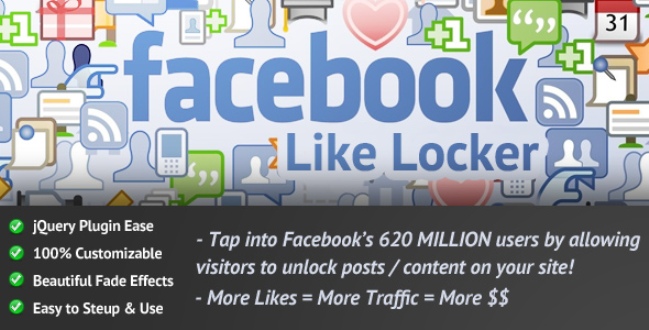 This plugin was developed to increase your Facebook traffic: it will lock your content until the user likes your content using their Facebook account.
Facebook is a great source of traffic for millions of online businesses and if you use it effectively it can also drive a lot of traffic to your website.
This is very easy to use the plugin, and the system tracks the IP addresses of users who have already liked the post so that it does not indicate that they have liked it again.
Final Word
These WordPress content locker plugins will play a very important role in making your blog a success, increasing your number of social sharing, traffic, and domain authority.
You will get the right return on investment by creating valuable content for your community; I'm sure these plugins will have a positive impact on your blog.
We will add more content locker plugins to the list, so don't forget to bookmark this page.