Google "how to make money blogging" and you will find that many articles offer the same advice. Get started writing about your passions, create quality content to engage an audience, and ultimately monetize that audience with advertising and affiliate marketing.
However, if you want to treat your blog like a business, you need to plan your monetization strategy from day one.
It has to be the goal, not an afterthought.
In this blog post, I'm going to cover a few different ways to think about blog monetization so you can plan better and make money faster.
Let's start.
How Much Money Can You Make Blogging?
Before we get into blog monetization strategies, let's briefly address the elephant in the room. Yes, the question on everyone's mind: how much money can you make with a blog?
Well, the answer is not simple. It depends on many factors, such as:
Niche
Audience demographics
Monetization methods
Traffic
However, the bottom line is that some bloggers earn $ 0, while others earn 7 digits from their blogs.
And frankly, the end of the spectrum you fall into depends mostly on your agility, strategies, and mindset.
6 Ways To Monetize Your Blog And Make Money Online
Most blog posts are written for the sole purpose of ranking on Google. This post is different because I'll put together workable strategies to help you monetize your blog.
So let's do this.
To Monetize Your Blog, Treat Your Blog Like a Startup
This is where most bloggers don't catch on.
They start their blogs as hobbies.
And if one thing is true about a hobby, it is that it rarely generates income.
To make money from your blog, you have to treat it like a startup.
Yes, you read that. More than a blogger, you are the founder of a startup.
Forget the old-fashioned advice telling you to blog about your passions because, frankly speaking, passion doesn't generate income.
To monetize your blog, you need to start your blog as a business and run it as one.
If you're wondering, here's how you approach the blog from a business standpoint:
Select Your Niche Based on Profit, Not Passion
One of the main reasons bloggers fail is not that they are not passionate enough.
Many bloggers are unsuccessful because they use an outdated and extremely flawed niche selection system. They use a system whereby you select your niche based on your interests, passion, and skill.
To select a profitable niche, you must base your niche selection on market research.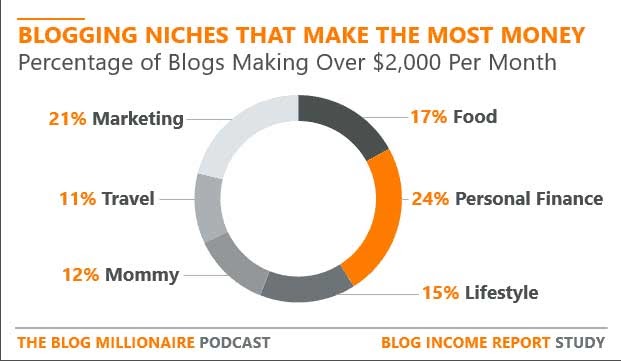 In other words, choose a niche based on:
Audience income potential
Affiliate marketing potential
Professional leverage
Keyword research
Of the four factors above, the affiliate marketing potential is probably the most important. This is because affiliate marketing is one of the ways to generate more income.
To analyze the affiliate marketing potential of a niche, do keyword research and use the word "best" as a modifier. For example, "best laptops", "best credit cards", "best golf irons".
The "best" keywords are generally intended for transactional research and are used by people who want to make a purchase. If you can find these types of keywords with high search volume and low difficulty scores, that niche is likely profitable.
An affiliate blog that can generate income only needs two types of posts:
The "best" keywords with the intention of conducting transactional research to generate affiliate income.
"How-to" posts with the intention of conducting informative research to show yourself as an expert to your readers.
Scale Your Processes, Not Your Writing
Common advice says, "keep writing quality content and they will come."
In 2021, this is simply not true.
Not only will you be exhausted with all the writing, but you won't be able to get traffic without building real relationships and getting backlinks from other blogs.
Rather than scaling your writing, you should focus on scaling your processes. To do that:
Create a Content Strategy:
A content strategy is a roadmap of what content you will create and when you will publish it.
An effective content strategy includes the following:
Keyword research: To create content that your target audience can find easily, you need to know the keywords they enter in your search queries.
Competitor research: Check out your competitors and see what kind of content and distribution channels work for them. Competitive research will also help you find content gaps in your niche.
Understand search intent: Search intent is the reason a user searches for a specific query. It's a good indicator of your audience's pain points and allows you to focus on keywords that have a monetary value.
A content calendar: Armed with the intelligence above, create topics around the topics your readers are most passionate about. Also, be sure to schedule the post date.
Link building: You need to contact other guest blogging sites and other associations to build your site's authority.
Outsource Your Content Writing and Other Tasks Involved in Growing Your Blog:
Another way to scale your processes is to outsource your content writing. Since you are a business owner, not just a writer, you don't have to write everything yourself.
Outsourcing the first drafts to a ghostwriter will help you create content faster and free up your time for other vital tasks in running your business.
In addition to outsourcing my content creation, I also developed some scheduling systems with three goals in mind:
Getting backlinks to build the Domain Authority (DA) of my blog.
Accelerating the growth of my organic traffic.
Monetize my website in 3 to 6 months.
To achieve this, I had to hire an assistant to help me with link building and spreading guest posts.
Whether you have a full-time job or blog full-time, you need to delegate some of your tasks to scale your blog effectively. Start with the tasks you like least, and as your blog revenue grows, outsource more tasks to help you run your business more efficiently.
Build Organic Traffic
It goes without saying that you need the traffic to successfully monetize your blog.
All the best blog monetization strategies won't work if you don't build an audience for your blog. To do this, you need to focus on three main areas:
Search Engine Optimization:
Search engine optimization (SEO) is the practice of organically increasing the quantity and quality of your blog's traffic from search engines. Some ways to boost your SEO include:
Create SEO-optimized content: This is content built around a keyword to target your niche. It must also provide value if your audience wants to engage with it.
Create backlinks: You can do this by guest posting or by running guest post outreach campaigns. You need to build relationships and provide value to other sites to get more links for you.
Make the link internally: Linking strategically to other parts of your blog gives search engines a better understanding of your blog topic. It also helps increase the time a visitor spends on your blog.
With good SEO, you will be able to attract visitors who are likely to become regular followers of your blog.
The key to success as a blogger is building relationships with your audience. And the best way to do that is by email.
This is why you should start building your email list from day one of your blog launch. Use an ESP like Growmatik to automate your email marketing and develop meaningful relationships with your readers.
Another platform that you can take advantage of to gain followers on your blog is social networks. With almost 4 billion active users, it is undoubtedly a great tool for driving traffic to your blog. It's also a great place to interact with your audience and like-minded bloggers.
Again, you may be better off hiring a freelance social media manager to help you scale this aspect of your blogging business.
Set a Blog Monetization Timeline
Like any business, you must have a plan for how you will run your blog.
An important aspect of your plan is creating a blog monetization plan. This is a timeline of milestones that you should strive to achieve and the monetization methods you can employ when you reach a particular milestone.
For example, you cannot start serving ads on a new blog, as the ads require you to get a lot of traffic.
But what if you want to start monetizing your blog in just three months?
Well, it is definitely possible. I know because I did that with my blog.
Especially if you leverage your professional experience, it's easy to start offering world-class consulting from day one. The good news is that you don't have to be an expert to be a consultant. You just need to know more than an ordinary person.
Defining a timeline is important because it will give you something to work on. This will help you treat your blog with the seriousness it deserves.
Design an Effective Blog Sales Funnel
To start monetizing your blog right away, you need to create an effective sales funnel. Your sales funnel will comprise five main stages designed to direct potential clients to purchase your cutting-edge consulting offering.
Step 1: The blog visitor reads your blog's high-quality content related to your high-quality offering.
Step 2: They choose to receive your email list in exchange for your "free gift" offer.
Stage 3: Optional – Add a lower price offer of around $ 50-200 to build trust.
Step 4: Send an automatic series of welcome emails that tells a story and leads them on a path to set up a meeting with you.
Step 5: Your ideal client makes an appointment with you and pays for your high-end consulting offer.
While it may seem counterintuitive, start with your sophisticated offering as it will help you make more money with a small amount of traffic. And as traffic increases, you can submit other offers, such as affiliate products, sponsored posts, and digital downloads.
Once you have those locked down, you can use an online course tool to sell premium, high-quality courses to your audience.
This leads us to the next strategy to monetize your blog: choose your monetization methods.
Choose Your Blog Monetization Method(s) Carefully
Now that you have established a solid foundation for success, you can choose your blog monetization methods. Note that I used the plural, as you have to use every monetization method that you can manage.
Let's look at some methods that you can use to monetize your blog, in addition to consulting, as we've already covered that.
Affiliate Marketing: You can use your blog to sell digital and physical products, online courses, and other products made by third parties. Then the merchant pays you a commission.
Create and sell your own digital products: With advances in technology, creating a digital product has become easy. All you need is an idea and the right software to create it.
Showing ads: If you get a lot of traffic to your blog, ads are a great way to monetize your blog. The only downside is that revenue is dependent on traffic.
Sponsored posts: A sponsored post is a blog post that a business pays to post on their blog. Usually, there will be a mention of said company in the blog post.
Sell ​​your services: Use your blog to sell services like design, copywriting, photography, virtual assistance, and more.
Offer paid subscription: You can store some of your best content and offer access to it for a monthly fee.
Flip your blog: When you accumulate a good amount of traffic and improve the domain authority of your blog, you can also make money by selling it on sites like Flippa.
Depending on your blog structure and income goals, you can take advantage of anyone or a combination of the above methods to monetize your blog.