Every second, more than 63,000 searches are performed on Google (about 5.4 billion searches per day) and Google holds 90.46% of the market share of search engines worldwide.
Search engine optimization (SEO) is one of those things that is always crucial to your marketing strategy, and it is always changing. Due to the speed with which search algorithms evolve, it can be difficult to keep up with the latest best practices, especially when you have several other marketing channels to manage.
But if you are not ranked for the keywords that are important to your business, since it takes a lot of work to keep up with SEO, you are losing a lot of potential customers.
Fortunately, good SEO doesn't have to be difficult or time-consuming. To help make your SEO as efficient as possible, we have put together some of our favorite hacks to increase your ranking. Some of them are easier than others, but all of them are feasible, no matter how new or advanced you are as a marketer.
1. Focus On Your Cornerstone Content
Cornerstone Content is your best content. It is:
Evergreen: continues to be important to your audience over time
Relevant: meets the needs of your target audience
Comprehensive: Provides a comprehensive and informative source on topics of interest to your audience
Updated: updated regularly as new information becomes available
Basically, Cornerstone Content is the content you want people to find when searching for relevant keywords – your site's SEO superstars. Ensuring valuable and robust content is the first step, but there are several other steps you can take to help spread it, such as making sure popular posts are listed in the blog sidebar:
Your sidebar is an excellent element for your cornerstone content, as it is on every page of your blog. If you have a comprehensive SEO guide 2020 on your site, for example, make sure everyone who visits your blog for SEO tips sees it by placing it in the sidebar.
The cornerstone content you create and promote will start to work on its own, but it can take up to 12 months for it to start making big profits in the form of search traffic, especially if your competitors are creating similar content. A good way to cut down on that time is to make sure you're the best in your industry.
2. Don't Forget The Footer
People used to put a lot of text about their companies and products in their footers to increase SEO traffic, but that doesn't work anymore. In fact, with Google's algorithm today, it can harm your ranking. This does not mean that you cannot yet drive SEO with the footer; you just need to be more strategic about footer links.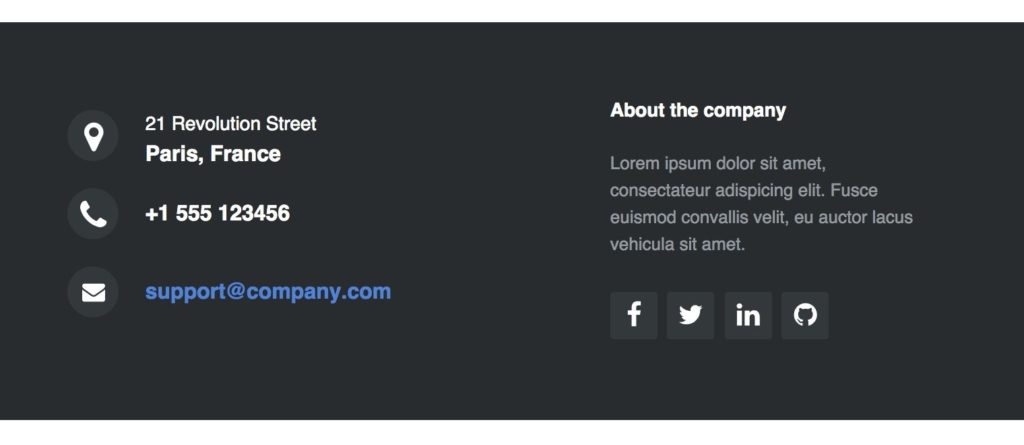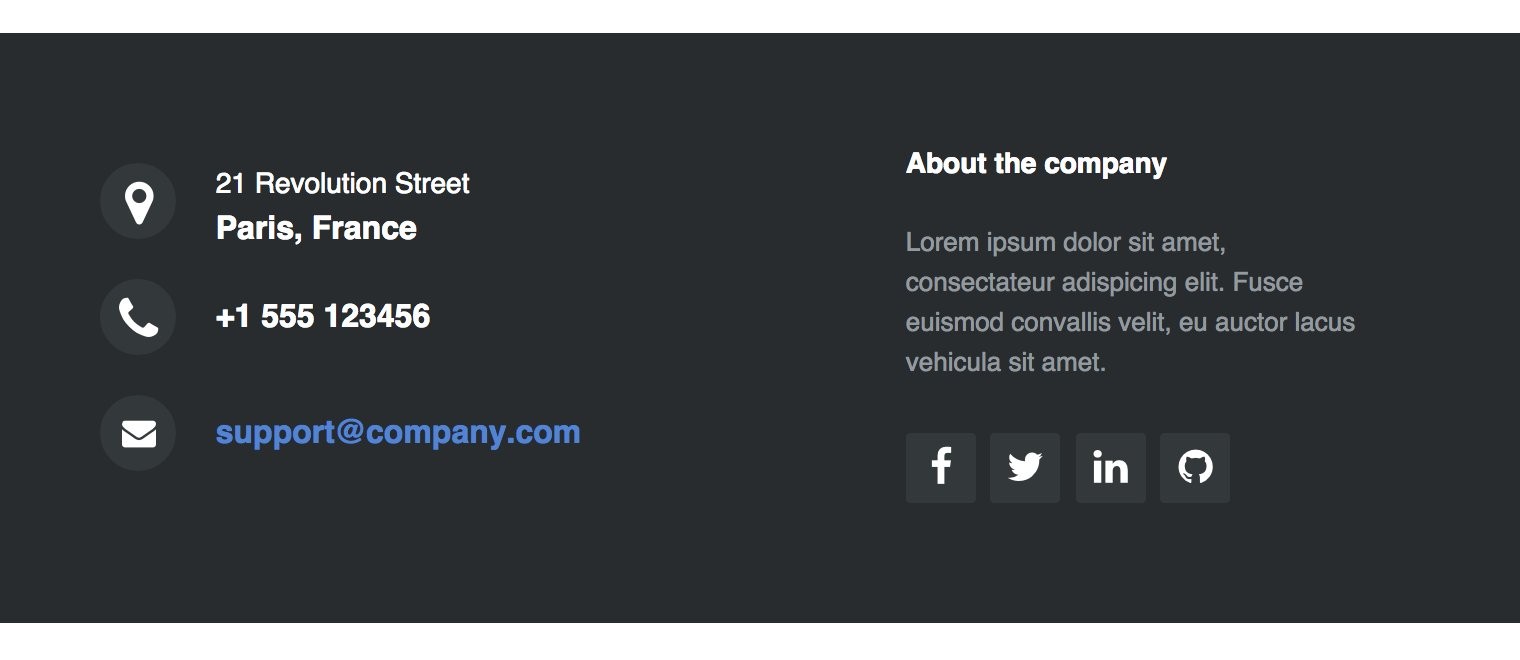 Make the anchor text more descriptive and lineup with the search terms that will attract people to your site.
And you don't need to just link to product pages or case studies. Link to your main value-added pages, like Cornerstone resources and content.
3. Use A Keyword Research Tool
Take the search terms you rank for and enter them into a keyword search tool like Keyword Tool, KWFinder or Ubersuggest: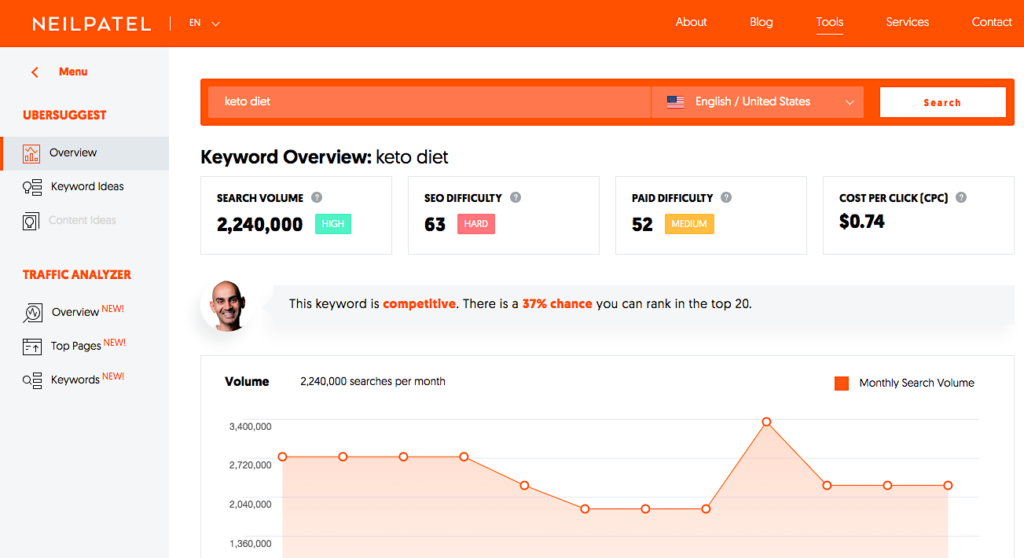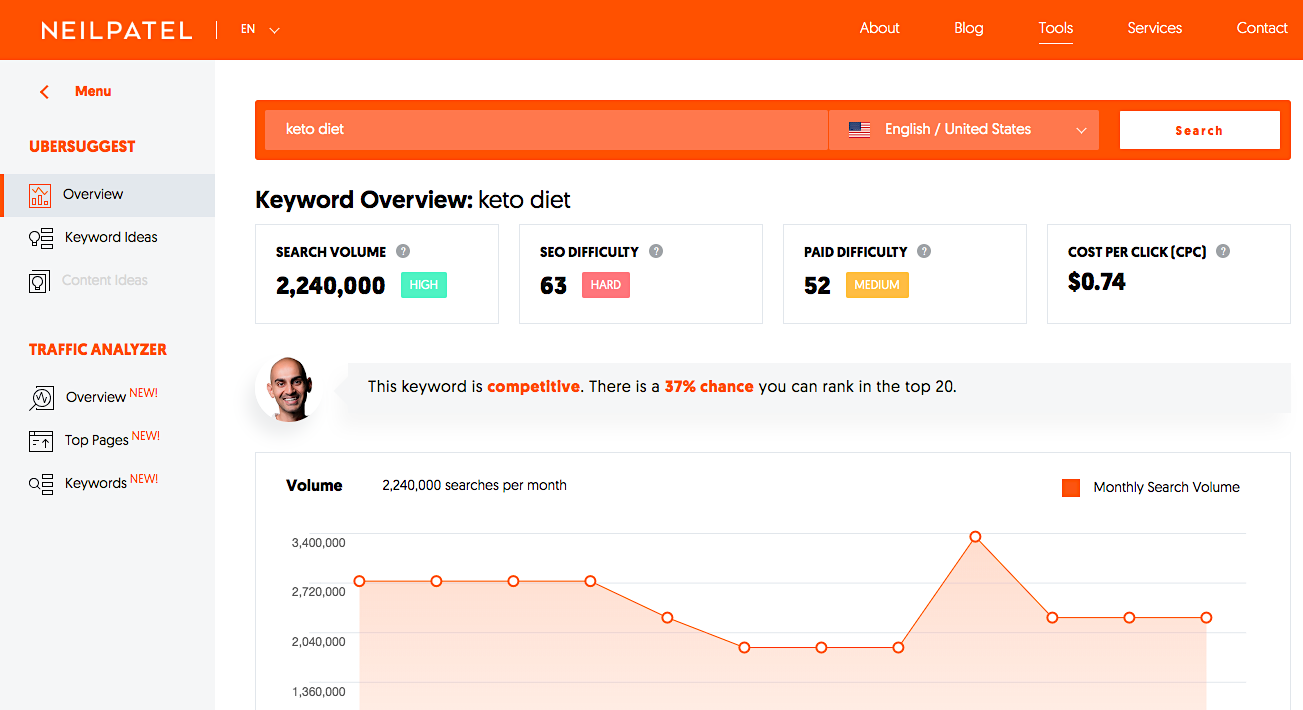 You are probably already ranked for some keywords (probably more than just your brand), but check Google Search Console.
From there, you can find popular long-tail phrases on Google Suggest (autocomplete) related to those keywords. Take these phrases and rework your pages with related content that is not ranked with those keywords.
Obviously, I'm not just talking about shoving in the keywords. You won't get an SEO boost from this. Modify your content so that these long-tail phrases fit together naturally. It should flow well and make sense. Within 30 to 60 days, these modified pages should begin to rank higher for those search terms.
Dive Deeper: – Generate Long-Tail Keyword For Seo In 2020
4. Build a Brand
Increasing the value of your brand is a good way to boost SEO. It's a good way to improve everything, actually, but now we're focusing on SEO.
Google ranks sites with strong brand queries higher than those without them. And how are these queries obtained? It ensures that people always return to their site.
The more people type your company or website name into Google or the URL bar or click on links to your website, the higher your ranking will be. To improve this effect, start capturing email addresses, either with a form on your website or with outgoing pop-up software.
Then use those lists and their social channels to promote any content you create. Let people know that you regularly post great content so they have a reason to come back. It takes time, but if you commit to growing your brand, it will improve not only your SEO but also the overall performance of your business.
5. Use This WordPress Plugin To Get More Subscribers
Syed Balkhi created a WordPress plugin called YouTube Subscribe, and it's definitely worth checking out from an SEO perspective. Here's why: You can use this tool to embed other people's videos on your site, but you still have the link to the subscribe button on your channel.
For example, if you have a video channel but don't have SEO related videos, you can write an SEO blog post or article and incorporate someone else's SEO video into your blog post. Then when they click the "subscribe" button, they will subscribe to your channel, not the one that posted the video.
Obviously, if you are using a plugin like this be careful. If you keep stealing stealthy videos from the most popular YouTubers to get more subscribers, users will see exactly that. Be sure to really add value to your content by integrating other people's videos with this plugin and make sure most of the video content you are promoting is yours for the best results.
6. Don't Forget Youtube SEO
You will be amazed by how many YouTubers completely neglect their SEO. For this reason, it is not competitive. In fact, it is much easier than traditional SEO.
If you don't have a YouTube channel yet, it's time to start one. You don't need a studio or editor. You can easily create iPhone videos; users still prefer it because they feel more "authentic".
The trick to getting a high ranking in YouTube SEO is to ensure that your videos receive a lot of traffic within 24 hours of posting. This means that the moment you post your video, you will need to post it to all of your channels: email, blog, social media, chatbot list, push notifications, etc.
Of course, you should also do the basic optimization things like adding the correct keywords, having a good description, and loading an SRT file, which is a subtitle file saved in the "SubRip" format (get one from Rev.com for all your videos):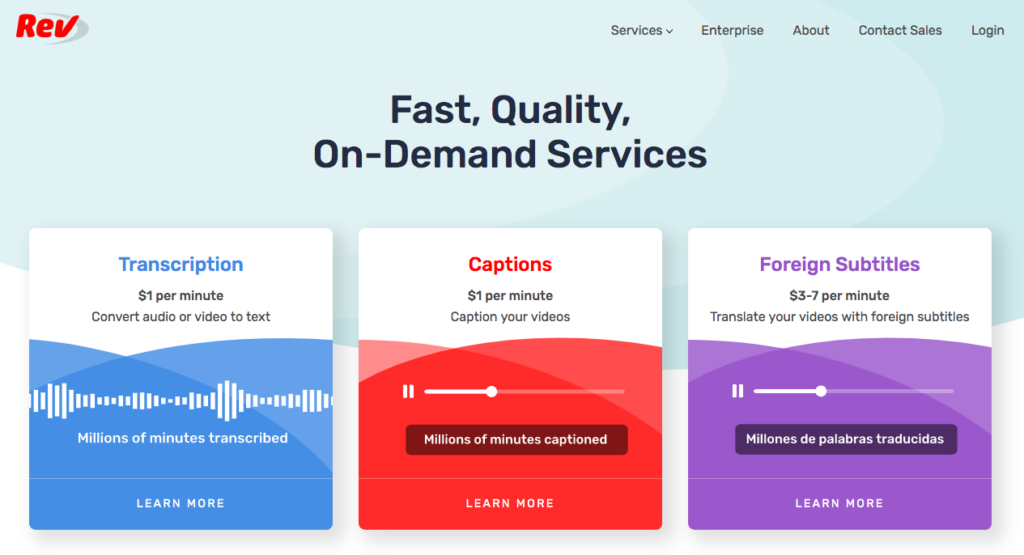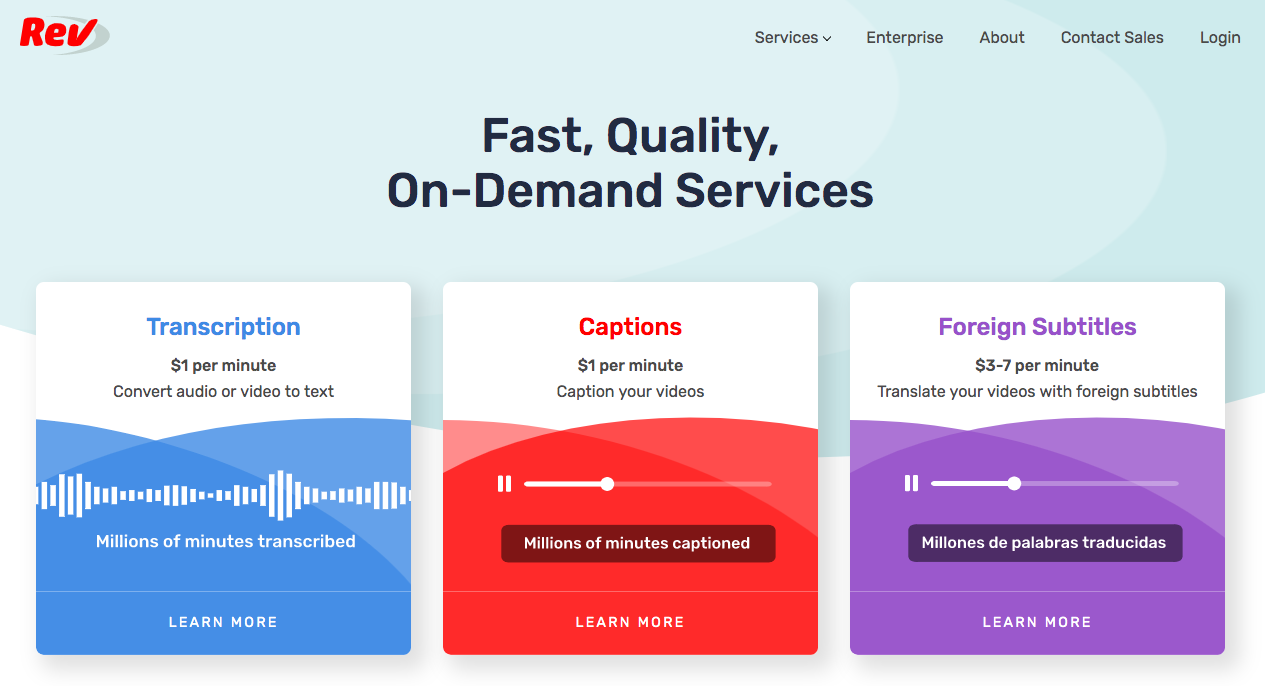 Here are some basic tips to boost your YouTube SEO:
When uploading your video to YouTube, make sure the target keyword is in the name of the video file.
Your video title must be at least five words long and must also include your target keyword.
Your descriptions must be at least 200 words long and accurately describe what's in your video in detail. Also, include the target keyword here as well:
Spend time choosing your tags, as including the right tags helps you discover your video in YouTube's "related videos" section.
Encourage people to share, comment and subscribe. The more engaged your videos and channel are, the higher your YouTube videos will be rated.
Create playlists based on your keywords. This will help make your individual videos to those terms higher.
Quality content isn't just good SEO for now. It's good SEO forever (or at least until Google significantly changes its algorithm).
If you create great evergreen content, people will keep looking for you. A post you write tomorrow may be the one that will bring you the most traffic in two years. Make that initial investment in content creation. If done right, it will continue to attract more visitors and hopefully new customers in the future.
And don't forget to keep that content updated. Next year, we will take this blog post, update it with some new hacks, and republish it for 2021. And that will bring us traffic next year, like this one. Develop what you already have and what is already working. It still takes effort on your part to do good, but in the end, you will find it much easier than starting from scratch.