Facebook groups are nothing new. In fact, they have been around for a decade, making them one of the oldest features of the social network. But, after updating Facebook's algorithm that doesn't prioritize brand content, these groups have become even more important for connecting with a brand's followers.
Major brands have had significant success with creating and growing their own groups, and Facebook boss Mark Zuckerberg stressed that he wants them to play a bigger role in the site's daily user experience.
His ur approach can work to your advantage, and it doesn't have to cost anything. That is why you should pay attention to Facebook Groups, as well as how to grow without spending money.
What Is a Facebook Group and How Is It Different from a Page?
A Facebook group is a place where a community can come together to participate in a common interest, be it a cause, problem, or activity. They are not the same as Facebook Pages, which are designed to be the official Facebook presence of any entity (such as a brand, company, or celebrity).
For example, let's say you're a fan of the Amazon and BBC sitcom Fleabag. If you want to keep up to date with the latest information about the program, provided by the people who created it, please connect to the official Facebook page: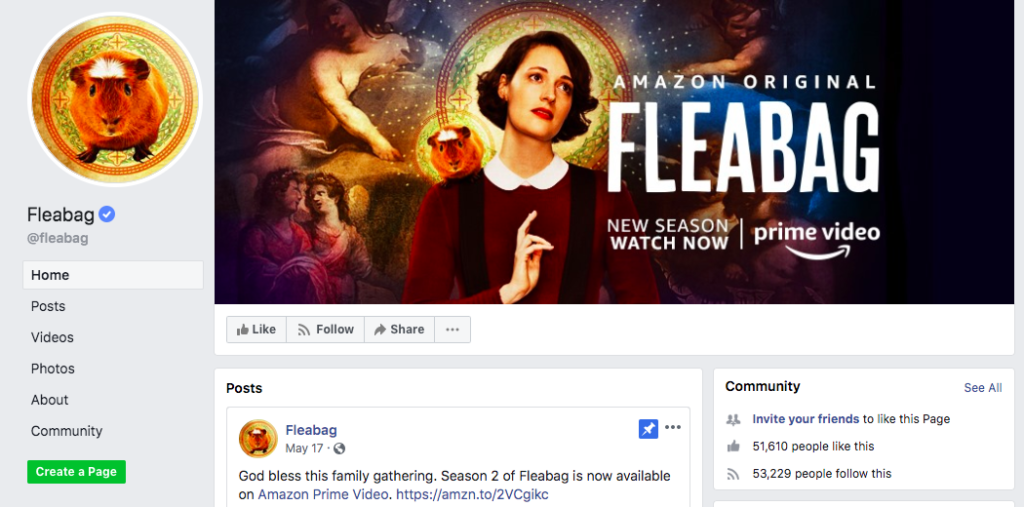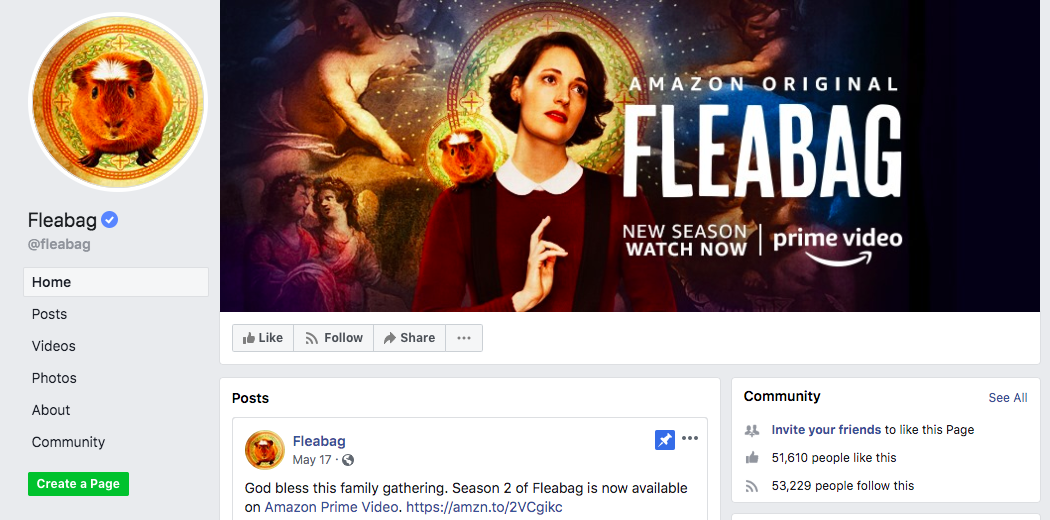 Alternatively, you can join a Fleabag Facebook group, like this one, to talk about what's going on on the show with other fans.
There is another fundamental difference. While pages are automatically public, which means anyone can see them, groups can be configured in one of three ways:
Publicly available – anyone can join
Administrator approval – Administrators review requests for group membership and decide whether to approve them or not
Private – Group membership is by invitation only
What's the Big Deal About Facebook Groups?
As specialists in digital marketers, we are naturally busy people. You may already be posting regularly to various social networks, along with a number of paid and organic search activities. So what is special about Facebook groups? Why should you pay attention?
In practice, they became a necessity for brands on Facebook as the site adjusted its algorithm in early 2018 to promote more posts from family and friends and less commercial content. This change has limited the reach of companies' organic posts, forcing them to choose between spending more money on Facebook ads or creating a vibrant Group to keep reaching their audience on the platform.
The brands that chose the Facebook Groups approach were a real success. Groups generate much better engagement than Fan Pages, and when done effectively, they can create an active community focused on your products or services.
Users seem to like them too. If you're like me, you'll regularly interact with around half a dozen groups you've signed up for, whether they're professional, hyperlocational, service, or related to your hobbies and interests.
And the numbers prove my experiences. Membership in Facebook groups increased by 40% in 2018, with more than half of the network's users (1.4 billion people) using them each month. One in seven users belongs to what Facebook calls "meaningful groups", those that play a key role in the daily lives of its members. By 2024, Zuckerberg wants the number of users in these groups to rise to 1 billion.
Case Study: Condé Nast Traveler
Luxury travel and lifestyle magazine Condé Nast Traveler gained attention in 2017 when it launched a closed Facebook group called Women Who Travel. Rather than chasing followers with giveaways and contests, the magazine Group forced users to subscribe, explaining why the Group is important to them.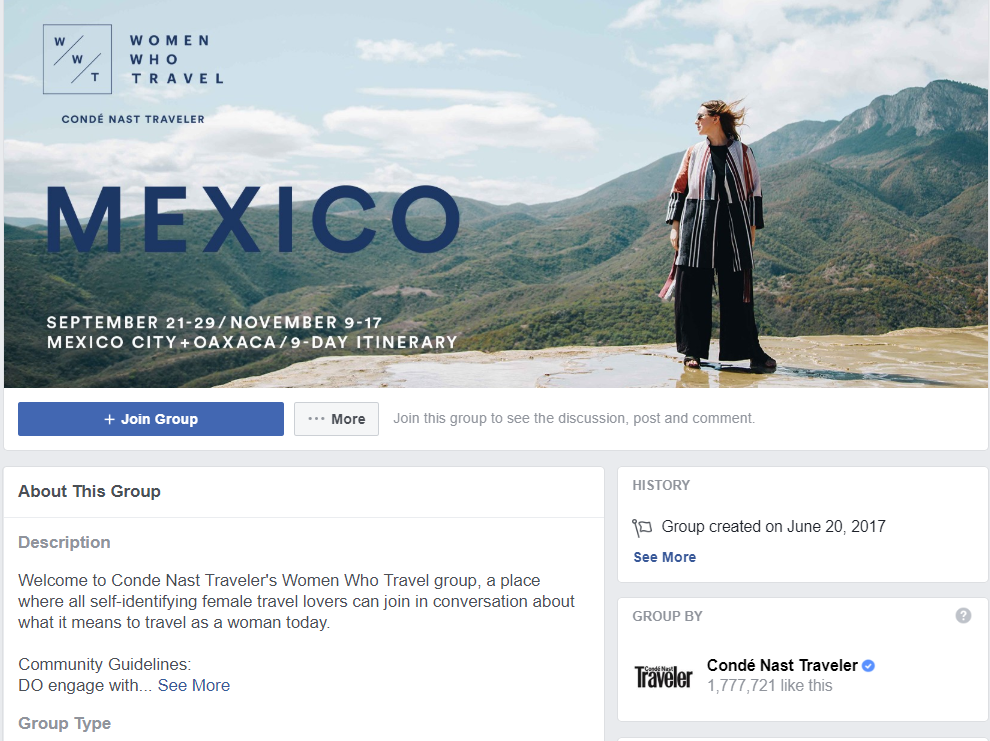 It worked. In one year, the Group has grown to more than 50,000 members, three-quarters of whom have actively engaged with it on a monthly basis (at the time of writing this report, it has grown even more and currently has more than 138,000 members ). Since then, Condé Nast has launched Facebook groups for eight of its more brands, including The New Yorker, Teen Vogue, and Vanity Fair.
Molly McGlew, Social Media Strategist at Condé Nast, explains:
"We wanted to explore a new social channel that could contribute something different and develop niche communities. People are actively choosing to come here for this conversation. It is much more favorable and you can actually have a dialogue. "
Considerations Before Starting a Facebook Group
If you are convinced that a Facebook group can play a vital role in your brand's social strategy, there are some important points to consider before launch.
What Does Facebook Group 'Success' Look Like for You?
It may seem like an obvious question, but it is often overlooked – ask yourself why you want to launch and grow a Facebook group.
Presumably the real reason is not simply to acquire a few thousand followers. Most likely, the end goal of all your marketing efforts is to drive sales or generate leads. If so, this should be reflected in the content you post to the Group, whether through exclusive offers, previews of upcoming product launches, or video tutorials demonstrating how your product or service works.
Whatever your end goal, you must have a way to measure your performance. To do this, define actionable KPIs using the "SMART" methodology:
Specific: Are you completely clear what your Facebook Group KPI relates to? Don't leave any wiggle room.
Measurable: Can it be measured literally? Can you put a number against it?
Attainable: is it realistic? We'd all love to quadruple our sales overnight, but it probably won't happen, at least not just with a Facebook group.
Relevant: is it in line with your broader goals? If your end goal is to increase lead generation through your Facebook group, this should be reflected in your KPIs.
Timely: Define a period of time during which your performance will be evaluated.
A good example of a KPI could be: "Increase clicks on our Group's website on Facebook by 15% in the next quarter."
Growing Your Facebook Group
So you worked hard. You've figured out what you're trying to accomplish, you have the time and resources to make it happen, and you've come up with a clear set of guidelines. Now for the fun part: launch your group.
In the last few years, I've been a part of dozens of Facebook groups and gained a lot of information on what to do and what not to do by running one:
Do:
Offer your members valuable content and targeted offers
Interact with your members and ask questions
Ask your most dedicated fans to help the group grow
Set clear rules so your members know what to expect
Send group links to Facebook users you think might be interested
Create a solid theme for the content you post
Don't:
Spam members with constant discount codes
Post dozens of times a day (you risk members turning off group notifications)
Overdo trying to handle the whole admin alone
Allow habitual violators to spoil the Group for everyone else
Add people to a group they don't know anything about (or encourage others to do so)
Veer off-topic and latch onto irrelevant trends
After learning the basics, you are in a great position to change your focus and grow your membership. Follow these tips and there is no reason why you can't grow your Group to thousands of members without spending a single dollar:
Give People a Compelling Reason to Join
"If you build it, they will come" may work for baseball diamonds, but it definitely doesn't work for Facebook groups. You can't expect people to sign up just because they're there. Fortunately, there are a few ways to create a compelling reason for users to participate:
Use the 'About' section found at the upper left corner of the group page to explain exactly what makes your group so great. It details the purpose of the group, the type of content you will post, and the type of experience users can expect. You only have 3000 characters to play so use them wisely.
Give users an incentive to sign up. I'm not saying you have to give them a discount code or free shipping as soon as they sign up, but you should describe your value proposition. Let them know if you offer exclusive giveaways, contests, and weekly promotions to group members, for example, or promise to give them a first look at your upcoming product launches. Give them an idea of ​​the variety of content they can find in your group, including features like lead magnets, scripts, and templates.
Inform Your Existing Audience
Unless you are a completely new brand, you will already have some type of audience, including your website visitors, past and potential customers, subscribers to your newsletter, or readers to your blog.
Let them know that your Facebook group exists:
Mention this in emails.
Reference it on your website and provide a link to the Group
Drop CTAs on your blog posts (for example, "Did you like what you read? Be the first to know about our latest guides by joining our Facebook Group").
Use exit pop-ups to direct users to your group
Chanty, an alternative to Slack, does this very well and asks people who responded to a survey on their website to share more ideas in their Facebook group: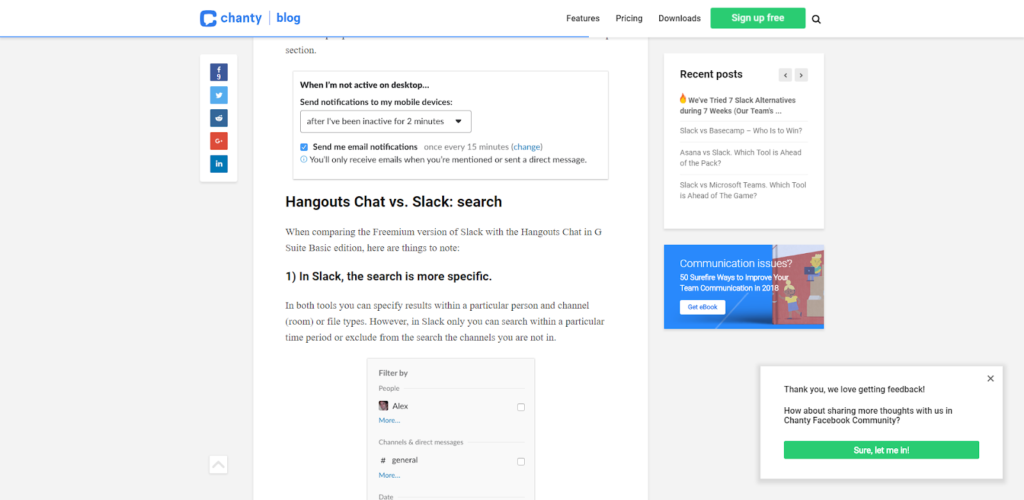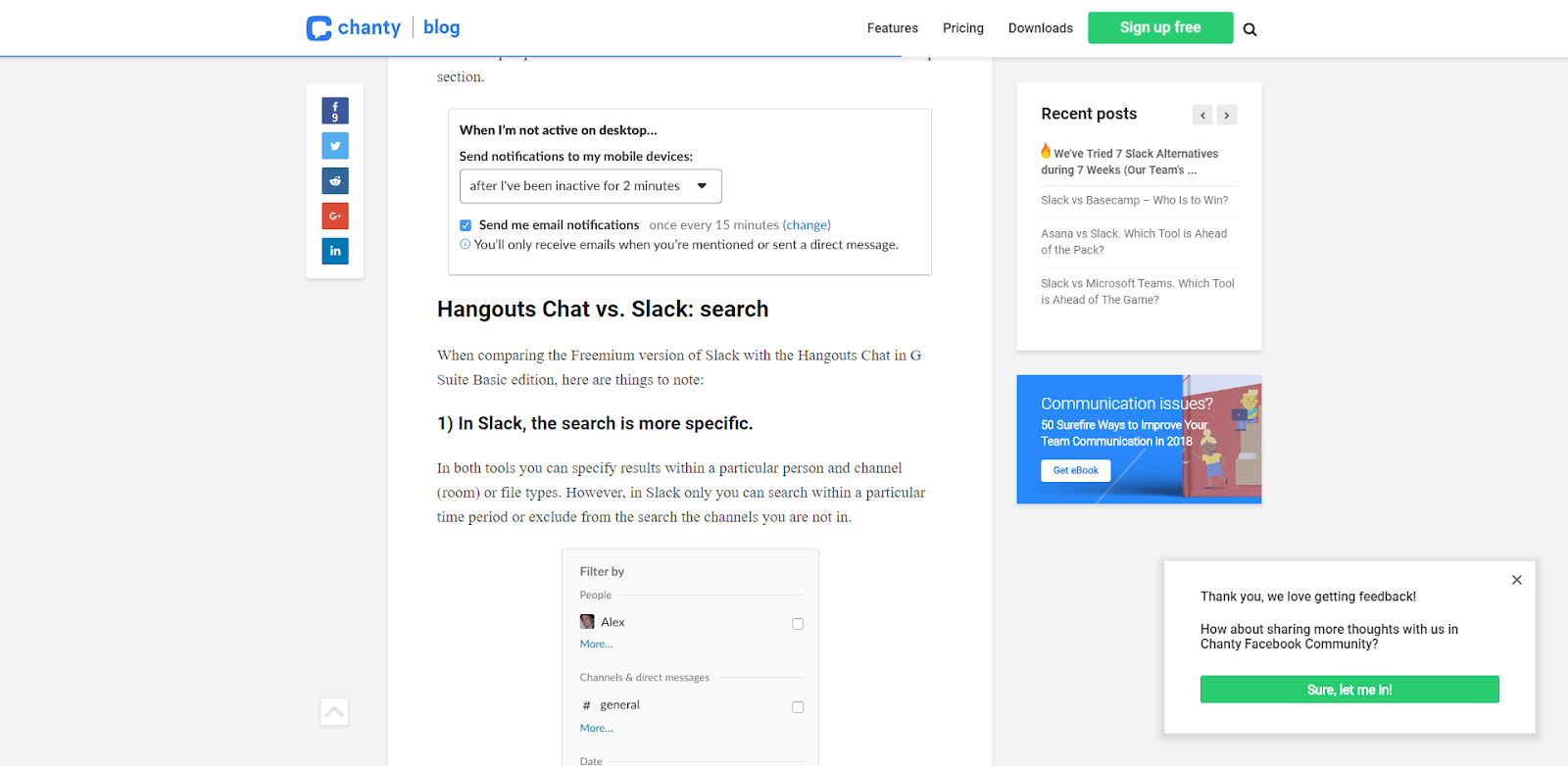 Take Advantage of Live Streaming to Drive Visibility
Facebook loves videos. It wants to be the number one video platform, but it has strong competition from YouTube, so it encourages users to create more and better video content. At the moment, the average engagement rate for Facebook video posts is 6.01%, which is significantly higher than posts that contain photos (4.81%), links (3.36%), and text-based status (2.21%). ):
Creating a video is more likely to make your page stand out organically, which in turn gives you the opportunity to promote your group without shelling out money. That said, not all videos are created equal – people watch the live video three times more than non-live video.
In short, you should use video to get ahead of more users, generate more engagement, and encourage people to join your Group. People are often intimidated by the idea of ​​creating video content on Facebook, but it's very simple thanks to the site's Live and Watch Party features.
Turn Your First 500 Members into Group Evangelists
Once your Facebook group reaches a certain size, growing it becomes less about your own direct actions and more about evangelizing your existing audience, making it feel like a critical part of your journey. Remember: the larger your Group, the greater the potential for rapid growth. Don't be afraid to ask your members for a little help.
Use Other Groups for Cross Promotion
Ask your members who else should be in the Group and encourage them to onboard new members by offering them a free ebook, a spot on an exclusive webinar, or even some kind of promo code. This can be particularly effective when your members are in other relevant groups, giving them an easy platform to promote their own group.
A word of caution here, though: while some group admins will be more than happy if you get involved in a little cross-promotion, others will frown upon and may even kick you out. They have every right to do this; It is your Group and its rules.
Do what I do: contact administrators before trying to attract members to your group. Good manners cost nothing. Ask very carefully and administrators may even want to spruce up your promo post for a day or more, making sure you get plenty of visibility.
Spread the Word Through Social:
Although your potential members obviously have profiles on Facebook, they are likely active on other social platforms as well. Encourage your existing members to join your group on other (relevant) social media, be it Instagram, Quora, Reddit, Tumblr, or Twitter.
As in the previous step, you can encourage them to do so. But if your group is really useful, fun, or interesting (or even all three), it should just make sense for members to recommend you in their conversations on other platforms. Let's say your group is dedicated to selecting the best recipes for Indian food; Why wouldn't your members want to link to it if they find a similar discussion on a different website?
Growing from 0 to 10,000 Members
Building a Facebook group on a zero dollar budget can seem intimidating, but all it takes is time, patience, and a little effort (plus help from your early members).
To sum it up, here are the five steps you need to take to get your Facebook Group from 0 to 10,000 members without spending a single penny:
Create an engaging topic for your group, something that people want to discuss and that you can offer genuine knowledge about.
Give people a reason to join. Tell potential members about the great content you create and the unique gifts and offers you manage.
Let your audience know that the Group exists and encourage them to participate: people who already follow your Facebook page, read your blogs or watch your videos.
Anticipate new audiences through guest blogging, reaching out to influencers, interviews, and podcasts.
Evangelize the "first adopter" in your group to bring in new members.
Follow these steps, repeat as needed, and watch the number of subscribers in your group grow.