Your competitor may try to inject nasty links to your site or steal links from your site that work well.
Negative SEO has a broad spectrum and also includes content theft, branding, and several other similar aspects.
In general, negative SEO is something that affects the reputation, prestige, traffic, and ranking of your website in the search.
In this article, I tried to address some of the best tools that will help you monitor any negative instances of SEO that can break the influence of your brand.
What is negative SEO?
Negative SEO refers to the practice of wearing black hats and unethical techniques to sabotage a competitor's ranking in search engines. Negative SEO attacks can take many different forms:
Hack your website
Create hundreds or thousands of spam links to your website
Copy and distribute your content over the Internet.
Pointing links to your website using keywords such as Viagra, online poker and many others
Create fake social profiles and ruin your online reputation
Remove the best backlinks your website has
Tools that Identify and Prevent Negative SEO Attacks
#1. Google webmasters
Google Webmasters is one of the best tools available in the market to detect negative SEO. Divide the content of your website into five main parts.
Configuration
Health
Traffic
Optimization
Labs
Of these, Health, Traffic, and Optimization have the most critical data.
Google offers many tools that help you get SEO information. If someone is hacking your site, Google will mark it as infected in the search results.
You will immediately receive an alert in case of malicious activity, so you can take appropriate action.
Features:
You can access search statistics on google
You can access the latest data on incoming links and internal links.
It also shows the usefulness of the keywords you are targeting on your site.
If malware is detected on your site, Webmaster Tools will immediately alert you
GWT provides information on tracking and indexing activities on the website
The sitemap section shows your sitemap found on Google.
There are specific advanced tools available, such as the robots.txt file, that allow you to select the preferred domain syntax (with www or without www), which should be displayed in the search results.
#2. Monitor backlinks
Monitor Backlinks is an SEO tool used by digital marketing specialists and online entrepreneurs to verify their backlinks and recognize competitors' high-quality links.
With the Monitor Backlink, you can also check the keywords ranking in Google.
Features:
Automatically send a notification every time you lose or get a backlink
It links to your Google Analytics account and generates all useful metrics
With Monitor Backlinks, you can classify your backlinks into several categories, such as nofollow, meta nofollow, meta noindex, 302 redirects, incorrect anchoring, pages not found, server errors.
Provides updated keyword rankings every week.
Each week, it sends a report based on changes in Alexa Rank, Page Rank, the number of pages indexed in Google and some other aspects.
If Google manually submitted a penalty to your site, you can quickly filter out the wrong links with one of its internal tools.
#3. Cognitive SEO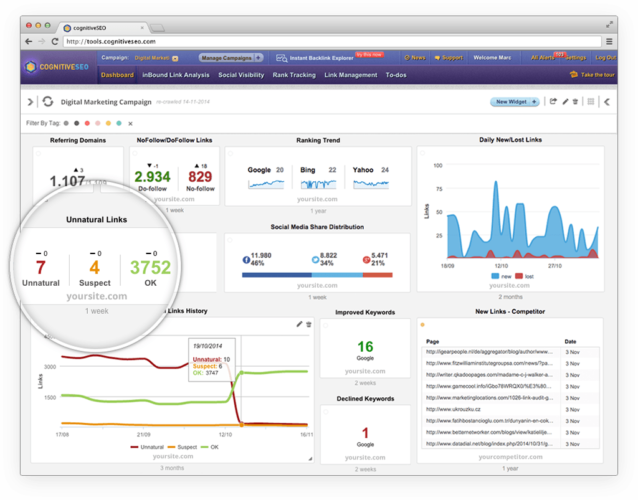 Cognitive SEO is a great tool to detect and eliminate unnatural and malicious links in your website's backlink profile, which can damage your site's reputation in the search.
Features:
CognitiveSEO has a very well designed user interface that will make you understand the backlink analysis process.
It efficiently analyzes unnatural backlinks and generates a report that notifies users to avoid penalties for search engines.
It comes with a comprehensive set of SEO tools necessary not only to increase the visibility of the user's website but also to generate the desired traffic efficiently.
It helps users create appropriate and profitable links that generate traffic and attract their customers.
With CognitiveSEO, you can track and annotate up to 500 keywords.
To track the performance of direct competitors, users can place the URL of the website along with the URLs of their competitors.
#4. Google Alerts
Google Alerts, a free service that is a great way to keep you informed about specific events that will help you keep your original content. After entering the search terms in the field, you will immediately receive the results.
Features:
In addition, you can configure them to be sent to your email as they arise.
Google Alerts allows you to monitor news, blogs, videos, debates, and books, so you never miss any relevant data when you need to generate new content.
You can control the frequency of alerts by configuring Google Alerts as usual, once a day or once a week.
You can get updates by email or create an RSS feed for the material
It is completely web-based. To access Google Alerts, all you need is a device with an Internet connection.
#5. Open Link Profiler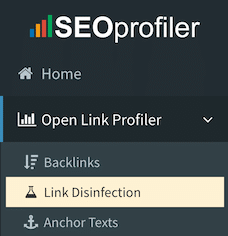 SEO Open Link Profiler is a FREE analysis tool to verify links to websites, including defective links. In Disinfecting links, you can find what all the harmful links are.
Features:
OpenLinkProfiler has its web crawlers
The link database is updated every 5 minutes.
You can export up to 200,000 links per domain
Its page section provides details about the main pages of a given domain.
You can also see the context of the link for the domain you are looking for
The LIS (Link Influence Score) indicates the source of most backlinks to your website
#6. Seobility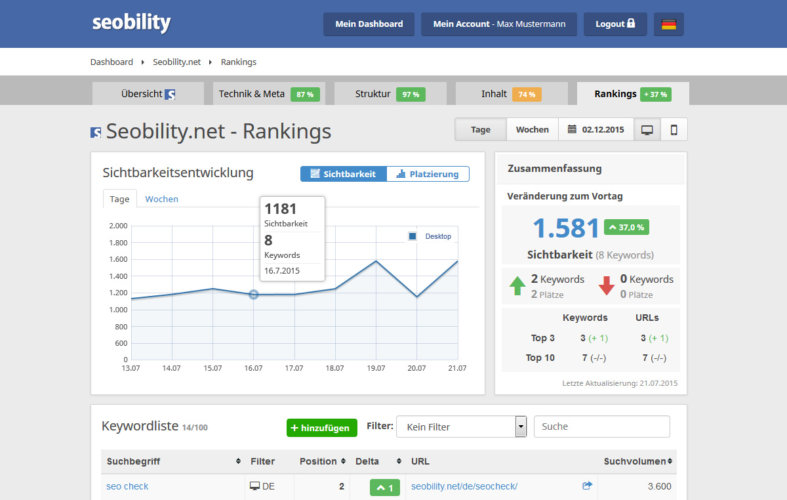 With Seobility, you can audit your SEO and improve its technical aspects. Many people tend to forget the technical section of SEO, which can negatively affect the ranking of their website since it is responsible for optimizing several other areas.
You will receive a large number of free tools that will help you implement technical SEO procedures, such as improving site load times, checking grammar problems on the site, repairing all broken links and more.
Features:
The SEO check feature will highlight possible errors that may affect your SEO campaign.
Another great resource is keyword checking, which provides tips to optimize your post based on an objective keyword. All you have to do is enter the destination URL and the keyword.
With the SEO comparison function, you can compare the ranking of your site with that of your competition
It also offers a monitoring service that tracks all links on the site and sends reports according to problems and solutions.
#7. Copyscape
One of the most common techniques used by spammers is a duplication of content. They copy the content on the site and publish it where they can. If most of your content is duplicated, there is a high probability that your site will be penalized and lose its ranking.
You can check your website for duplicate pages on the Internet using Copyscape.com. Simply add your website or the body of the article you wish to consult and it will show you if your content is published elsewhere, without your permission.
#8. SEMrush
SEMrush, one of the famous all-in-one marketing tools, has hundreds of resources, even to detect risk factors. You can extract the toxic links and send them to Google to reject them so that it does not affect the SEO ranking of your site.
#9. MOZ
Moz Open Site Explorer allows you to quickly discover the overall spam score for the specified domain. It also lists inbound links with your spam score, so you know which backlink is bad for taking an action.
#10. ahrefs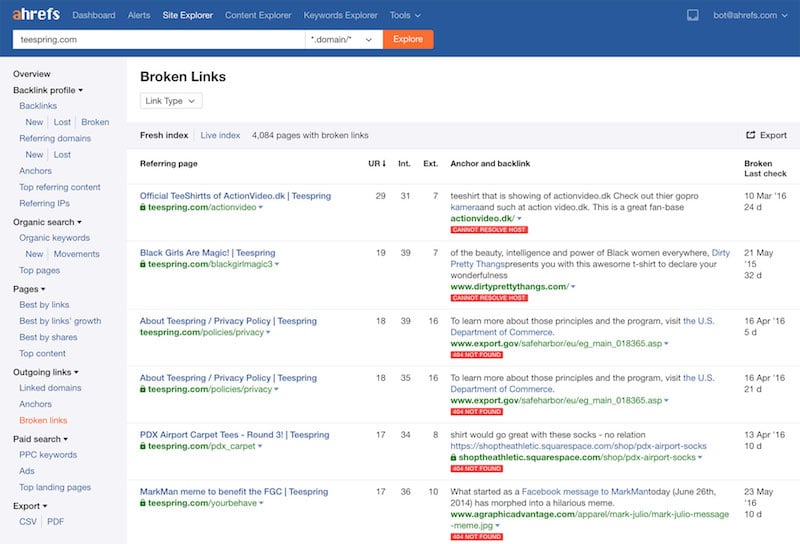 This list will not be complete without including ahrefs. A premium tool to analyze domains, monitor and investigate your competitor.
Bonus Tips
Be sure not to damage the ranking of your site using techniques that are not acceptable to Google. These are some of the things you should not do:
No link to penalized sites.
Do not buy links from blog networks or links to SEO.
Do not publish a large number of low-quality guest posts.
Do not create too many backlinks to your website using "monetary keywords." At least 60% of anchor texts must use the site name.
Do not sell links on your website without using the "nofollow" attribute.
Negative SEO is dangerous, and you should check it regularly to take the necessary measures. I hope the tools listed above will help you find the risk of your website.