In 2022, websites can no longer ignore search engine optimization. Almost all internet activities start with a search: 93% of all internet experiences start with a search engine and 39% of e-commerce traffic worldwide comes from search.
Most companies recognized this and adapted accordingly: 61% of companies cited SEO as their top priority last year. Fortunately, there are many great SEO tools available.
Best SEO Plugins for WordPress
If you have a WordPress site, there are several plugins that you can install that will really help you. Which ones? That's exactly why I developed this list of the best SEO plugins for WordPress.
Yoast SEO
Yoast SEO is one of the most popular WordPress SEO plugins, with over five million active installs to date.
It is also the "main" SEO plugin we use on the FunnyWill blog.
What can you do with that? Many things.
Create an XML sitemap
Check your site in Webmaster Tools (Google, Bing, Baidu, Yandex, etc.)
Exclude ("noindex") certain types of content from being indexed in search engine results (eg categories, tags, media pages)
Create title and meta description templates
Optimize your AMP pages.
But this is all about the website. What about at the page-level?
Yoast adds a meta SEO box to all posts and pages. Here, you can define custom title tags, meta descriptions, open chart tags, canonical tags, and meta robots tags.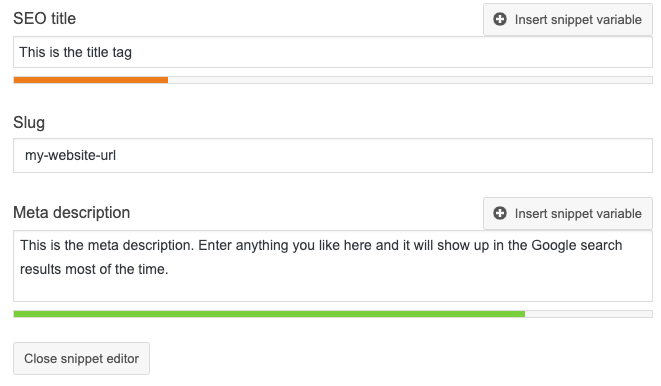 There is also a function that shows how the page is "optimized" for your target keyword. However, we do not recommend paying close attention to this.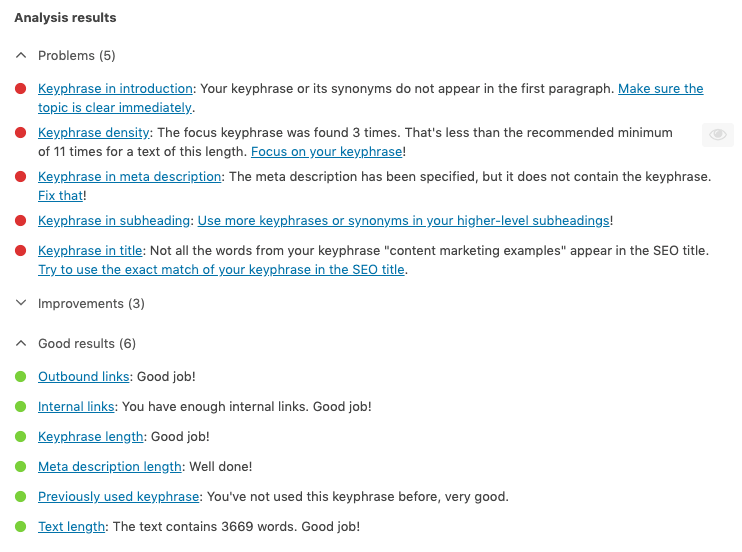 The functionality is very basic and looks at things like placing exact matching keywords in titles, subtitles, and the content itself. Neither of these things is a major ranking factor, and finding a perfect score generally makes your content worse.
The readability analysis is a bit more useful, as it shows how easy or difficult it is to read your content (Flesch readability score). It also grades your sentence lengths and subheading distribution.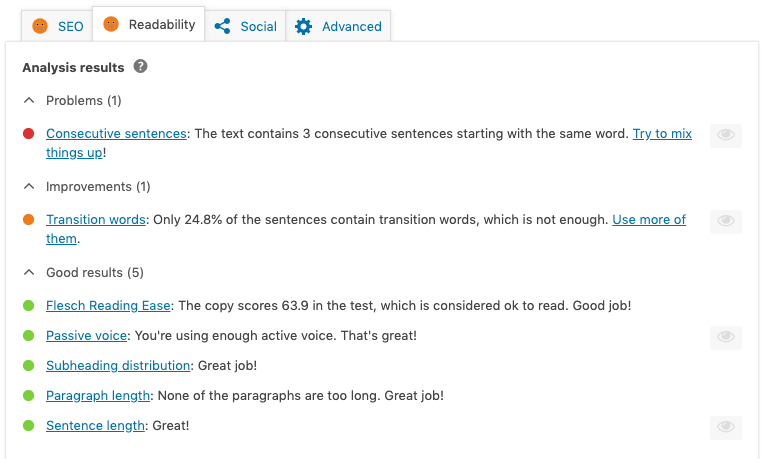 Bottom line? Installing Yoast SEO is a good starting point for most WordPress website owners.
Rank Math
Rank Math allows you to manage all of your on-page SEO needs for each type of content on your website. This WordPress plugin is very effective because it is integrated with Google Search Console, so you can see all the important information directly from your WordPress administrative panel.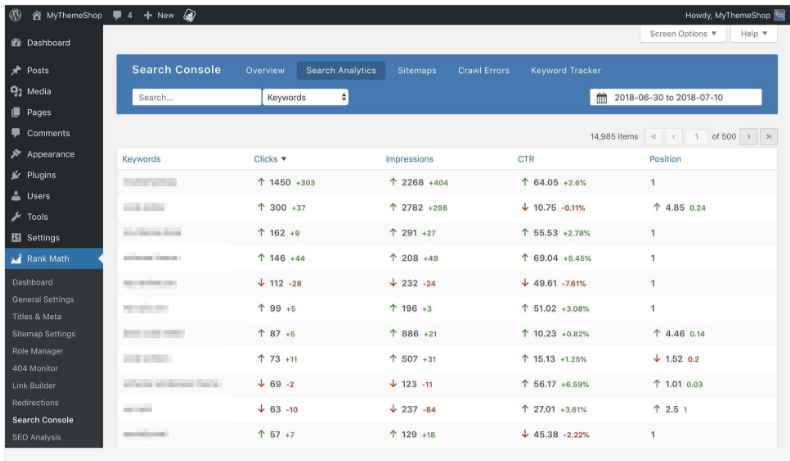 Rank Math also allows you to manage meta tags for things like:
This WordPress plugin will tell you what keywords you are ranking for and will also show you how many impressions you are getting in various searches.
Rank Math also identifies the errors that Google sees on your site. All this information is easy to access, read, and summarize.
Additionally, Rank Math has features for:
XML Sitemaps
Rich Shards
Internal link recommendations
404 Monitoring
Redirects
Local SEO
Rank Brain is definitely one of the best SEO plugins for WordPress. It is ideal for those seeking a one-stop shop for all of these features.
All in one SEO
If you don't want to use Yoast SEO, which is what I prefer, always try the All in One SEO package.
The name practically explains everything.
Since its launch in 2007, this WordPress plugin has provided webmasters with an easy-to-use solution for many SEO-related challenges.
The biggest benefit is that you don't need the experience to get started. If you can read and enter the correct data in the correct fields, you can use this plugin.
For some inputs, you may not need to touch anything (unless you want to, of course).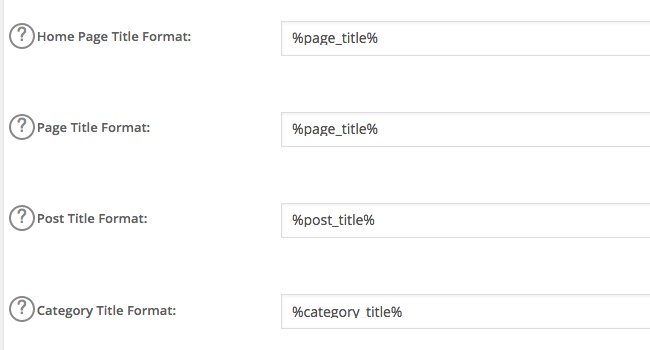 With the above, you can maintain the standards, which are generally better, from the SEO point of view. Or you can change the format to better suit your needs.
The key features of the All in One SEO Pack include:
XML sitemap and Google Analytics support.
Automatic title optimization for all search engines.
Automatic generation of META tags.
It helps avoid duplicate content, which can have a negative impact on search engine rankings.
Ability to override any setting.
Overall, the All in One SEO Pack gives you the control you want. As you gain experience, you can take more responsibility through the advanced features of this plugin.
Broken link checker
The Broken Link Checker looks for broken links on your site, both internal and external.
If it finds any it will provide the HTTP status code (eg 404, 410), the anchor text and the link source. This makes it easier to find and correct.
Since the plugin runs in the background all the time, it can continually check for broken links and alert you via email in case of a popup.
But perhaps the best feature is that you can fix the links with a few clicks and in bulk.
It also reports 301 redirects and there is also an option to fix those in bulk, replacing the redirect link with the final destination URL.
SEO Squirrly
SEO Squirrly was developed specifically for people who are not SEO experts.
Other plugins have different ways to access and implement SEO suggestions, but SEO Squirrly takes it to the next level. Take a look at its live SEO assistant feature.

SEO Squirrly was developed specifically for people who are not SEO experts.
Other plugins have different ways to access and implement SEO suggestions, but SEO Squirrly takes it to the next level. Take a look at its live SEO assistant feature.
Here's how it works. You just need to enter the desired keyword that you are trying to rank in the article you are writing.
As you type, the green lights and pop-up suggestions will appear in real-time, explaining how you can insert this keyword into your content.
Imagine having an SEO expert on your shoulder as you type, that's what you get with SEO Squirrly.
The content report is another great ideal resource if you outsourcing writers or using multiple writers in your business to produce content.
These reports provide authors with additional SEO information based on what they have written.
SEO Squirrly also has a tool to analyze the content of your competitors, so you can find ways to beat your pages. You can also follow your progress weekly.
SEO Squirrly also has a range of other built-in tools, including …
Strategy Assistant (the mechanism that powers the entire focus pages section). Squirrly SEO not only provides new functionality but also introduces a new SEO experience, offering users a step-by-step structure to rank their businesses through Focus pages.
ShortPixel
The short pixel compresses and optimizes images on your website.
Since images are generally the slowest files to load when someone visits the site, image optimization can have a remarkably positive effect on page speed, which is a ranking factor as of 2010.
It is super easy to use. Just install, choose your settings and then it will automatically optimize and display the images you upload in the future.
TCompression options available are lossy, glossy, and lossless, and it supports Retina 2x images.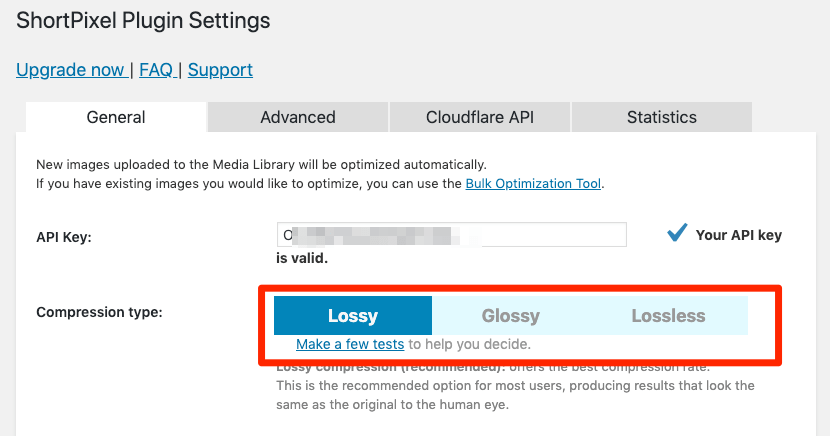 It works with JPG, PNG, GIF, PDF documents. There is an option to convert to WebP, although that seems a bit hit and miss currently.
For existing images, there is a massive image optimizer. Run this and it will optimize all the images that are already on your site, according to your settings.
Shortpixel offers 100 free credits per month.

EWWW Image Optimizer is your best option if you are looking for a completely free alternative.
WPtouch Mobile Plugin
Is your WordPress website mobile friendly?
This may not have been a major problem in the past. But these days, it is a must. There are a few reasons for this:
More people than ever are surfing the Internet on a mobile device, such as a smartphone or tablet.
The lack of a site optimized for mobile devices will have a negative impact on the ranking of your search engine.
There's a lot to know about Google's mobile-friendly update, including the fact that your site must be mobile compatible.
If you don't have the time, money, and resources to pay a developer or upgrade your site on your own, you can access the WPtouch mobile plugin.
This plugin "automatically adds a simple and elegant mobile theme for mobile visitors to your WordPress site".
Pretty easy, right?
After installing the plugin, you can use the admin panel to customize the mobile look of your blog. Better yet, you don't have to change the code to make major changes.
This plugin has nothing to do with the desktop theme as it will still be shown to those who are not mobile visitors. It simply ensures that any mobile visitor to your site can review your content in a seamless manner.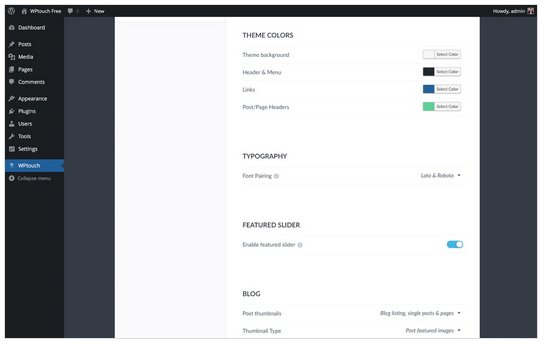 Today, your WordPress site must be compatible with mobile devices. If you want this to happen without delay, use the WPtouch mobile plugin.
All In One Schema Rich Snippets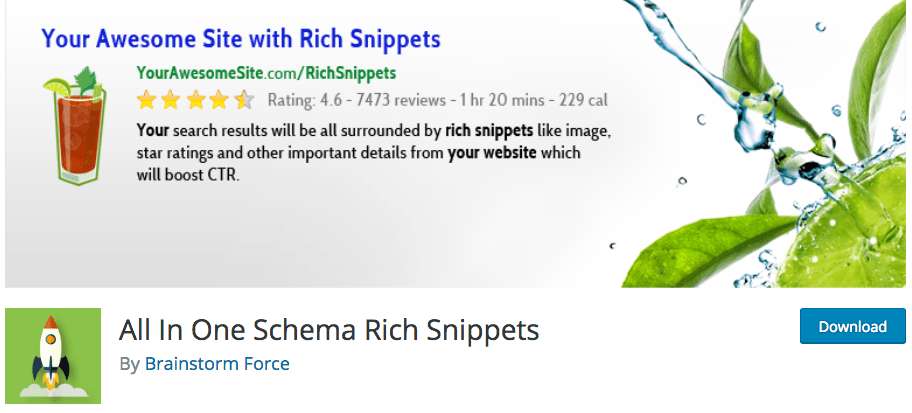 All In One Schema Rich Snippets will enhance the way your pages are displayed in search engine results with rich snippets, which are a short, interactive summary of your page. They contain items like prices, photos, star ratings, or reviews.
This popular design markup plugin can help you add elements like:
videos
News
Income
Events
Persons
products
News
Rich snippets benefit all sites but are especially important for eCommerce sites. Users don't have to take as many steps to read a review of their products. You can see the star rating on the search engine results page. Adding rich snippets will tell search engines exactly what information to include in search results.
Conclusion
Your website needs to prioritize SEO. I simply can't stress that enough.
I recommend checking out my guide on the SEO tactics you need to fold, so you can stop wasting time on strategies that don't work.
Look, I understand; I don't expect you to become an SEO expert overnight. But you should at least take advantage of some of the SEO tools available online.
If you have a WordPress site, there are numerous plugins at your disposal. However, I think it is better to focus on the first Five that I mentioned earlier.
There is something for everyone on this list. Some of these plugins are for specific SEO functions, while others cover a wide variety of SEO elements.
Regardless, I'm sure you'll find this guide a useful reference for adding SEO plugins to your WordPress site.