Getting to the top of Google's organic search results is an uphill battle. But just because it's hard doesn't mean you can't win.
Even if you are not in position 1, you can overcome it. How? It's possible? Yes, this is possible: claim a featured snippet.
In this blog post, we'll discuss what are Featured snippets, what are your SEO benefits and how to optimize them. Let's start.
What are Featured snippets?
A featured snippet is shown as a block that contains the exact answer to your query. It is located just above the first organic search results, so it is also called "position 0".
Let's say we do a Google search for "why people change"? Below is a screenshot of feature snippets presented for this query: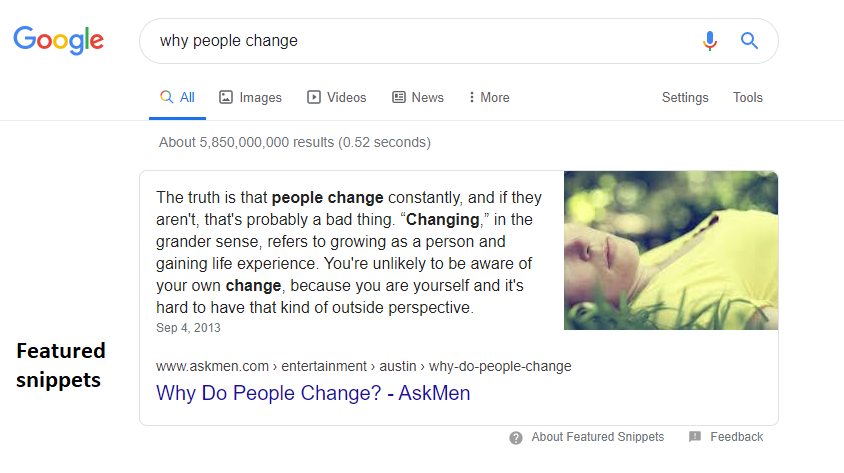 Most of the time, Google includes an image in a featured snippet. The source of the image may be different from the source of the response.
Featured snippets make it easy for people to search online because they can see the answer they are looking for quickly. Google programmatically chooses the best response from a third-party site and presents it in a snippet.
If Google chooses to show your content as a featured snippet, imagine the exposure and potential customers you could get.
Types of featured snippet
There are three common types of a featured snippet:
Paragraph: This excerpt shows paragraph responses to questions such as how, who, why, when and what. The screenshot above is an example of a highlighted paragraph extract. The paragraph snippet is the most popular type.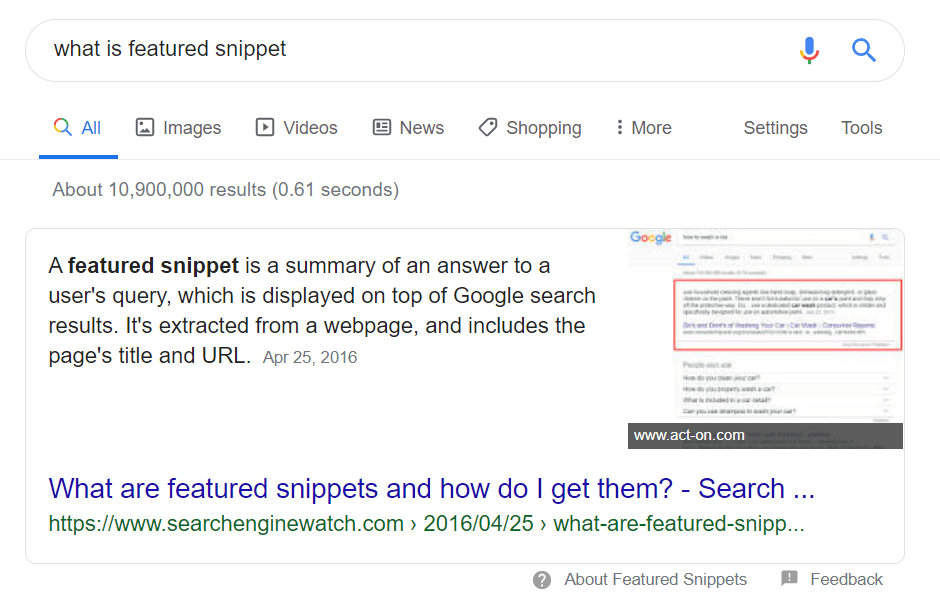 List: the responses shown in numbered or bulleted lists conform to this type of snippet. List snippet is mainly applied to posts on step-by-step instructions and recipes.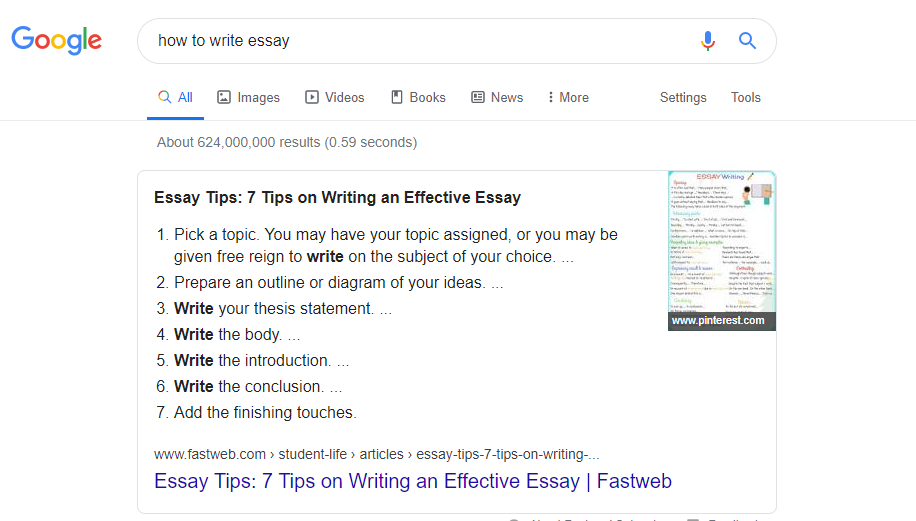 Table: You often see table snippets that are shown for posts that contain comparison charts. Google values ​​well-structured content with prices, rates, years and other numerical data.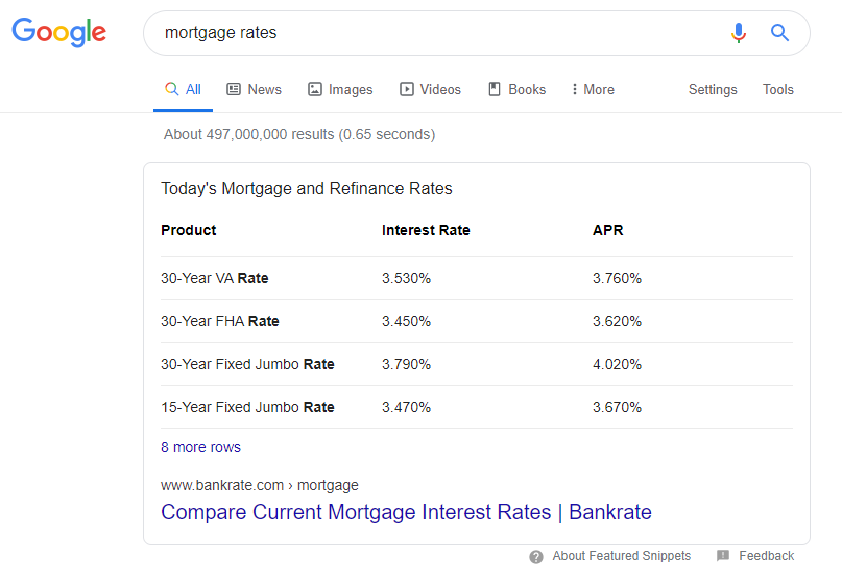 Benefits of featured snippets
The featured snippet has been around since 2014, but it seems that sellers are not taking advantage of them. The fact that Google aims to provide excellent user experience, showing people the best search results, is reason enough to be in position 0.
But to know exactly why here are some benefits of the featured snippet:
#1. Steal traffic from the first result
Ahrefs studied 2 million featured snippets and what they found was surprising: a featured snippet receives no more clicks than the ranking on page 1 of the search query.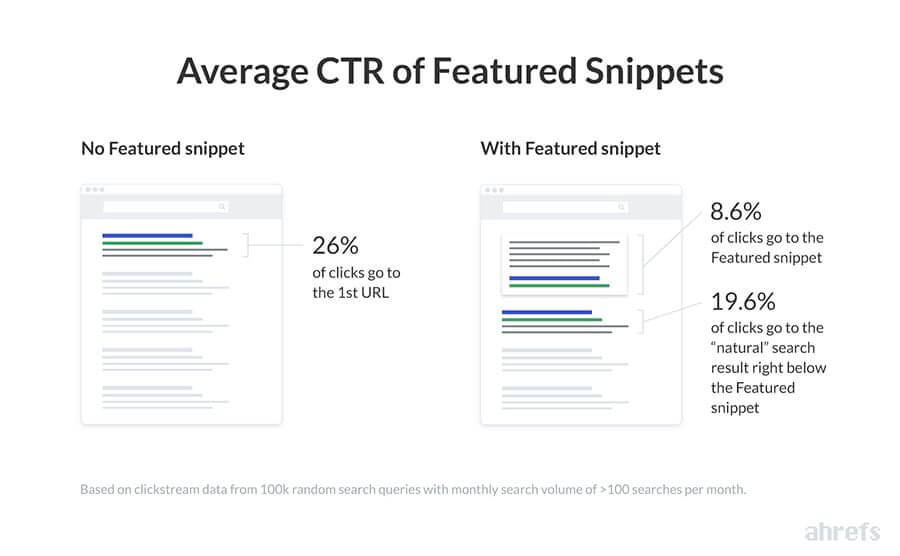 However, steal a few clicks of the first result. So, if there is a featured snippet for a sentence, it will be beneficial for you to appear in it … well, in most cases.
January 2020 update
In January 2020, Google announced that it will no longer repeat the result in the first SERP if the result of a web page is already shown in a featured snippet. Instead, the result may appear at the beginning of the second page.
This means that having a featured snippet may not always be a victory, especially if your page is ranked number 1 without the featured snippet (since the featured snippet has a lower CTR than the first SERP result).
The decision provoked a reaction from the SEO community:
All this has led to a discussion about whether there are cases in which it is better to get rid of a featured snippet.
you can also appear in the featured snippet if you occupy the second, third or even fifth place. A simple way to get ahead of your competitors!
#2. Optimize voice search.
If you think voice search is a fad, think again. In 2020, 50% of the surveys will be conducted with voice-controlled personal assistants. For example, Siri, Cortana, and Google Assistant.
People are tuning in to voice search on their mobile devices. As we naturally ask questions when we do voice research and the featured snippet are shown for question queries, it makes sense to classify these excerpts.
#3. You become a trusted expert
Let's be honest: it's hard to try to position yourself as an authority in your niche. Much less are many companies that compete for the attention of their audience.
From the perspective of a potential customer, you become more desirable by being in a featured snippet. As a reliable source of information, according to Google's recommendation, you become an essential site when people in your niche want advice.
After all, the sites with more featured snippets are giants known as Wikipedia, Quora, Amazon, Dictionary or Mayoclinic: people are accustomed to reliable sources in the highlighted sections.
How to Optimize Content for featured snippets
If you must get more traffic or get other benefits of greater visibility, here are 9 useful tips on how to appear in a featured snippet.
#1. Keyword Research And Aim Question Types Queries
Keyword research is an indispensable tool for successful content, especially qualified content for a featured snippet. Be sure to answer the questions asked by most of your clients and target audience.
There are many keyword research tools to help you with this. If you use KWFinder, simply enter an initial password and click on the "Questions" tab.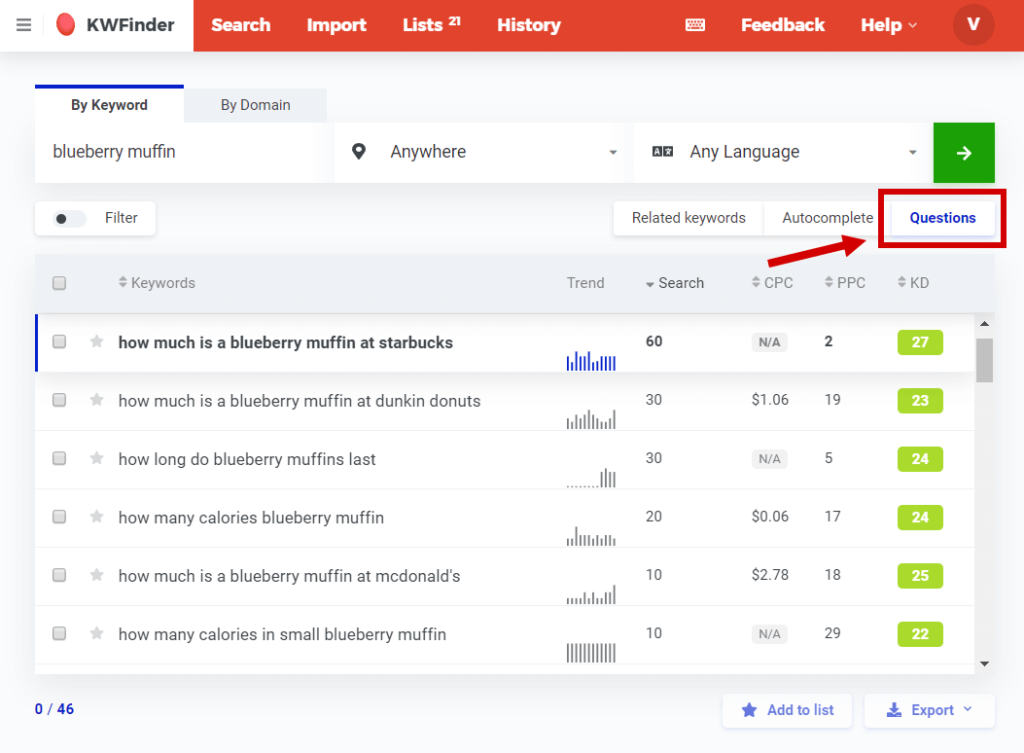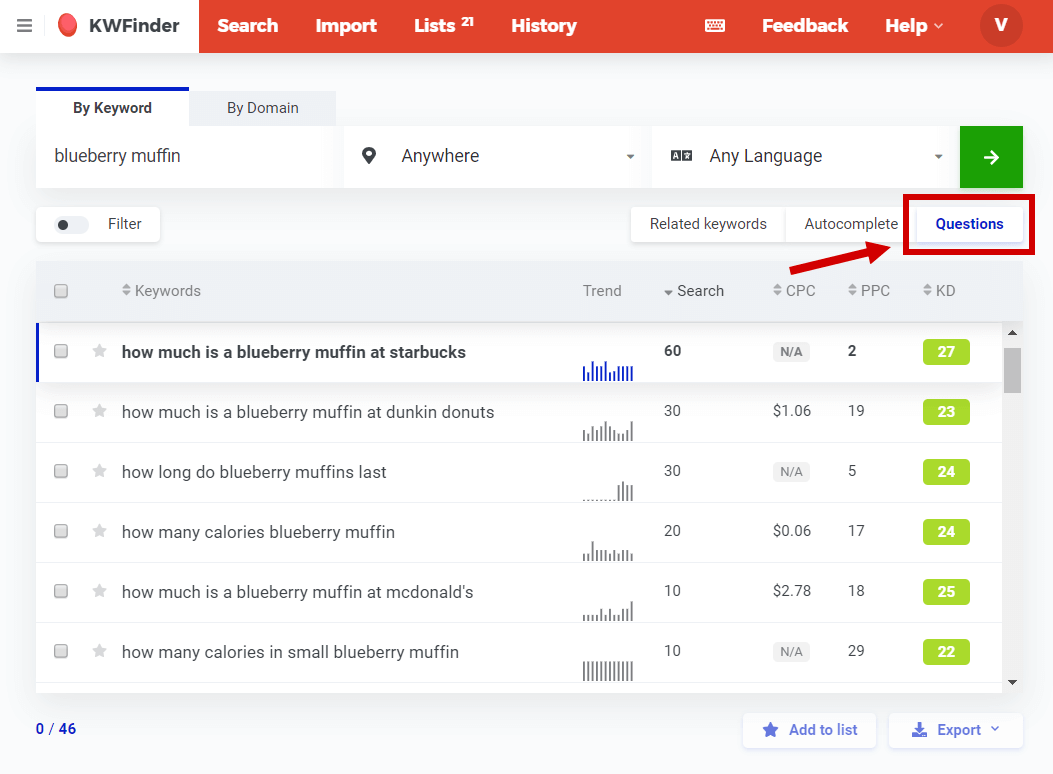 #2. See the results in the box "People also ask"
While keyword research is extremely useful, be sure to check the "People also ask" section. You will often find this section below a featured snippet.

If you click on a question, more and more questions appear: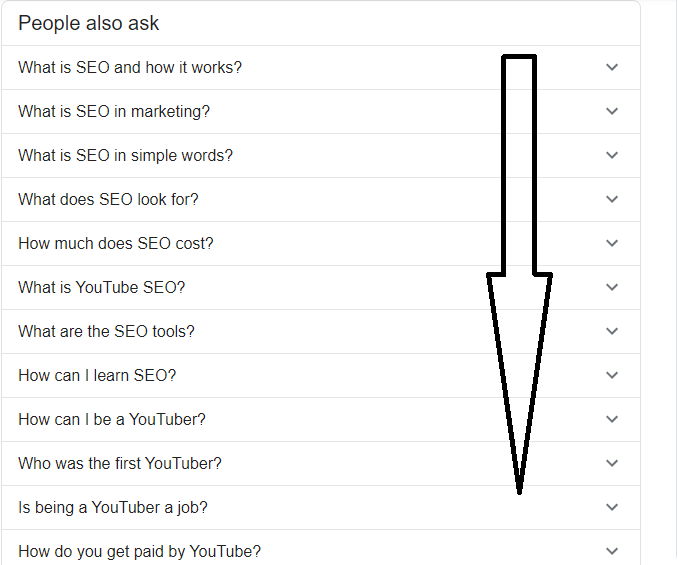 Consider this a gold mine, as it offers more opportunities to expand a theme. You can answer as many questions as possible in a single blog post.
#3. Try to rank on the first page of Google search results
On page 1, you have the opportunity to appear in a snippet. Almost all the featured snippets are found on the first page of Google SERPs.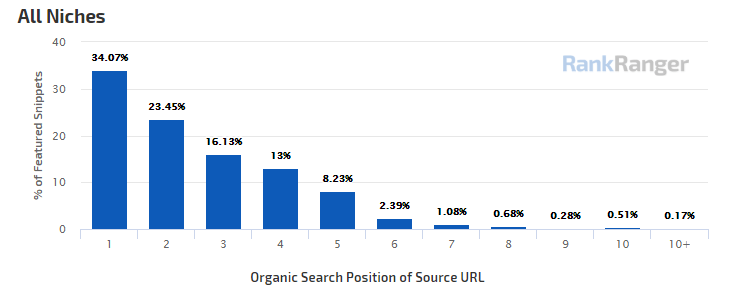 This only shows that increasing your organic ranking is still a solid practice.
Review strategies on how to improve your On-Page SEO, while offering an excellent user experience:
Diagnose SEO problems and correct penalties
Make your site easier to navigate and track
Practice internal linking and link to external sources of quality.
Make your site fast and mobile-friendly
If you still use an Http protocol, change to SSL
Use friendly URLs
Target your content with a search intention and keep it updated
Optimize your images
Make your page readable and easy to use
#4. Write using the inverted pyramid style
The inverted (or reverse) pyramid is a concept in journalism that teaches us how information should be structured. Start by giving the answer "the most anticipated part" and continue with the supporting details for the rest of your content.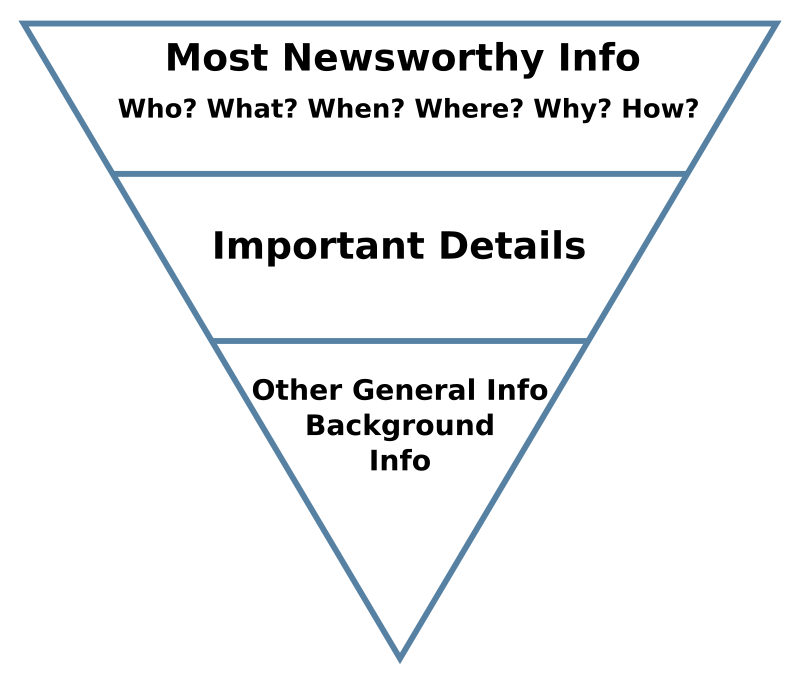 Dr. Peter J. Meyers of Moz believes that the inverted pyramid is a legitimate and intelligent technique for landing highlighted sections.
#5. Use words that can generate featured snippets
Now, here is something that will encourage you …
In the process of searching for Google snippets, I found a study conducted by the STAT Search Analytics team: the best words and topics to generate featured snippets.
The study revealed queries (grouped based on common themes) that returned snippets more frequently:
Queries with a high featured snippet: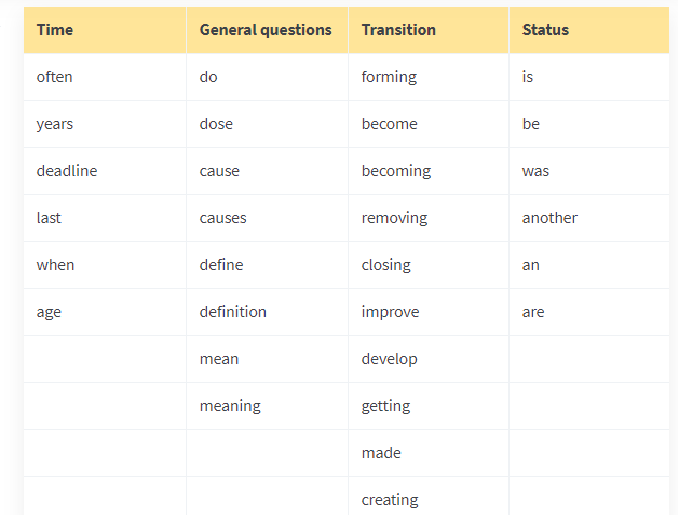 In the same study, the results also revealed words with less probability of classification in the snippets. You can think about avoiding them or minimizing their use:
Queries with a low featured snippet: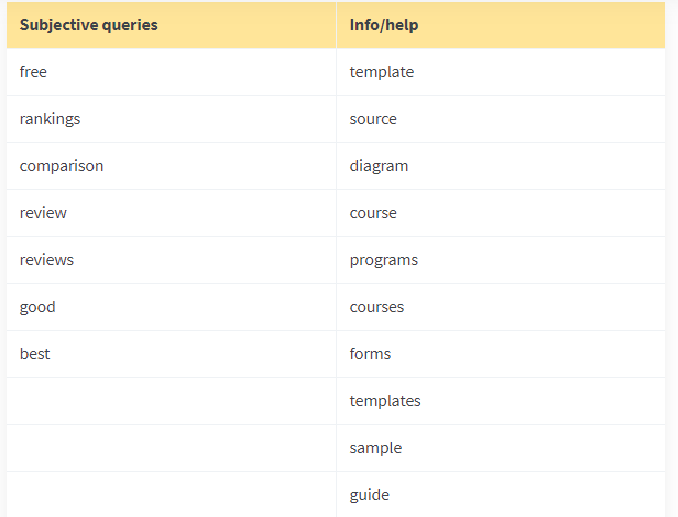 #6. Pay attention to formatting
Previously, we discussed that a featured snippet may come in different formats. Structure your content, depending on the format of the snippets you want to show.
So, if you are behind a table, put your answers on a table. If you are pointing to a list snippet, make sure that the elements are well structured in a list of titles.
Here we show you how to format your blog post for snippets:
Write descriptive headers and use header tags such as h1, h2, h3, etc.
Use short and strong phrases that provide direct answers.
Use numbered lists, bulleted lists, tables or graphs.
Add a relevant image along with the snippet query you are answering.
Basically, think about the usefulness, reading ability and general experience of your readers.
#7. Follow the optimal word count
SEMrush analyzed more than 10 million keywords and 1 million domains and had a useful discovery: most of the featured snippets have between 40 and 50 words. The Hubspot mentions up to 58 words.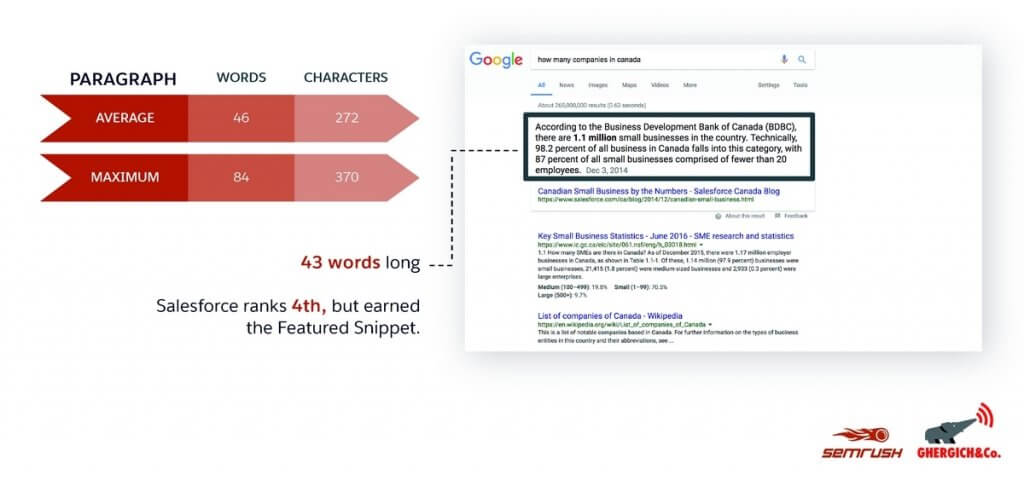 Stay safe by keeping your answers short and to the point. Answer no more than 58 words.
#8. Add a Q&A page to your website
The question and answer pages are beneficial for website owners offering products or services. These pages demonstrate your knowledge when addressing concerns. Most importantly, they offer more opportunities to appear on a stretch.
When creating a Q&A page, show the facts that most people in your niche want to know. Provide complete answers in short paragraphs and keep them in order.
If the creation of this page is not applicable to your niche, use the previous techniques discussed.
Conclusion
If you want to get better traffic and improve SEO of your site, know that taking first place in Google search results is not the only solution. Ranking in featured snippet offers a second chance.
Here is a quick summary of the strategies:
Do keyword research and question keywords
See "People also ask questions" from Google for relevant questions
Point to the first page of Google SERPs
Use the inverted pyramid style when writing content
Include words that can generate featured snippets
Format your blog post based on your target snippet
Stick to a length of 40 to 58 words
Structure your blog post well
Add a question and answer page to your site
Thanks for reading and I hope this guide helps you!