Good website maintenance is necessary for a healthy and long-lasting website. It allows you to identify problems in advance, correct them, and ensure that your website remains operational and beneficial. Follow our checklist to successfully maintain your WordPress site.
There are many reasons for creating a website and its success depends on many factors. But one aspect of a website's success depends on an often-overlooked factor: proper maintenance.
All WordPress sites require at least some level of maintenance to keep them safe and working well. And while you have to work hard, it doesn't have to be complicated if you know exactly what to do and when to do it.
To assist you in this endeavor, we have compiled a WordPress maintenance checklist that will guide you and help you make sure your WordPress site is up-to-date, secure, and running smoothly.
While this may seem like a difficult task, don't despair! We divide these tasks by how often you must complete them, ranging from weekly to monthly to yearly tasks.
So, let's start keeping your site healthy.
Why You Need To Maintain Your WordPress Site
Your WordPress site is like a car. If you treat it right, it will work for you for many years. But if you forgo maintenance, problems can start to pile up, and if you put it off, your site may even stop working.
WordPress is constantly changing. The core team always adds new features, fixes bugs, fixes newly discovered security issues, etc. The same goes for all the plugins you are using and the web as a whole.
Your own website is constantly changing as well. You can post new content, change the layout, add new features, and more.
Put all these changes together and there is a high risk that something will go wrong and your website will not work.
This sounds a bit intimidating, but it doesn't have to be. Most of the time, all of these changes go smoothly. But, to avoid the rare situations where something goes wrong and to stay on top of trends on your website, it's important to do a little maintenance.
WordPress Site Maintenance Checklist
Weekly WordPress Maintenance Tasks
Visit Your Site
This sounds simple, but just visiting your website interface and clicking through a few main pages is a great way to spot any potential issues. That being said, it's easy to forget about it and spend all your time on the WordPress dashboard. So once a week, visit their website and browse some of the main pages to make sure everything is still working as expected.
Moderate Comments
If you allow comments on your site, you will need to spend time moderating them each week to make sure you approve the actual comments and flag / remove the spam comments.
To help you save time when moderating comments, you may consider using an anti-spam plugin like Akismet. That way you only need to check once a week to approve human comments and see if Akismet accidentally marked an actual comment as spam.
Back Up Your Site
Having a recent backup is essential to protect your website data. So, if your WordPress host isn't taking care of the backups for you yet, you should make a backup of your website yourself. For most sites, weekly backups are a good frequency.
If you have a static brochure site that never changes (that is, no blog posts or comments), then there may be no problem with monthly backups. The optimal frequency to back up your website really depends on how often you make changes and add content to the database.
Apply Updates (Core, Plugins, and Theme)
If you want to protect your website and keep it running, immediate updates are essential. Every week, you should check for updates to WordPress core, plugins, or themes.
If there are updates, you should apply them immediately. If you are concerned about compatibility issues, you can test the updates on a test site before applying them to your live site. Or you can put your site in maintenance mode while you apply updates.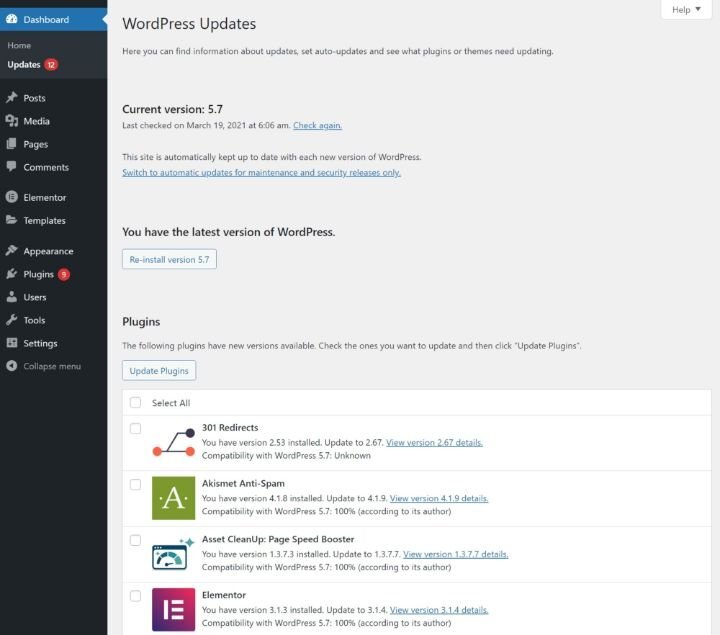 Test Key Forms and Features
If you have important forms or resources (like a checkout process), it's important to test them regularly. There's nothing worse than wondering why you haven't had leads/sales in the last 10 days only to find out that it was because your form stopped working.
For some sites, you may want to do this monthly rather than weekly. It really depends on how essential the forms/resources are to your business. For mission critical forms, where any issue means lost revenue or customers, it's always a good idea to test weekly.
And for the really essential functions, you may want to set up some kind of automated monitoring system. For example, Pingdom offers transaction monitoring to test key functions on a daily or hourly schedule.
Check Google Search Console
If Google finds a problem with your site's SEO or mobile optimization, it will share alerts on Google Search Console. For this reason, it's important to frequently check if Google has flagged a problem with your site.
You can see all the issues quickly by clicking the notification bell in the upper right corner:
You can also explore other reports to see changes and trends.
Monthly WordPress Maintenance Tasks
Run Performance Tests
The speed with which your site loads plays a key role in user experience and conversion rates and even has a small positive effect on SEO.
When you created your site, you probably optimized it for performance. However, this does not automatically mean that your site will remain optimized, so it is important to periodically evaluate your site's performance for potential problems.
Once a month is a good frequency for most sites, although you may want to do it weekly for mission-critical sites.
To learn how to analyze your website performance, check out our guide on how to run a website speed test.
Analyze Your Site's Traffic
To understand what is happening on your website, you must use some kind of web analytics tool, such as Google Analytics.
If digital marketing is an important part of your strategy, you are probably already checking your web analytics every day. Most webmasters don't need to check this often, but it's still helpful to check once a month or more to keep up with what's going on and keep an eye out for trends.
If SEO is an important part of your strategy, you can also set up keyword tracking to track your site's ranking on Google and check it every month.
Run a Security Scan
Because WordPress is so popular, it is an attractive target for malicious actors. To ensure that your site does not become a victim, it is a good idea to run regular security checks to detect potential problems.
Most WordPress security plugins include automatic security verification features.
Optimize Your Site's Database
Your website database stores all your content, theme settings, plugin settings, etc. Over time, you can create a lot of clutter through things like post reviews, transients, spam comments, etc.
For this reason, it is a good idea to periodically optimize your website database to remove all this junk.
You can do this using some performance plugins, including WP Rocket. These plugins also allow you to schedule database optimization for automatic execution.
Summary
This checklist is not immutable and you may want to adjust the frequency of your website. For example, if your website forms don't play a key role in your business, you probably don't need to review them every week.
However, we try to find a good frequency that is ideal for most sites, so this checklist is a great place to start creating your maintenance plans.
If this maintenance seems excessive, you can consider a managed WordPress host, which can eliminate some of these tasks, handle backups, security checks, updates, etc. Or you may consider paying for a WordPress maintenance service to maintain your website for you.
However, in general, once it starts to flow, your maintenance tasks should only take a few minutes a week, with some extra time each month or year for other tasks.
Still have questions about WordPress maintenance? Ask us in the comments!