A thorough analysis of your website performance can help you find problems and weaknesses to fix and eliminate. There are numerous web analytics tools available, but we've compiled the top 8 tools that will really help you, whatever your budget.
Your website is a large collection of information with data ranging from traffic to page behavior, traffic sources, and more. This information becomes especially crucial when looking to improve those individual areas of your website or your website as a whole.
But, to collect and analyze this information, you will need special tools, and this is where web analytics tools come in. Web analytics tools are designed to track, measure, and report on your website activity. Some web analytics platforms use powerful automation technologies, such as machine learning, predictive algorithms, and email automation.
In this article, we'll look at the best website analytics tools marketers and contract research organizations (CROs) can use to improve sales, conversions, and engagement. Let's start!
4 Best Free Web Analytics Tools
All website owners can benefit from having access to web analytics. However, you may not always have the resources to invest in enterprise-grade tools. That's why we've put together a list of our favorite free web analytics platforms.
Open Web Analytics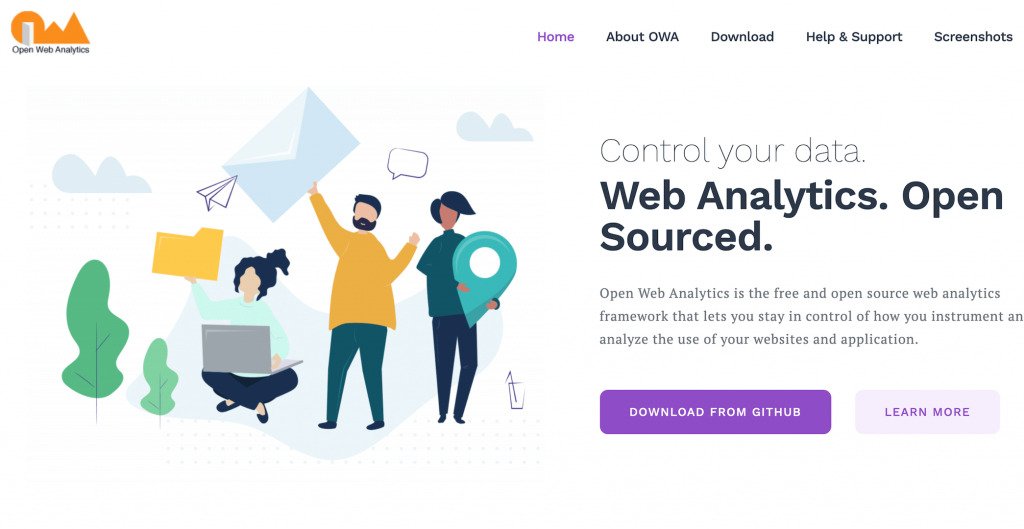 Open Web Analytics (OWA) tracks all the common metrics you expect from an analytics platform. This includes referring sites, page views, and unique visitors. However, OWA can also monitor the click stream of each visitor and provide heat maps.
With these details, OWA can provide a detailed view of how visitors interact with your pages. In particular, you can use this tool to map the paths and actions that visitors take before they officially convert to conversions. You can then use this information to increase your conversion rates.
OWA also offers e-commerce tracking. This makes it a good option for online store owners looking for a free and open-source analytics platform. Also, if you are concerned about privacy, you can use OWA and, at the same time, maintain full control over your data, since this analytics platform does not share any of your information with third parties.
Clicky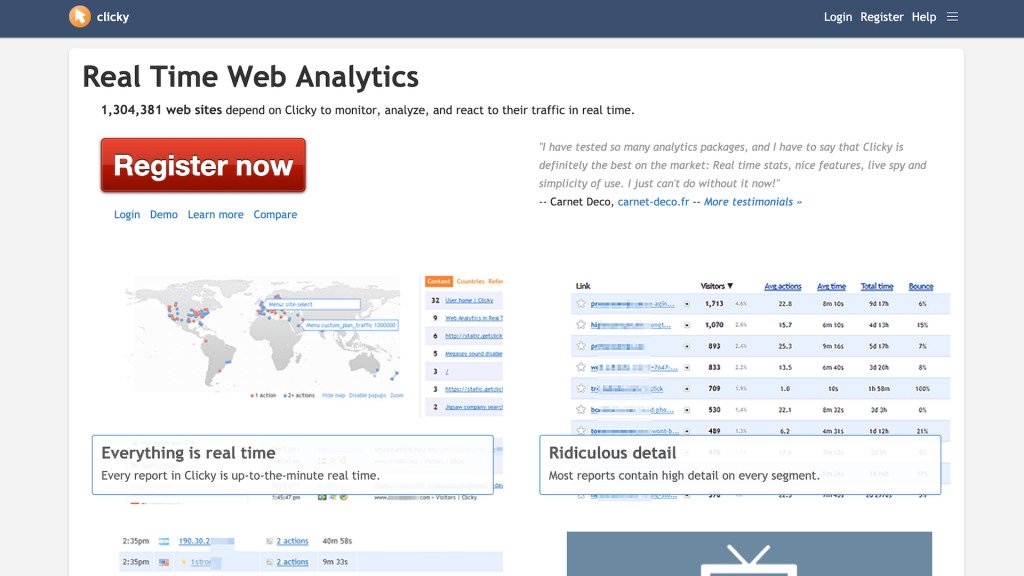 More than 1,300,000 websites use Clicky to monitor their traffic in real-time. Clicky differs from competing analytics platforms by generating heat maps for individual visitors, rather than user collections. This level of functionality is generally found only in dedicated heatmap tools, rather than broader analytical platforms.
This focus on individual visitors extends to other important metrics, as the Clicky dashboard displays information about each person who visits your site. This includes their location, referral source, the amount of time they spent on each page, and the actions they took on your site.
Clicky is free for up to 3000 page views from a single website. There are also a variety of paid plans available if you want to monitor multiple sites or if your site attracts a large number of page views.
Amplitude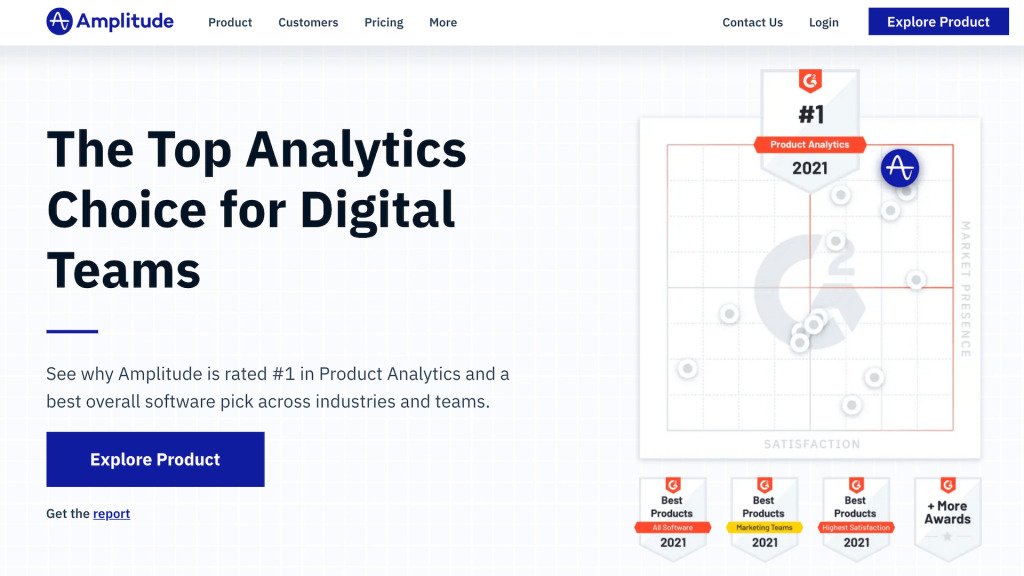 Amplitude is a product intelligence platform that focuses on tracking user experience (UX) and user behavior. You can use this tool to segment your visitors and analyze funnels, revenue, and retention.
Amplitude is particularly useful for product managers looking to improve retention rates by understanding the customer journey. In particular, product managers can use Amplitude to identify common failures and conversions. Marketers can also use Amplitude to run A/B tests and create targeted campaigns.
Amplitude is free for up to ten million shares per month. This plan provides features such as life cycle analysis, unlimited user activity hours, and segmentation based on user actions. You can also use formulas to combine metrics, which can be useful for measuring percentiles, moving averages, and trend lines.
Hotjar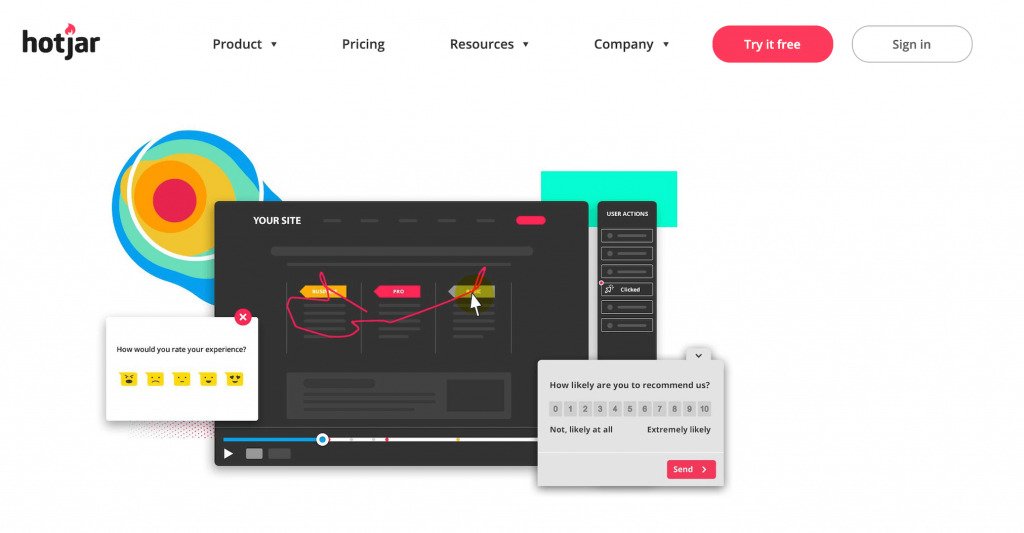 Hotjar is a conversion rate optimization and behavior analysis platform that is used by more than 550 thousand websites. It promises to improve your website user experience by providing heat map analysis, conversion funnel analysis, and virtual session recording.
These recorded sessions can be particularly helpful in understanding why visitors are taking certain actions on your site. Digital marketers, user experience designers, and web developers can use this information to optimize the conversion rate and improve the overall experience of your website.
Unlike other analytics platforms, Hotjar was designed to be used in conjunction with Google Analytics. For example, you can use Google Analytics to identify a poor performing page, such as a landing page that is converting very little.
You can then use Hotjar to collect session recordings of the actions that visitors take on this specific landing page. This can help you understand why this page is performing poorly and take action to correct the problem. You can also use it to view Google Optimize experiments.
Hotjar is free for up to 2000 page views per day. Alternatively, paid plans are available starting at $ 39 per month.
4 Best Paid Web Analytics Tools
Web analytics can provide the data you need to drive your business to success. If you are in a position to invest in an analytics platform, it is important to make the right decision. To help you find the perfect fit, here are our top 4 paid web analytics tools.
Kissmetrics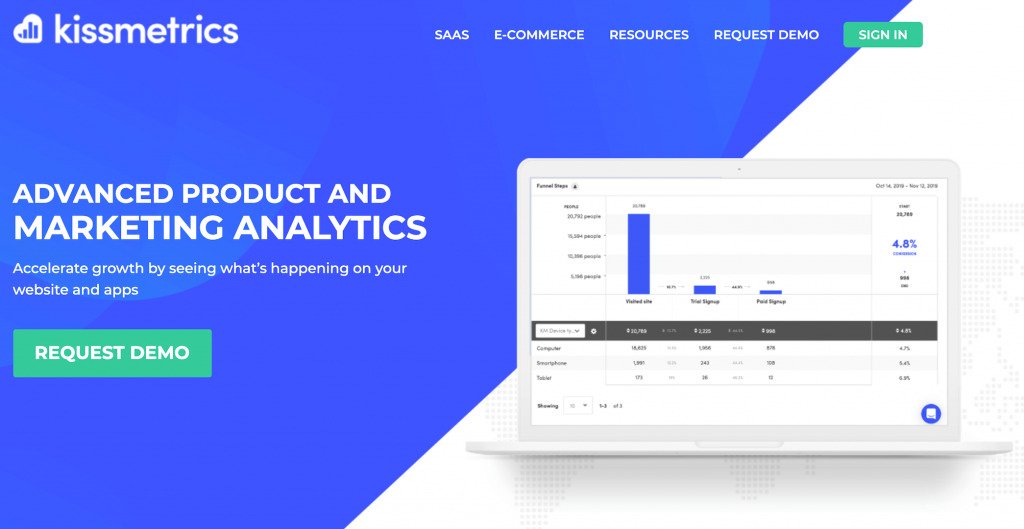 Kissmetrics is a customer engagement automation platform that provides detailed behavioral analysis. This includes real-time analytics, conversion tracking, customer journey analytics, visualization, and data segmentation.
Kissmetrics is especially suited to the world of e-commerce. If you are an online store owner, you can use Kissmetrics insights to optimize your sales funnel and convert occasional visitors into loyal customers.
In addition to providing analytics, Kissmetric is an email automation platform. This means that you can use your knowledge to create targeted email campaigns. This can help you sell more to your existing customers and increase your Customer Lifetime Value (CLV).
Kissmetrics also provides return on investment (ROI) analysis. For ecommerce stores, this can help you identify your best customers. You can then create email campaigns that specifically target high spenders.
Kissmetrics licenses range from $ 299 to $ 499 per month. It also offers separate plans for software as a service (SaaS) and e-commerce customers.
SEMrush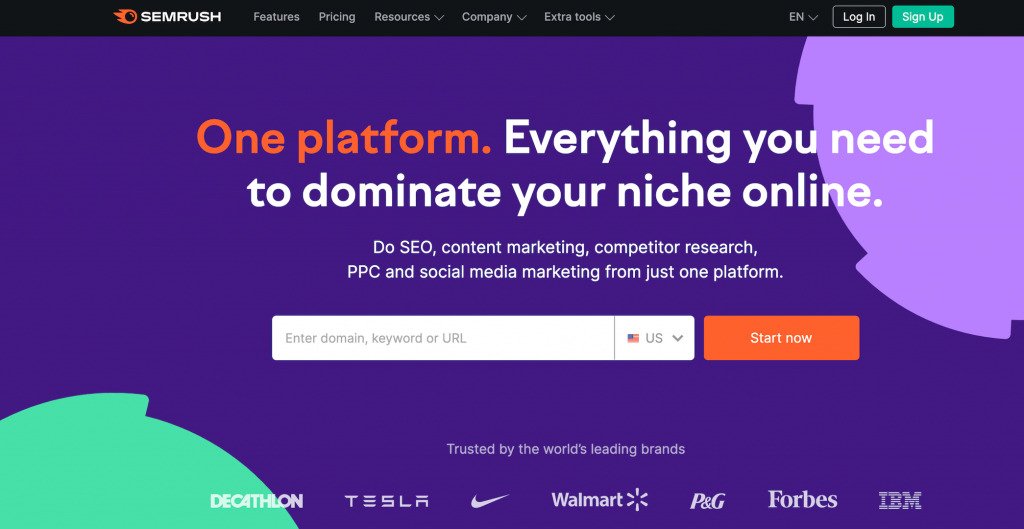 SEMrush is a web analytics tool that puts a strong focus on SEO. It provides a wide range of tools that you can use to evaluate and improve on-page, off-page, and technical SEO.
SEMrush also includes everything you need to identify relevant, high-traffic keywords that you can use to improve your search engine rankings. It is important to note that SEMrush reviews are not limited to your own website. The SEMrush dashboard contains tools that you can use to spy on your competitors.
These tools are particularly valuable for researching the keywords your competitors are using in their ads, organic and paid searches, and linking strategies. This makes SEMrush a powerful solution for SEO and marketing agencies.
SEMrush subscriptions range from $ 119.95 to $ 449.95 per month. A seven-day free trial is also available.
Crazy Egg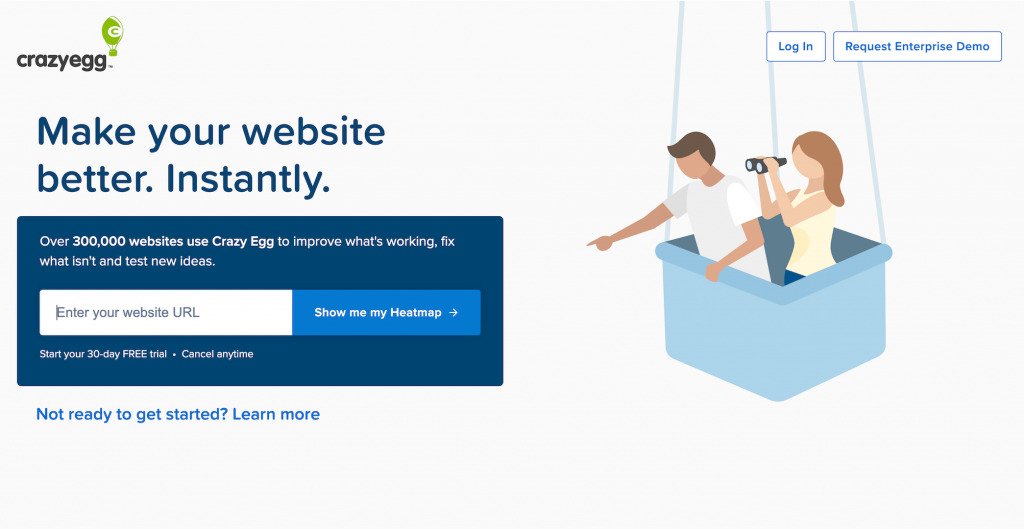 Crazy Egg is a website optimization tool that can help you monitor and analyze your conversion rates. You can use this tool to see how visitors interact with your content, including tracking their cursors and recording the areas they click on.
This can provide information about the content that drives visitor interaction and the content that prevents it. You can then use this information to optimize your web pages for maximum engagement.
Crazy Egg also offers funnel analysis and A/B testing. This can be useful for marketers and web designers looking to improve user experience and achieve high conversion rates.
Pricing for Crazy Egg starts at $ 24 a month. Please note that all plans are billed annually.
Matomo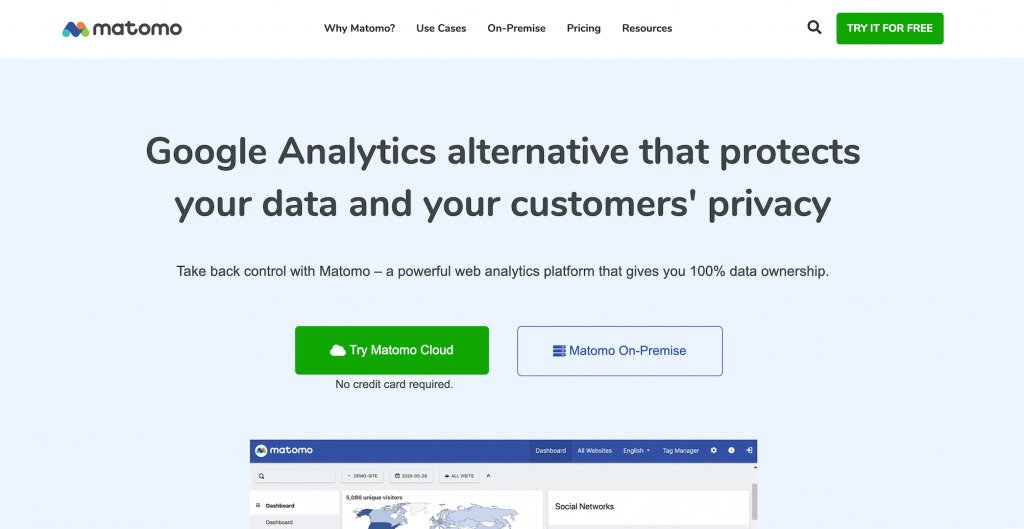 Matomo is a tool for measuring website traffic and user behavior. This is an open-source solution that you can host on your own server or on your WordPress installation. This gives you maximum flexibility.
Standout features include target conversion tracking, event tracking, and A/B testing. It is also important to note that Matomo does not use data sampling. This enables you to provide highly accurate data regardless of the amount of traffic your site attracts.
Matomo also comes with dedicated eCommerce reporting capabilities that allow you to identify specific actions and traffic sources that result in successful sales. This makes it a popular choice for online store owners.
Matomo prices are not publicly available. However, you can request more information directly from the company or sign up for a free 21-day trial.
Summary
If you don't have access to a web analytics tool, you are practically flying blind. However, with numerous analytics solutions on the market, it is important to choose the right one for your specific website.
When exploring the available analytical platforms, we recommend that you consider your business goals. Your ideal analytical tool will provide you with the data you need to achieve your desired business results.
This may mean pinpointing actions that result in eCommerce sales using platforms like Matomo or Kissmetrics. Alternatively, you can go for a tool targeting specific functions (for example, Crazy Egg is popular with UX designers).
Have a question about choosing the perfect analytics solution for your business? Ask in the comment section below!