Imagine this – You create a story, you sit down and plot it, and you spend an hour or two writing. Ahh, finally you have finished an absolute masterpiece. Now sit back and wait for the applause and comments to roll in. But unless you've amassed thousands of followers (who you imagine must be on the edge of their seats waiting for your post), you may not get many views. Because? Let's break it down:
The most overlooked and easiest step to get people to click is to master your headline.
No matter how amazing the content is, if you have a terrible title, you're probably out of luck. Readers will pass by without a second glance, and search engines won't be much help either.
What makes a bad headline?
Generic
not addressed to the reader
clickbait
Just bored
If you're not writing a compelling headline in a way that resonates with the reader, you're missing the point. Do not try to trick them with clickbait. There is nothing worse than misleading or misrepresenting your audience, in the end, you will only make your readers upset. A monetized "success" story doesn't cancel out a glut of people who won't sign or read your other works.
What makes a great headline?
Captivating
Emotional
Interesting
A headline that grabs their attention right away is sure to get more clicks. Either be a topic that you know your audience will like or use specific keywords that target strong sentiments from readers. Let's dig a little deeper into this…
How to punch up your headlines.
Analyze every word. While the debate is about how short a good headline should be (some say six or eight words, others advocate longer), psychology is all about keeping it concise. Grab the reader's attention in the few seconds you have.
Unless you are publishing your dissertation, keep it simple. You shouldn't overcomplicate your title with advanced language that you'll need a title to figure out. Create something easy on the eye that flows and doesn't confuse the reader.
Play on the reader's emotions. You have to market your story in a way that will convince someone to click. What kinds of words can you choose to emphasize urgency or pique the reader's interest?
The biggest and best tool in your tool belt.
There is a website that will help you create the perfect headline. No, this is not an advertisement, I really think this is the best and easiest tool for writers (especially new writers like me). It's CoSchedule's Headline Studio.
Simply enter your potential title and it will give you a score along with suggestions on how to improve. I am using the free version but even this is the most help.
Check out the screenshot below of me testing the title of this article: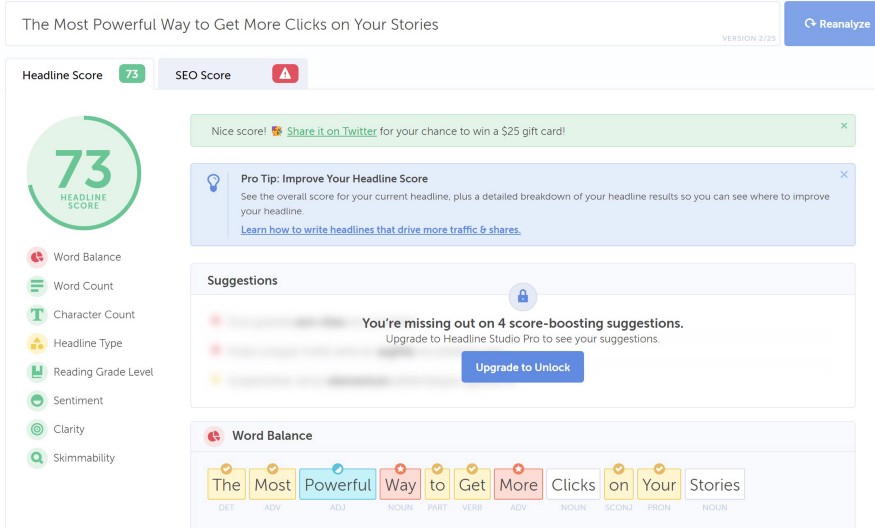 If you used their free suggestions, here are some powerful keywords that will up the ante. These specific words will not only draw attention but also show the reader that you have valuable content to offer.
Check out the blog posts for a full list of powerful words and triggers that will get you thinking of new ways to express your stories.
In short: rewrite. Write again. Write again. Is there a way to use more powerful words? More excitement? Change point of view? Edit it to be more concise. Look at every angle of your title until you're satisfied. Only then should you see an increase in views.