If you've ever launched a website, posted content, or sold something online, you know that search engine optimization (SEO) is the key to getting your eyes on what you're building. And keyword research is an essential part of optimizing your website.
There is no shortage of tools built specifically for keyword research (literally hundreds of them), and they range from the beginner's approach to the more advanced. They also range from absolutely basic and useless to super valuable.
When done right, the best SEO keyword research tools simplify and streamline your SEO workflow. They make it easy to find the right keywords to target and provide the data you need to rank for them. When done wrong, they can complicate your search and delay you.
That is why it is important to choose the right keyword planner tool. To help, we've considered over 20 keyword research tools. After extensive testing, here are the top 3, including large and versatile applications designed for more specific use cases.
Best Overall Keyword Research Tool
Moz Keyword Explorer (Web)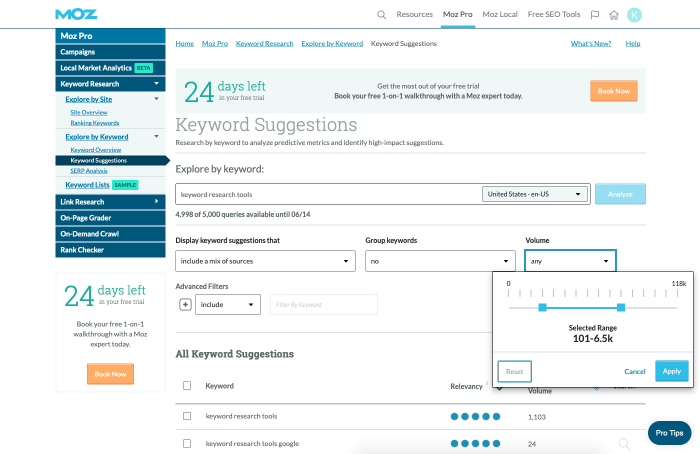 Moz's SEO platform offers several different tools designed for keyword research. While Moz doesn't include as many data points as some of the other full-featured SEO tools (like SERP position history or the total number of keywords a competitor result ranks for), we consider that this is a benefit. This makes the user experience less overwhelming for non-search marketers, without losing the metrics you really want.
With the Keyword Planner tool, you can search for any keyword you choose and see its monthly volume, difficulty, and organic click-through rate (CTR). Scroll down from there to see the ranking analysis of the current results and suggestions for similar keywords.
Here's our favorite feature:
Moz includes a "Priority" score that simplifies keyword research, providing the baseline on whether a keyword is worth following for you. Moz automatically calculates the score based on keyword volume, organic CTR, and difficulty, along with your "My Score," a metric you define that designates how important a particular keyword is to your business, based on its own experience and knowledge of your business. and industry.
Moz Pricing: Keyword search capabilities are available for free for up to 10 queries per month; Moz Pro plans start at $ 99 / month for 150 keyword queries per month
Semrush (Web)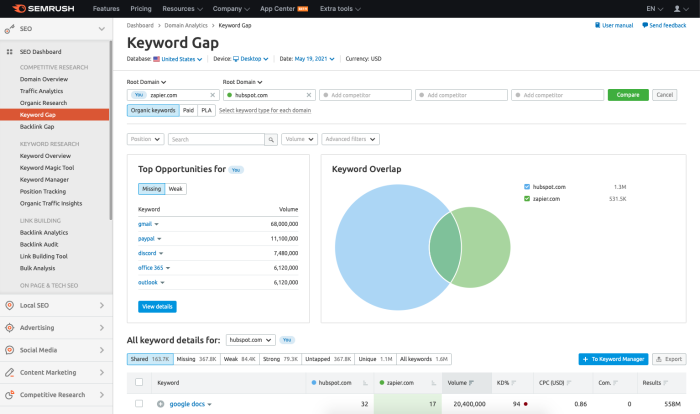 It's the most expensive tool on our list, but if you're looking for something more advanced, Semrush shares a lot of keyword data and makes it easy to find details like SERP resources (highlight snippets, comments, sitelinks, image packs, etc. on ) and granular analysis of current results.
Semrush also offers a wide range of keyword research tools, from standard traffic and search volume data to content-oriented keyword research and competitive keyword gap analysis.
This competitive keyword analysis is really what sets Semrush apart. With the Keyword Gap feature, you can enter your competitors' websites, and Semrush audits the keywords that rank and those that you don't, making it easy to find new opportunities.
As an added bonus, the SEO content template tool allows you to optimize content as you type, classifying it in real time to improve readability, originality, tone of voice, and SEO – it uses a helpful chart to help you find the right one. proper balance. Additionally, the tool visually checks SEO recommendations (such as using your goal and related keywords and adding relevant links and images) as it goes.
Semrush Pricing: Plans start at $ 119.95 / month for up to 3,000 results per day and 250 keyword metric updates per month
Wincher (Web)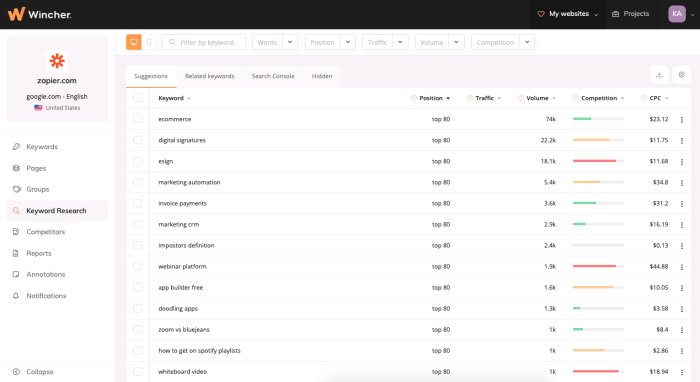 Wincher is a great option if you want to optimize your entire site by identifying keyword opportunities and tracking your ranking progress.
To get started, you will enter your website domain. Once the data has loaded, click Keyword Search in the left menu to see a full list of Wincher keyword suggestions. These are the keywords your site is already ranked for, but you can filter by position to find keywords beyond the top ten – keywords that you can optimize to move up the rankings. You can further prioritize your updates, filtering based on traffic or volume, competition, and cost per click (CPC).
Switch to the Related Keywords tab for a more traditional search for specific keywords, regardless of whether you've already ranked for them or not. For any keyword, click on the three dots to the right of the relevant keyword and choose Add Keywords to track its rise through the SERPs.
Wincher Pricing: Plans from € 29 / month for daily rating updates and up to 10 sites