Can I tell you one of the most common misconceptions in SEO? The backlinks from social networks are not useless.
I understand why many marketing specialists think they are (maybe including you). It's because they don't follow and don't count in common SEO domains. But the truth is that social signals play a role as a ranking factor. And there is a lot of attention on social networks that simply do not disappear.
If you ignore social media links, you are ignoring much of your potential audience. People click on the links and find new sites in the news all the time.
It is time that yours is also one of them. In this article, I described 25 ways to create backlinks from social media networks that will increase your traffic and ranking in google …
Social Media Backlinks
You are probably a bit skeptical about this whole issue of "social backlinks get clicks." Why not keep track of social media clicks you get from social media backlinks?
The easiest way to track backlinks from social media networks is with the UTM and Google Analytics parameters. For example, if you used the following links on your LinkedIn profile …
https://www.funnywill.com/?utm_source=linkedin.com&utm_medium=social&utm_content=content+info
&utm_campaign=social+profile
https://www.funnywill.com/?utm_source=linkedin.com&utm_medium=social&utm_content=projects&utm
_campaign=social+profile
https://funnywill.com/?utm_source=linkedin.com&utm_medium=social&utm_content=publications&
utm_campaign=social+profile
Google Analytics may report that you have received clicks on your LinkedIn profile site in each of these sections: contact information, projects, and publications. Acquisitions > Campaigns > All Campaigns
However, keep in mind that you cannot use UTM parameters in all your social profiles. For example, on Twitter, I would end up with a very long link in the site field. In any social network that displays the full URL of your site, you can only use UTM parameters if you limit it with Bit.ly or a similar service.
This tactic may not be a good brand strategy since people distrust Bit.ly links. So let's take a look at all the places where you can and should add links to your social profiles, pages, and groups.
Backlink Building From Facebook
First, let's start with the most popular social network of all.
Link#1: About Tab in Your Personal Profile
When someone visits your personal Facebook profile, you want to connect it to your site. To do this, add your website link in the Site field, under Basic and contact information, on the About tab: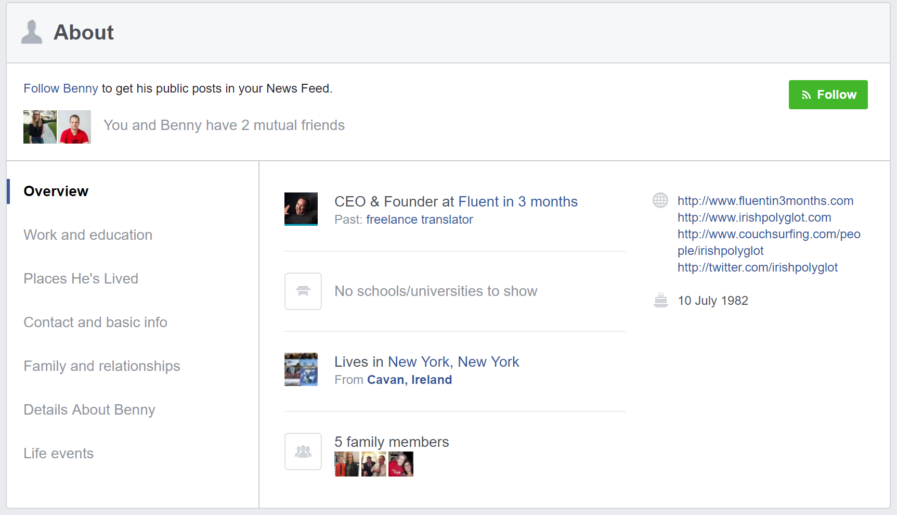 Mark this field as public so that everyone can see it regardless of whether they are connected to you. When someone is not even connected to Facebook, they still see the link to their website in the lower right column of their profile.
You can also link your Facebook page to your Facebook profile by adding it as your current employer. This link will give your personal profile visitors two ways to connect to your site and business.
Link # 2: All your personal profile and page posts
Of course, you can add a link to a Facebook post and drive traffic to your site. But what about publications that don't have links to articles?
Facebook now links any references to a domain.com. Every time you post something on your wall, especially publicly visible posts, add the URL of your website this way. For example, you can thank someone for including your site by sharing a link to an article that mentions it: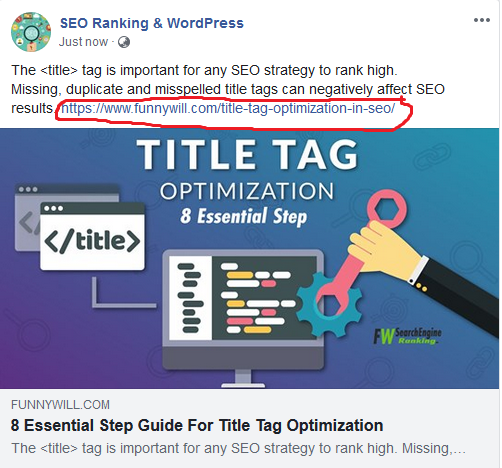 You can use it when sharing quotes you have written, quotes posted on your blog, statistics posted on your site, etc. You can subscribe to all the posts you write on your Facebook wall with your domain like this.
Think of it as part of an email signature. If the updates are public, your followers and anyone who visits your profile will see your website link in the most recent update.
For those who currently enjoy the love of Facebook for sharing videos, this tactic can help you spread the URL of your site to hundreds of thousands of viewers. Or even millions …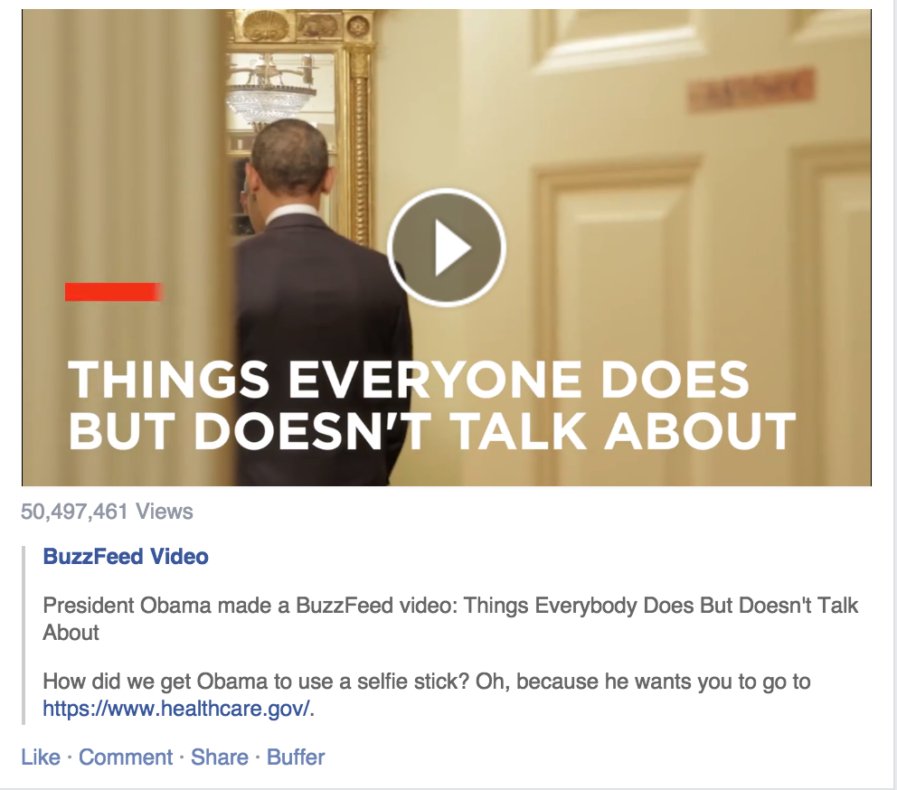 Remember this little fact: it works almost anywhere on Facebook. Publications, profile guides, page guides, groups, etc.
Link# 3: About Tab in Facebook Page
The About tab on your Facebook page offers many opportunities for you to return to your site, especially thanks to domain.com links. At a minimum, you should use the website link, which will appear on your page:
You can get twice the benefits by including your domain.com in the brief description of your page and by using a landing page in the site field.
Link# 4: Facebook Page Buttons
In addition to the extra box on your page, you can also have page buttons that act as an action plan for your followers.
These are the big blue buttons that appear below the cover image. To edit them, hover over them to display this drop-down menu: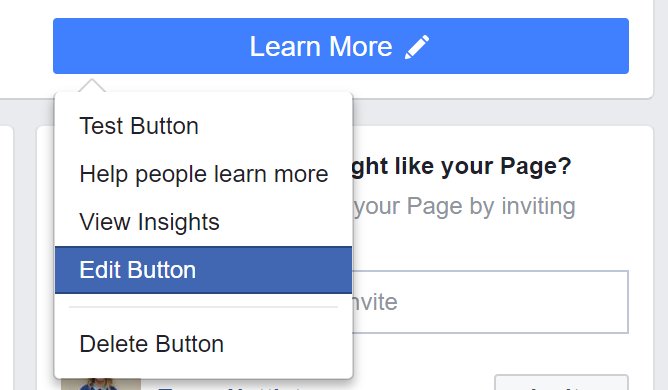 And edit the button to include a link to your site.
Link# 5: Your profile and descriptions of the cover photos
This area is the place that most people forget. But when someone clicks on their cover photo or profile (on their profile or personal page), they receive the lightbox with their photo.
To the right of the photo, you have the perfect opportunity to link to your site. Take HubSpot, for example. They use the cover photo to announce a lead magnet:
It is the perfect way to make people click on the cover photo and access your site.
Link# 6: Description of your group
Do you have a Facebook group attached to your site? Do not miss the description! Get your domain with the first 96 characters so that when someone visits your Facebook group, see your site:
Link# 7: Pin Post in Facebook Group
In your Facebook Groups, you can also pin posts at the top to be the first links someone sees when they visit your site. You can incorporate this and get great traffic success:
This is particularly effective if you are running a group where members can add other members!
Backlink Building From Twitter
Twitter may not be the power it was before, but this bird is far from dead. Let's see how you can get some juice from social links here:
Link # 8: Twitter Website Field
This is obvious. When setting up your accounts, be sure to sign in to your site so that it appears as a link that you can click on your profile page:
Link # 9: Your Twitter Biography
Yes, you have a website field in your Twitter profile. But you can also have a link in your real 160 character biography, which gives you the opportunity to share your link twice!
Why is this point important? In addition to giving you the opportunity to share two different links to your site, your bio link will appear on another part of Twitter as search results. The link you placed in the field of your profile site will not be shown here.
There are also many websites that raise your Twitter bio information to profiles like Klout. You will not receive the URL in the site field, but the URL of your 160 character bio.
Some of these sites provide links followed; so give them the chance to get yours.
Note that while Twitter links to domain.com without HTTP: //, other sites (such as Klout) extract their bio only from the link if Http: // is included.
Link# 10: Photo & Video Tweets
Did you notice that box of photos and videos? It is created when you share photos and videos in tweets. If you are sharing photos and videos on Twitter, include a link to your site.
That way, when someone clicks on one of these thumbnails, the web site's URL is shown in the lightbox. Otherwise, they will get it.
For those who share viral dating images and funny videos, this applies especially to you. If you are retweeted, your link must be available for everyone to click.
Backlink Building From LinkedIn
Connecting with professionals? These are some excellent social backlinks to your profile, page, and LinkedIn groups.
Link# 11: Profile contact information
The Contact Information tab of your profile allows you to add up to three links. These links will be displayed at the top of your LinkedIn profile for unregistered users.
Be sure to use all three and customize the anchor text for them by choosing another one instead of choosing the other options they offer when adding a link (company, blog, website, etc.).
Also, follow the clicks of these links with the UTM parameters.
Link 12: Profile Projects and publications
The contact information tab is dark, at best, for connected users. For this reason, you want to add your website link to other sections of your LinkedIn profile. Specifically the sections of projects and publications.
Your websites can easily be projects:
Your best post and main magnets (white papers, electronic books, reports, etc.) can be easily published.
Both sections place a direct link from your LinkedIn profile to your websites and landing pages without having to rely on visitors who click on this small Contact Information tab. You can also track clicks on these links with UTM parameters!
Link 13: LinkedIn Company Page basic information
LinkedIn company pages allow you to enter the website URL as part of your basic information.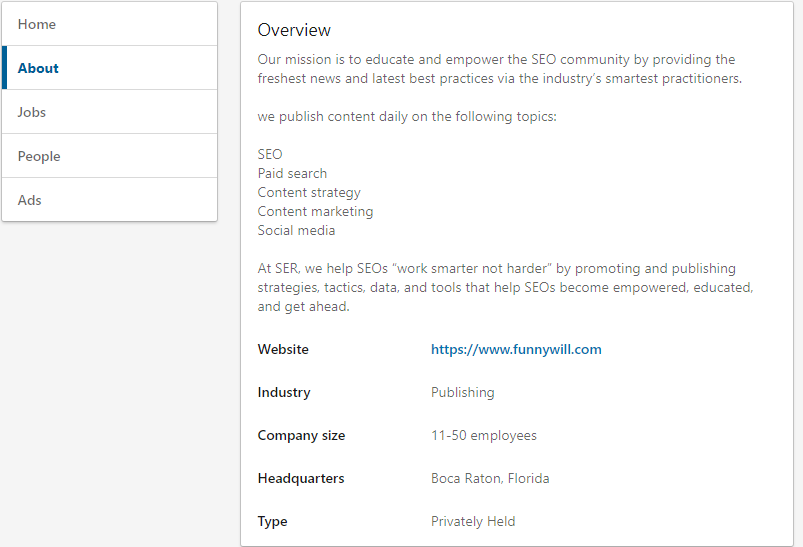 Instead of the previous product and service guide, there are now introductory pages that you can create on your company's LinkedIn page. You can add the URL of the landing page of your product or service to the corresponding presentation page:
You can also post updates on your company's page and view pages. Make sure you do so so your followers have more opportunities to click on your site.
Link14: Your LinkedIn website group's
If you have a LinkedIn group, you can add a website to the group information during setup or in the group setting: This information is displayed by default to anyone who is not a member of your group. Therefore, if someone clicks on your group to participate, they will also be presented on your website.
Link# 15: Group Announcements
Owning a LinkedIn group has a special advantage over Facebook groups. LinkedIn group owners can send Announcements, basically large group emails, to their members. This right. Once a week, you can legitimately enter the inbox of people who have not chosen your email list.
Simply go to the administration menu of your group and choose the Announcement delivery function.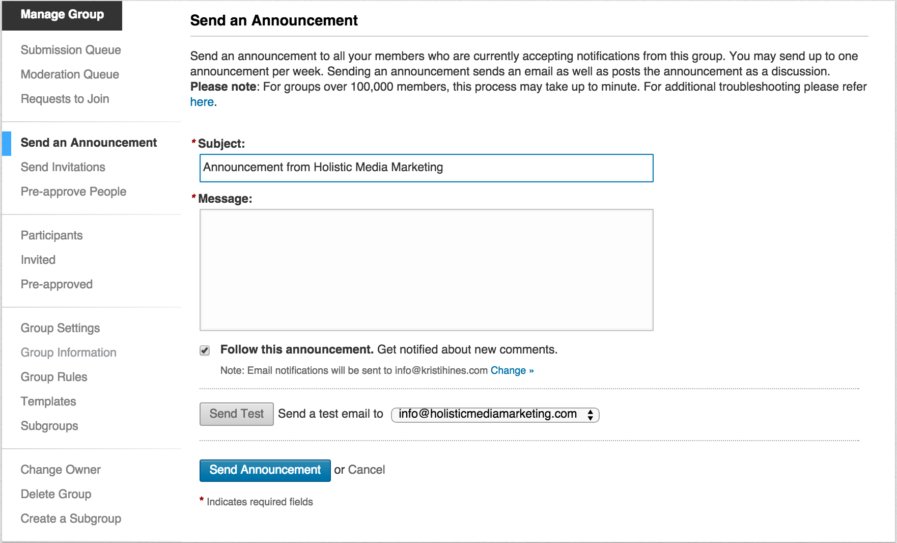 If you were not motivated to create a LinkedIn group before, this is the best reason for that.
Backlink Building From Youtube
Is video an integral part of your business? Well, now you can also be part of your backlinking strategy.
Link# 16: YouTube About page
This link on the page comes with two advantages. First, you get a prominent location on your page about, where people are likely to click on your blog again:
But it also comes with a second advantage. When people reach your YouTube channel page, these links will also appear below the header image:
Due to the proximity of this button to the subscription button, you will receive a lot of attention. And it is a link that is really worth having.
Link# 17: Youtube Video Descriptions
Each video has a description. And while it may seem grayish to the naked eye, it is a link that can be clicked when passed over it:
Try this in the first 25 to 50 words of your video description.
Backlink Building From Pinterest
Anchor the content of your website to traffic? See what you need to know about Pinterest's social backlinks.
Link 18: Your Profile
You only get a link on Pinterest, so you must use it! Pinterest will also ask you to verify your link, allowing you to unlock the following place to get links on Pinterest …

Link# 19: Pinterest Rich Pins
Rich Pins allows you to post photos and images on Pinterest as if you were doing it with a Facebook article. Which means you can easily attach a link to your content at the end of your pin: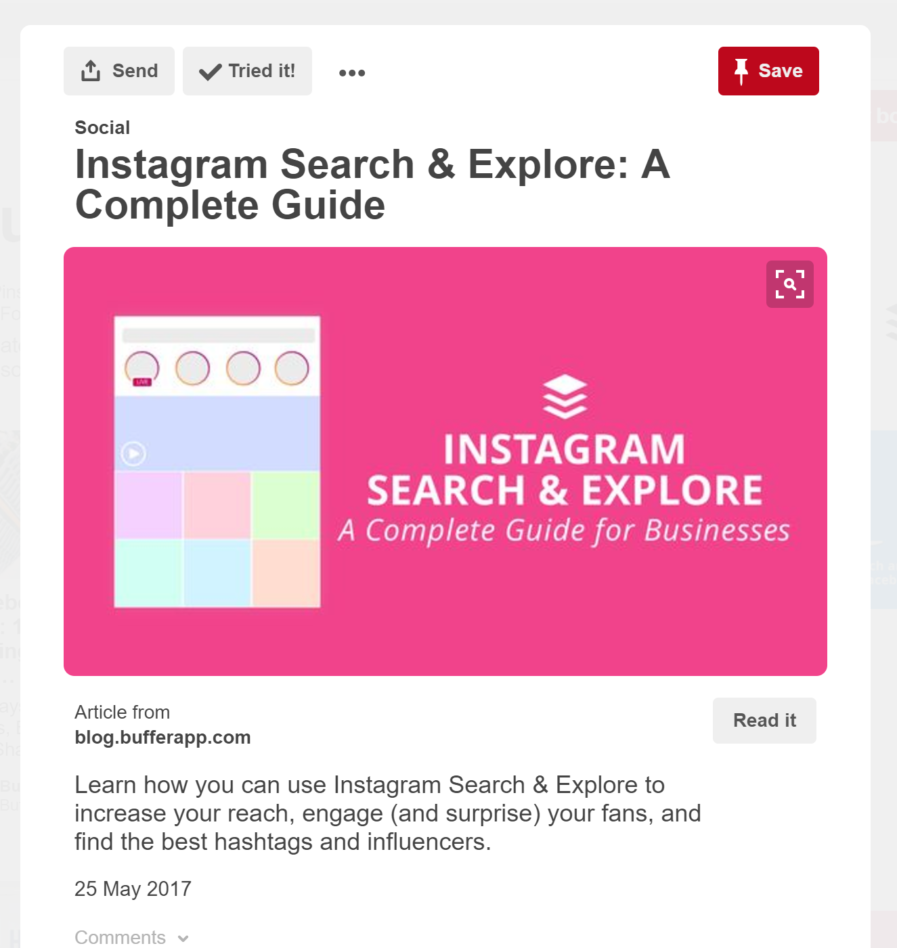 Tip for affiliate marketers: If you have published articles from Amazon, edit the link to include your Amazon Associate URL. While Pinterest is breaking affiliate links on the pins, they didn't seem to understand this. Yet.
Create a dark tracking code for the best results. if you are linking to your own site, use the UTM parameters to track clicks.
Instagram Link Building
Instagram does not offer many options for links. But the links they provide are used. Why else would people be investing money in advertising and marketing efforts there?
Link # 20: Your profile
You can and should add a link to your Instagram profile. Preferably add it with some icons that get people's attention.
This link will also have some love in the desktop version of your Instagram profile when people find your profile in the search.
Link # 21: Instagram stories
Instagram stores now allow you to add links when you create them. This is not a permanent link and will disappear.
But if you are creating a relevant story for a prominent topic, participate with a strong call to action.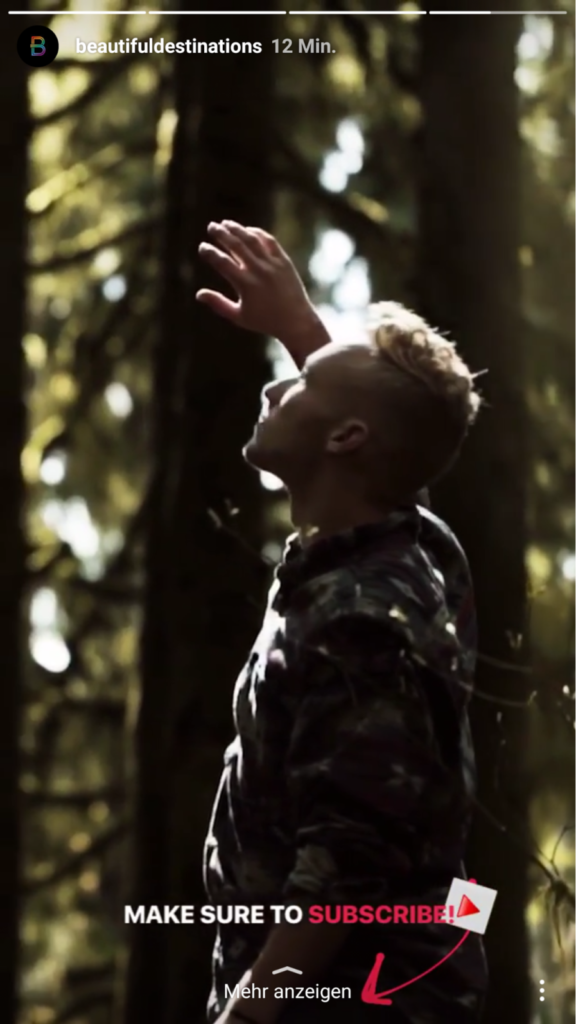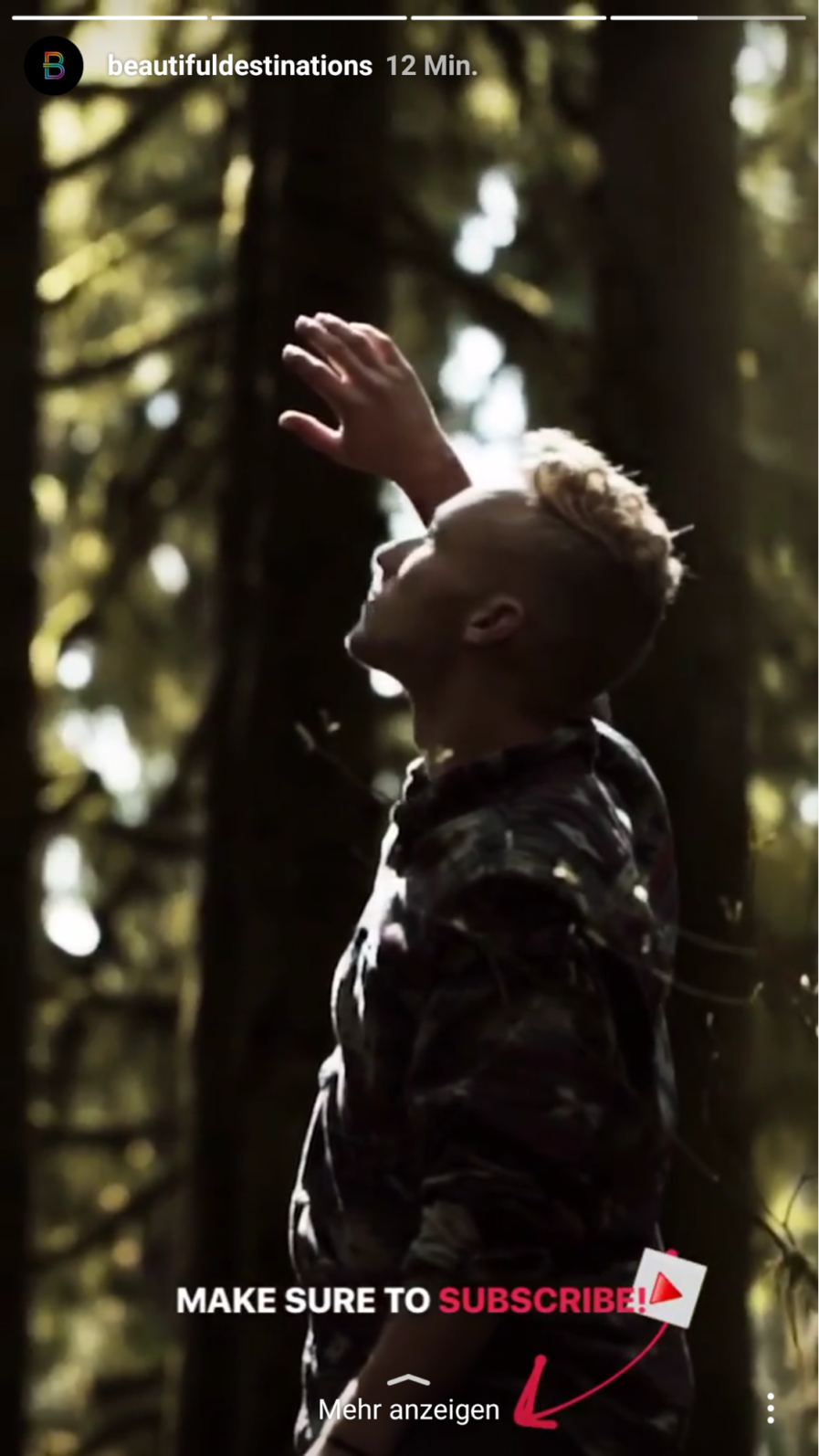 Quora Social Link Building
Quora is a social media platform and there is a lot of referral traffic if you do it right.
Link# 22: Your profile
Like any other platform on this list, you get a link to your site. Only this time it is in your description and you should do the hyperlink:
Link#23: Your answers
Definitely include links to your site and content in your responses to people.
This content can be viewed for months or years later. And having a link there can create a good amount of long-term referral traffic. But spam is not enough. Be sure to add value to the comment.
Other ideas for social network backlinks
Link # 24: WhatsApp Status?
Did you know that you can add links to your WhatsApp status? All you have to do is go to the settings, click on your profile picture and insert the link:
Link 25: Video streaming sites
Do you make live videos as part of your marketing campaigns? In that case, consider passing them through services such as Twitch and Periscope, so you can also include links.
People can find their videos organically through these sites, so this is a great additional place for them.
Ending …
I hope you have created some social media links with the profiles, pages, and communities you have, or that you are going to do now.
And I hope you've discovered some new ways to create backlinks on social networks that you can click on!
Did you miss any opportunity to build a social bond? If so, share them in the comments!