Hello everybody! From our series of comprehensive guide articles on how to start a blog, we have already learned how to create a blog from scratch. Also, I told you how to choose the best web design. Today we are going to learn the ways to promote your blog.
Blogging has become a very popular activity in recent years. That is why there are many different blogs. So you need to know how to stand out from so many competitors.
Like any other website, a blog should use every possible way: SEO, social media, contextual advertising, link promotion, etc. Today we are going to consider the most effective methods on how to promote your blog and turn it into a source of income.
Blog Promotion Is Just As Important As Blog Writing:
On the surface, blogging seems like it is mostly writing and publishing. But promoting your blog post is just as important as – if not more important than – creating and posting content
You can't just create valuable, high-quality content for your blog and assume readers will find their way to your site to consume it. You should use blog promotion to promote your content so that you can:
Drive traffic from new audiences
Bring back existing audiences
Attract backlinks to your site
Trigger social shares
Lead to opt-ins and newsletter sign-ups
Tried-and-True Ways to Promote Your Blog Posts
Target Popular Search Terms and Phrases
One of the most common ways readers find content is through search. They search for a topic or type a question in a search form and find relevant content. To attract readers to your content, optimize it to attract that audience. Do keyword research to see what the top keywords people are searching for are, and create content to target those keywords.
PRO TIP: To find keywords for your blog promotion strategy, use the Alexa Keyword Difficulty Tool. Enter a term or phrase related to your brand or industry. Next, choose keywords that have a high keyword popularity score (showing that people are searching for the term) and a competition score within your range (showing that your site can rank for the term).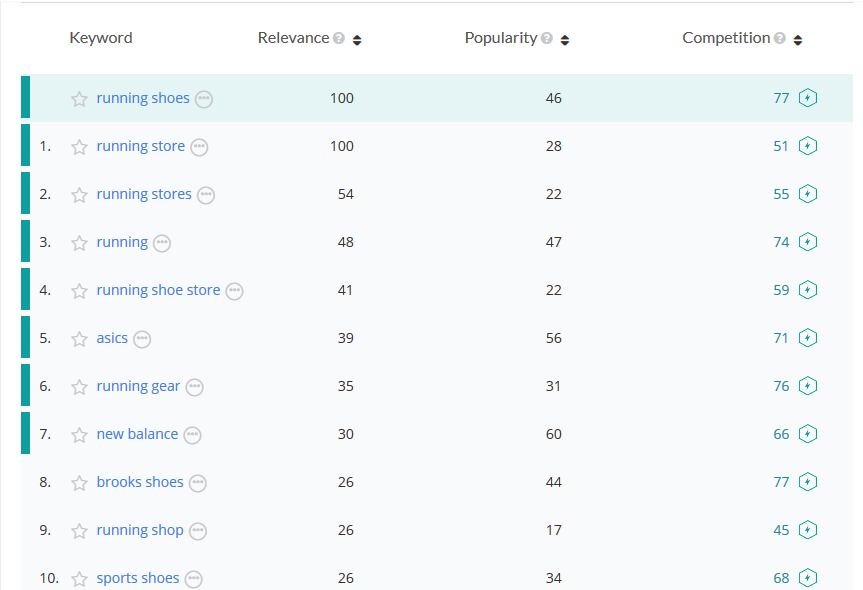 Use On-Page SEO Best Practices
Another way to ensure that readers find your best content through search is by optimizing your site so that your pages are more likely to be ranked. Every page on your website should target the main keyword and use on-page SEO best practices to optimize the page for that designated search term.
Write Regularly
The frequency of the posts indicates how lively the blog is and how seriously you take completing it. This is important to keep readers and find partners.
Once on an interesting blog, the reader is waiting for new articles. If they appear regularly, you are more likely to retain an audience. If the articles are published infrequently, with an indefinite interval, the person will enter several times, see that the blog is not updated, and will not return.
Other bloggers looking for mutual promotion partners and potential advertisers also rate how often new articles appear. If the blog is active, updated, you can collaborate with it.
Create a Content Plan
Content is the foundation of any blog. Without quality content, all the points listed below are irrelevant. Therefore, for a successful and systematic blog, a content plan is always necessary and preferably not.
Everything is extremely simple:
Do a little research;
Collect lists of topics (problems, objections, popular queries);
Form a plan for the month (based on your tasks);
Follow the plan.
It is not necessary to clearly act according to the plan, but a 1-2 month supply is mandatory.
If there is no good content, no promotion will help you. Therefore, you need to convey the right message with the help of different types of articles, differentiate yourself from the competition in the niche, and also have a call to action.
Popular types of articles:
Guides
Reviews
Advice
Interview
Infographics
Video lessons
News, etc.
If you follow at least the types of articles described above, you can get a good result. The main thing is to act, experiment, and observe what your target audience likes the most.
Leverage Search Engine Marketing
Focusing on improving organic SEO will help promote your blog and eventually attract more readers to your site. But when you're just starting out with SEO, it can take some time to organically improve your rankings in the SERPs.
In the meantime, you can pay to get your content at the top of search pages. By using search engine marketing (SEM) and pay-per-click (PPC) marketing campaigns, you can pay to appear in front of the public and attract readers to your blog.
Implement a Strong Social Media Promotion Plan
Besides search, social media is another main way for audiences to find content online. Social media users browse their news sources and use hashtags to discover blog posts that interest them.
For each blog post, create multiple social media posts on a variety of platforms (focus on the platforms your ideal audience uses the most).
Create custom social media graphics for each post that matches the image specifications of each social site.
Aggressively promote your latest content.
Then continue to promote high-performing content, even when it's old (to get the most out of your content).
Tag any brand or person mentioned in your content (to let them know they were featured and encourage them to share the post).
Encourage social sharing of your posts by prominently displaying share buttons, clickable buttons to tweet, and call-to-action phrases to share on your pages.
Tap Into the Power of Online Influencers
Another way to dramatically increase the visibility of your content is to have a powerful influencer promote it. Influencers are writers, social media personalities, and blogs that already have a loyal following. These outlets have readers who actively participate in the content they share.
To get additional exposure for your content, develop an influencer marketing strategy. You can implement this blog promotional tactic in a number of ways.
Invite influencers to post on your blog. When influencers write a post and then share it with their audience, you drive the audience to your site and introduce them to your brand and other content.
Ask social media influencers to share your content through their social media. If a social media profile has a large following, getting your content shared can drive a substantial amount of traffic to your site.
Make digital PR outreach a part of your marketing strategies. Post exclusive, very high-quality content (such as proprietary data or detailed resources) and contact authorized websites to see if they are interested in covering your content. If your content is valuable enough, other sites will write about it, link to it, and drive traffic to it.
Be authentic and return the favor. When reaching out to influencers to help share your content, remember that it's not just about you. Relationships must be mutually beneficial. Offer to write for their blog, promote their work, and ask them to return the favor. Form authentic relationships with influencers. Don't try to use them just for your followers.
Internal SEO optimization
Probably the most important and effective way to increase the ranking of your website on the network is SEO. The higher you are at the TOP of search engines, the more views you will get. As a general rule, a person looks at the first 2-3 links above and finds the information they need.
Search engine promotion begins with internal blog optimization. What to look for:
Website loading speed. The recommended time is 2 to 5 seconds.
The structure of the blog. Articles should be grouped by topic so that readers can quickly find the information that interests them.
Widget to display new articles.
Adaptation of the blog for mobile devices.
Optimization of articles for search queries.
The text must have a certain structure, bulleted lists and titles.
Use keywords. There are special services for this. Register at least one keyword in the Title, H1 and in the text.
Summing Up How to Promote Your Blog
I hope this entire article has taught you how to effectively increase your blog traffic to a desirable point. I suggest that you use all of my tips as possible. Remember that to promote a youth blog you must do everything possible. At this stage, you invest a lot of your time and creativity.
If you still have questions about how to promote your blog, write in the comments. In the upcoming blog starting articles, I'll tell you about other blogging tips to increase blog traffic, free image resources, and more on blog post SEO. Keep touch!