You don't have to use all your connections to find the person's email address.
You don't even need to spend a considerable amount of time, money, and effort on it.
All you need to do is find your perfect email search tool or method.
And we will help you with that!
Here is a detailed guide that contains multiple ways to find email addresses, from simple to advanced tools. It will be useful to everyone, especially sales professionals looking for leads and marketers looking for potential partners and media.
Option 1: How to Find Someone's Email Address Using Email Lookup Services (Free)
There are so many options to find email addresses using services in 2022 that you can get confused when choosing. But do not worry. To make your life a little easier, we have selected several free tools that we recommend, for all tastes and pockets!
Free email address lookup
If you don't have the names of the company representatives you're interested in, you'll need to find out more about them first.
Use Crunchbase.
This website will help you find facts about digital companies and startups with a detailed list of names and titles of key people around the world. While you don't get a mailing list, there are links to LinkedIn and Twitter profiles.
Just type the company name in the Current Organization field and get a list of key people and information about them.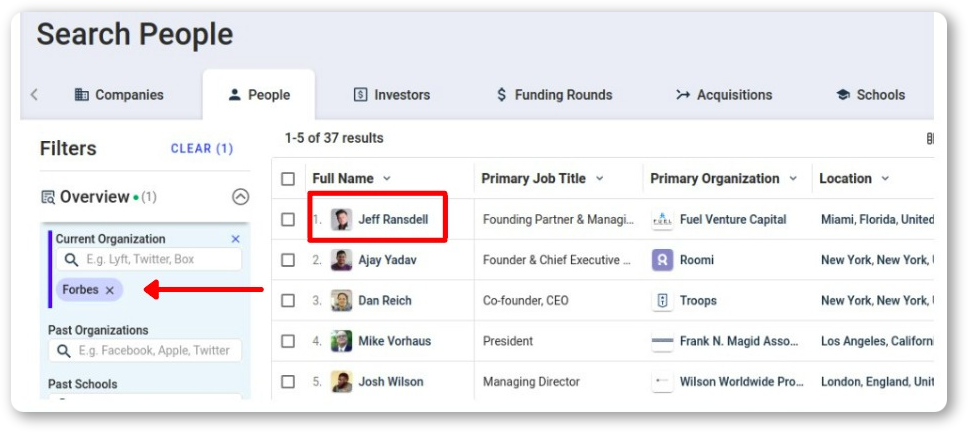 Click on their name, get an overview of them, and find links to their social media accounts.
When the names of the employees of the company you're interested in are in your hands, you can turn to search generators like Email Address Guesser.
All you have to do is enter First Name, Last Name, and Domain and you'll get a list of possible email address combinations of leads you're on.
Also, you can use a similar email guesser: Email Permutator. Same functionality with a cute design!
Option 2. How to run free address lookup with DuckDuckGo
Surprisingly few people know about this contact search method, but it is very good.
Searching for an exact match for "@domainname.com" on DuckDuckGo will return results for any public email address attached to the domain.
You can include your prospect's name in your search if you want to contact someone specific or just do a domain search.
Note: this trick can work with other search engines like Yahoo! but it won't work on Google and Bing. The reason is that they use "@" for social media tags.
Option 3. How to find someone's email address using WHOIS data
WHOIS data is used in domain registration and is publicly available, providing information about who owns the domain. By law, anyone who has a website must provide their contact details.
Just go to namecheap.com, who.is, or mxtoolbox.com and search for the email domain you are looking for.
Note: This option is more suitable for small sites, something like author blogs. If you use WHOIS to find contacts from larger sites, you may not get what you're looking for. One person can buy this domain and give it to their team to use.
Option 4. How to look up email addresses with Google
Yes, we mentioned earlier that exact match domain search won't work on Google, but that doesn't mean you can't find email addresses with its help!
This is how the free email search works: try typing the person's name and add the words "email", "contacts" or "contact us". If you know their website, start a Google search by typing "site:site_name and name".
There are a few other handy search queries:
[firstname] [lastname] email
[firstname] [lastname] contact
[firstname] [lastname] [company] email/contact
[firstname] [lastname] email/contact site:[domain.com]
Option 5. How to find someone using Twitter Advanced Search
This method works great, but it's not always effective, as many of your potential customers may not post their personal information on their Twitter profiles.
You can check to see if the prospect you're looking for has left tweets mentioning their email address using Twitter's Advanced Search. Some of the search terms may include  "email," "reach," "contact," as well as "at" and "dot."
Option 9. How to find someone's email on Facebook
On Facebook, you can often find descriptions and posts like "If you are interested in our job opening, write to the head of the department at [email protected]." They also mention specific employees, which are automatically linked to their Facebook profiles.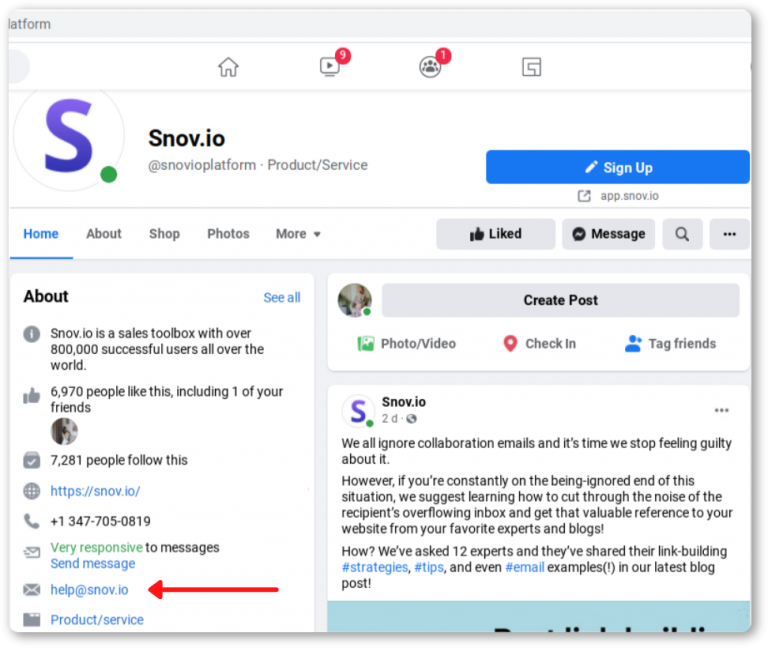 Option 10. How to find contacts with HARO
HARO is a free service that allows you to get answers from industry experts to questions that matter to your target audience. But how do you get email addresses with their help?
It is very simple. Ask a question on HARO and all proposals will arrive directly in your inbox.
Wrapping up
Is that! Now you know 7 useful ways to find someone's email address. Try different options and find the one that best suits your needs.
It's worth noting that of course, the best trick here is to use email locators (we might be a bit biased here). Because? Most of them also provide email verification which can keep you out of trouble.