Is your content a mess? It may be high quality (it may not be), but that doesn't mean it's organized. It also doesn't mean you're producing all the right types of content your readers want to see.
Most online companies that use content marketing have weaknesses in their content. Either the content doesn't work as well as it might or they're missing content for certain topics and keywords.
And that includes good deals too, so don't feel bad if you don't think your content marketing is as good as it could be. Instead, acknowledge that this is an opportunity to further improve your content marketing processes.
So how do you find these weaknesses?
As you may have guessed, you find them with a content audit. A content audit helps you evaluate your current content and shape your future content strategy.
Step To Perform A Content Audit On Website
In this post, I'll show you a five-step content audit that you can take (although there are many other effective content audit processes).
Step 1: Generate A List Of All Your Content
The first thing you should do is take stock of what you have. You want to compile a list of URLs and place them in a spreadsheet.
If you have a small website, you can do it manually, but otherwise, I suggest you use software like Screaming Frog to generate a list.
The free version will track up to 500 links on one website. Therefore, as long as your website is small, it will be fine. Otherwise, you'll want the premium version, which is worth the investment for any serious marketer.
Enter a start URL in the text bar at the top of the tool and press Start: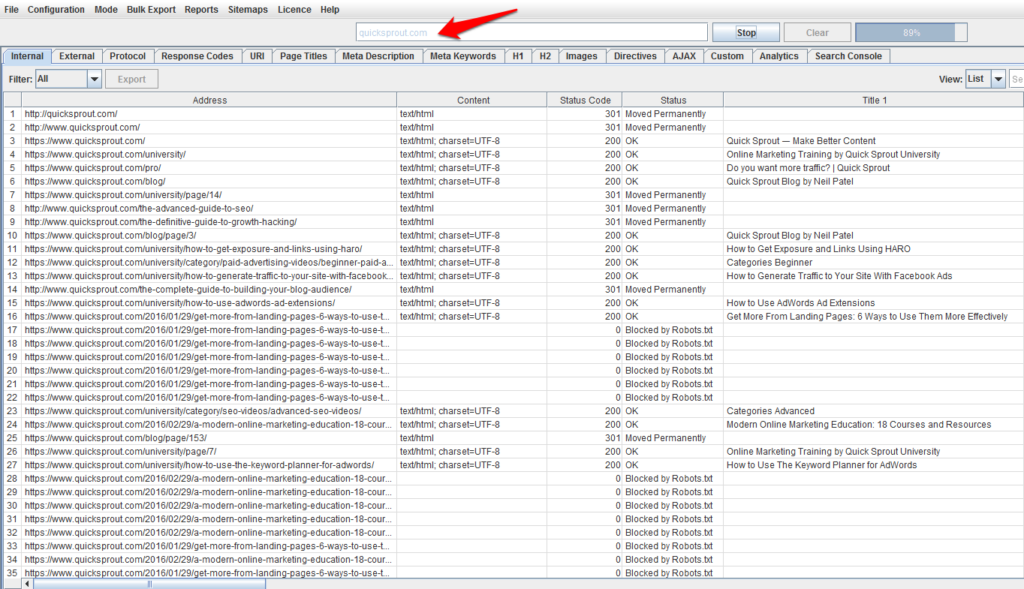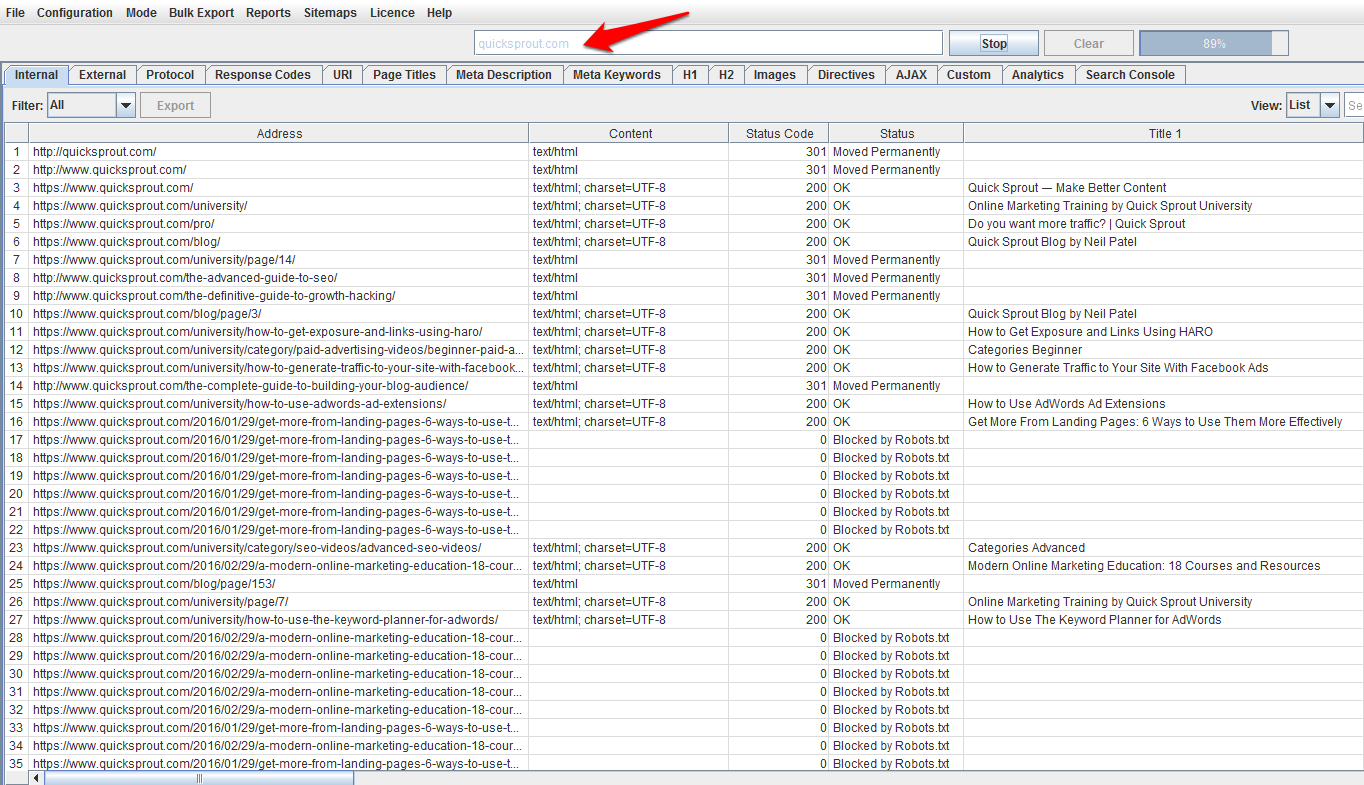 You cannot configure the options in free mode, but the default values ​​should be fine.
When it's done, set the filter to HTML and export the results. From this list, you want to keep all URLs with a status code of "200".
If you find that many URLs are missing, which is possible if your internal link is not good, you can use another option, like a sitemap generator.
If you use the tool I just linked, enter your start URL again and the tool will crawl up to 500 pages: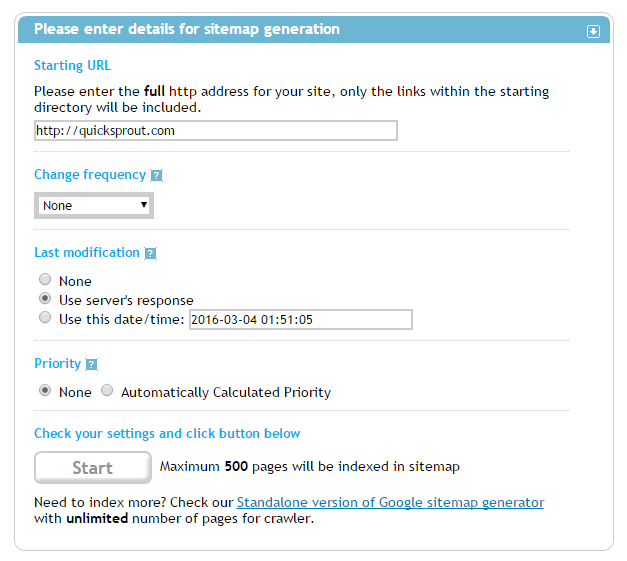 You can copy the results and paste them into a spreadsheet. You may need to clean them up a bit, but it will work.
Step 2: Retrieve Metrics, And Categorize The Content
Now that you have a good idea of ​​what you have, it's time to find out how it's working.
Just because you have an article on "SEO for cats," which is a topic you want to address, does not mean that the article is receiving traffic or doing something with the traffic received.
Low performance content will be the first major weakness we will identify.
Below is a list of metrics that you may want to collect. Add a column to your spreadsheet for each one. Feel free to add other important people:
Content Title: You can extract this directly from Screaming Frog.
Title Length: You can also get this from Screaming Frog. Use it as a quick check for excessively long titles. Remember that it must be between 55 and 60 characters to appear fully in Google.

Category: Write down the topic of each page.
Top Keyword Ranking (if available): If there is a keyword you are targeting, please record your ranking from now on.
Search volume for the main keyword: A metric that will help you prioritize your SEO effort in the future. Get it from Google AdWords or any keyword search tool.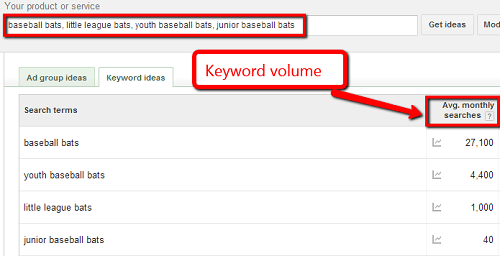 Average organic search traffic per month: get it from Google Analytics. Go to "Behavior" and choose the page. Then add a secondary "source" dimension and search for traffic data with Google.
Average monthly traffic per month: retrieve it in Google Analytics. Record the total number of traffic going to "Behavior" and choose a page. Observe a period of at least three months, when possible, and calculate an average.
Meta Description: Your meta description can also greatly affect your CTR. If your traffic seems too low for the typical monthly search volume, you can optimize your meta description to attract more clicks. You can also get this from Screaming Frog.
Organic search traffic bounce rate: again, go to "Behavior", pick a page, and add a secondary font dimension. See the bounce rate metric next to the Google row.
Average organic search traffic page time: use the same report as above, but get average page time.
A number of backlinks: Backlinks are a critical part of the ranking. Use a link database tool, such as Majestic or Ahrefs, to get the number of backlinks for each page (it can be done in bulk).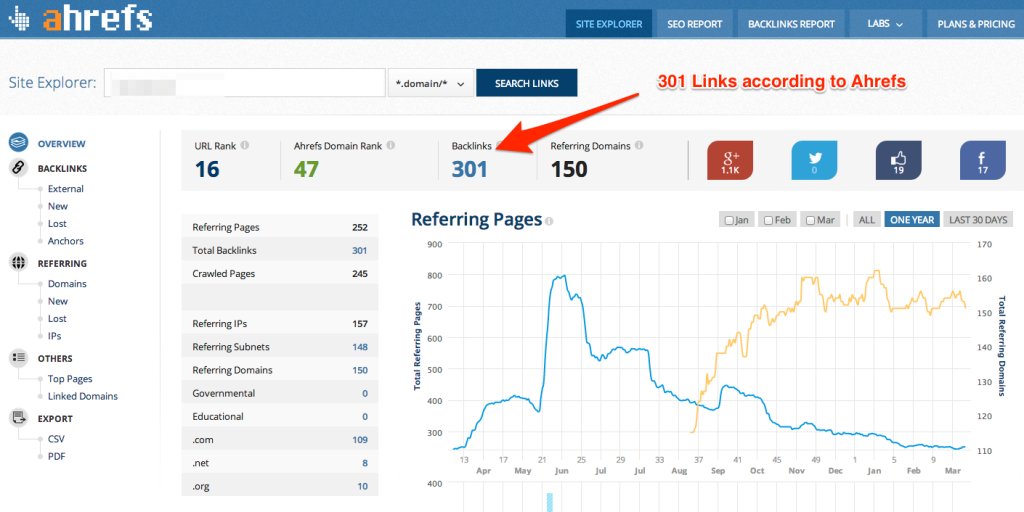 A number of Linked Root Domains: You should accomplish this by getting the number of backlinks. It tells you if the backlink numbers are inflated (that is, 10,000 backlinks for a domain).
URL Ranking: Different tools have different metrics (for example, MozRank for OSE, URL Ranking for Ahrefs) to assess overall link quality. Get one to get a rough idea of ​​the authority of your page.


If you plan to do multiple content audits or are working on a very large website, doing all of this manually would be crazy.
It's easy to do everything at once, like collecting Screaming Frog numbers.
But all other actions can also be done in bulk (and automated) with a little technical knowledge.
Hire a developer to create a simple tool that extracts all that data from different APIs and saves hours of work.
Step 3: Create An In-depth Reader/Customer Profile
Let's move away from your actual content for this part and focus on your target audience.
This step has two parts.
Part 1: Identify Your Reader – It's a rule of thumb for any marketing: Create things that interest your target audience. This applies to social media marketing, content marketing, SEO … and so on.
But to do that, you must first determine who your reader is.
Part 2 – Determine What You Are Interested In: Now you can start learning and understanding what you are interested in.
You discover this by researching demographic (age, gender, etc.) and psychographic (what they believe) data.
Here is a good introductory guide to walk you through the most important demographic and psychographic information.
After doing this, you should have an fleshed out reader avatar.
Part 3: Use those Interests to Identify Topics and Keywords: Once you understand your target audience (be as specific as possible with everything), it's time to translate that into the content.
A good place to start is to use basic keyword research tools. After that, use these advanced keyword research methods to find even more keywords and topic ideas.
You should record all of these keyword ideas and topics in another spreadsheet, with all the search volume data they have.
Please note that you are not limited to only those content topics. By your knowledge of the reader, you may know that you are interested in something that cannot be searched.
You can still add these topic to the list; you just need to get traffic from other sources than the search engines.
Step 4: Conduct a "Gap" Analysis
Now, we have two spreadsheets:
One with all your current content (and metrics)
One with all the content (or content ideas) that your target reader is interested in
It is time to look at them together.
Area 1: see the missing content – this needs to be done manually and it will take a while.
Start by associating these keyword and content ideas with the content you already have.
Basically you are copying the entire row from the first spreadsheet created and pasting it next to the corresponding keyword.
What you'll find at the end, in almost all cases, is that for some of the content / keyword ideas, you don't have any matching content.
This is a clear problem: you have a gap.
Obviously, you'll need to fill in those gaps, but we'll cover that later.
Area 2: See what content is not performing– I mentioned this briefly before. If your current content doesn't generate traffic, it's as useful as it is missing.
This is not good enough.
The challenge here is to identify this underperforming content.
Unfortunately, there is no specific formula that I can provide here.
It all comes down to what you think is good. For some sites, getting 200 visitors a month in content is horrible, while for others it's great.
In addition to the absolute amount of traffic your content receives, you should consider two other main factors:
Your search ranking
Your potential search traffic
If a page is ranked 4-10, it is not receiving much traffic. However, with a little extra work, you can easily rank it in the top three and get more traffic. But you should also consider whether it is worth the effort.
If the keyword receives a few thousand searches per month, it probably is. If you get 20? Probably not. At this point, you want to highlight which content doesn't get much traffic.
Next, we are going to put everything together.
Step 5: Create Your New Content Strategy
The last step is to create a content strategy that addresses all the weaknesses identified so far. And that requires a lot of manual work and careful consideration.
Step 1: Create a column for the action – it's time to add another column to your spreadsheet. I suggest adding it from the beginning.
In this column, you will add a final label that reflects the corresponding action you want to take on it. Again, choose the labels you want, but you can use them if you want:
"Leave": Post works fine, no changes required.
"Create": A standard label for any content idea that needs to be completed.
"Merge": Sometimes you can have more than one content for a topic (this happens if the content is not well organized). In general, it is better to combine these elements into a better version.
"Improve": If your content is underperforming, you should improve it.
You will have to analyze each idea, one by one, to do this.
Step 2: Create a Priority Column – There is a final column that you need to create. Place it next to the action column.
Some gaps are bigger than others. It makes sense to fill those big spaces first and get to small ones only when you have time.
Here, you will assign each action (except "exit") a priority of 1 to 10 (10 being the highest). You should be aware of what we consider SEO traffic potential.
If the content has the potential to generate a ton of new traffic, it is given a high priority and should be edited or created as quickly as possible.
Finally, create a list of actions: Now that your spreadsheet is complete, sort all actions according to your priorities.
Then plan your content marketing goals, tasks, and resources so you can start filling those gaps one by one, in order of priority.
Conclusion
No collection of content is ever "complete", there will always be some gaps.
Perform a content audit regularly and identify your biggest weaknesses.
It is a lot of work and leads to even more work (action on your results), but it is an extremely effective way to constantly improve the results of your content marketing.