As online competition continues to grow and new sites are launched, it is time to rethink your content marketing strategy and invest in SEO. Websites must meet the specific requirements set by search engines such as Google, and this is where SEO strategy becomes very important.
You should know what SEO trends are on the horizon to properly update your site and ensure that more potential customers and clients find it in the search engine results.
So let's dive into the 12 Hot SEO trends.
1. Snippets Dominate More Search Clicks
Google has evolved in recent years to provide a better search experience for the user, such as Featured Snippets.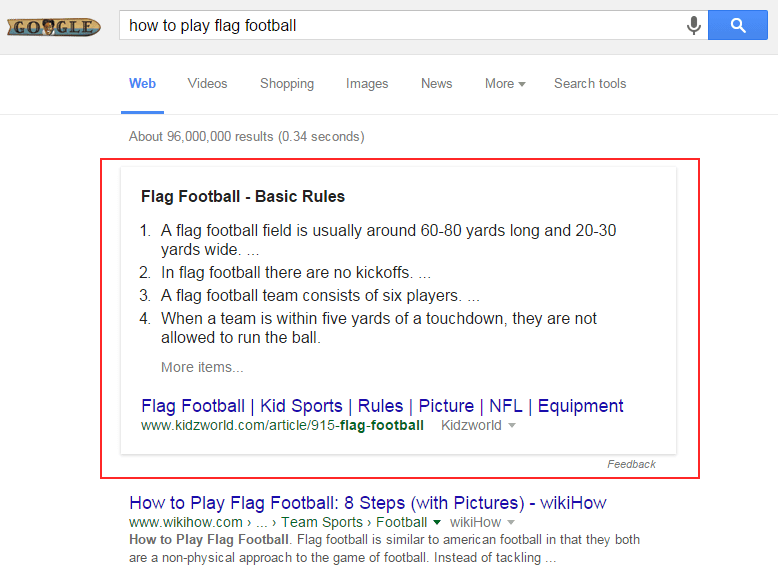 Featured Snippets generally appear on organic result number 1, commonly known as "Position 0".
To take advantage of this feature and generate more clicks on your site, you must provide clear answers to frequently asked questions on your site. Featured Snippets are ranked and rise to the top, based on the quality Google has to determine. Don't take this trend lightly, since 54.68% of Google clicks come from featured snippets, proving that they generate more than half of search engine clicks.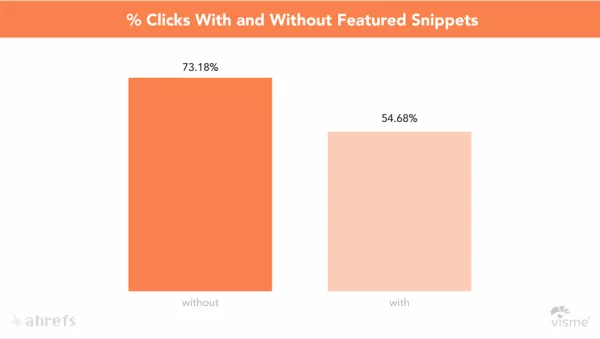 Featured Snippets are a great opportunity for creators because they offer the ability to generate more organic traffic even if you are not at no. 1.
2. The Influencers Must Be Leveraged For SEO
People often feel overwhelmed by intrusive advertisements and look for information they can trust and authentic criticism. This has led to an increase in influencers marketing. People are much more likely to interact with a respected and known person than with an ad.
Digital marketing specialists and media companies are increasing their influencer marketing investment because it has produced excellent results. According to Linqua, "39% of sellers increased their influencers marketing budget for 2018" and 30% of online sellers spent between $ 25,000 and $ 50,000 on influencers' marketing.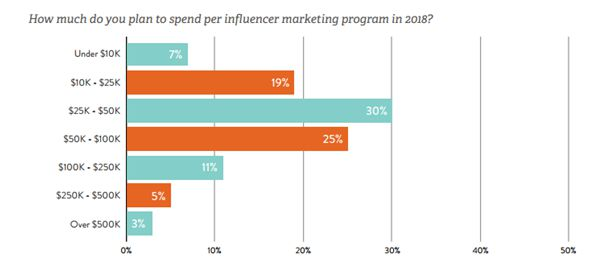 At first glance, you may wonder how this refers to SEO.
Hiring or partnering with an influencer can help expand the reach of your content and attract even more traffic to your site. They can also help you create valuable backlinks. As you know, backlinks are one of the most important factors that Google uses when evaluating the rank of a web page.
When developing your influencer's marketing strategy, consider what type of content you want them to create and how they can link to your site. And don't forget to partner with influential people relevant to your industry and your audience. If they are authority figures with a strong digital presence, their backlinks can be golden.
If you invest in influencers' marketing, it not only improves brand awareness and leads but also increases the ranking of your search engines.
3. Secure Sites Are Required
User security is another trend that seems to have little to do with SEO, but it is very important for the user experience of the site. If a user does not feel safe visiting a web page, they are likely to leave quickly. Or, if they see an "Unsecured" warning, they may decide not to continue with their page. As a result, high bounce rates can affect the position of this page in the organic search list.
It is important to enable the HTTPS protocol for your site. HTTPS offers site users a secure connection that is encrypted and authenticated. According to Google, HTTPS "helps prevent attackers from breaking communications between their sites and users' browsers."
Google wants to provide its users with a safe browsing experience so that those who implement HTTPS can experience a slight increase in SEO.
If you are trying to collect personal information from your users on your site through a web form, it is your responsibility to protect your privacy.
It is extremely important to ensure your users that their data is protected while they remain on the page.
There are still many vulnerabilities on the web, but every day there are new security measures that can be implemented on your site.
4. Website Optimization For Voice Search
Before there were innovative smartphones, people searched by inserting words into search engine boxes on their desktop computers. The keywords were born from this behavior. With the increasing use of mobile devices, voice search is becoming a popular trend among Internet users.
These searches are not only performed on phones but can also be performed on home voice assistants such as Amazon Echo, Samsung Smart TV, Voice Pod, etc.
Knowing how to optimize your site for voice search can help generate more organic traffic if you understand and implement a conversational search in your SEO strategy.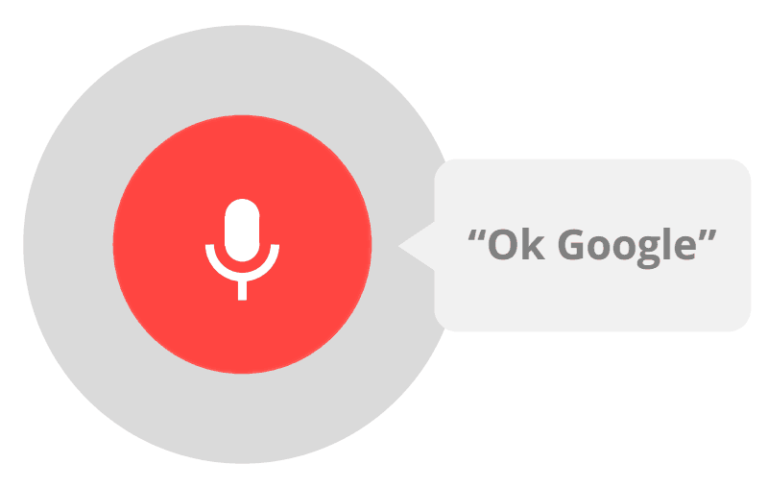 But how does voice search change SEO?
Voice search has a great effect on SEO since it involves asking questions by voice instead of entering search queries. Later, the terms became more conversational and specific.
However, when using voice searches, the search engine must do much more work to obtain the relevant information that the user is currently looking for, making unstable and short keywords no longer important.
This change is imminent considering that by 2022 it is expected that more than 50% of all Internet searches will be initiated by voice. Therefore, your content must adapt to this new trend to stand out in today's search engines.
5. Mobile UX Will Determine Your Ranking
A site that does not have a mobile version can lose most of its users in the coming years since mobile web pages are a growing trend that will become even more popular. Especially as more people around the world, They are becoming more popular. Smartphones and more cell phone towers with better connectivity are being built.
However, the technology and how people find information through their mobile devices is so advanced that it is not enough to have a mobile site: the interface must be easy to read, capture people's attention and then have the ability to answer questions or at least keep them entertained.
Studies show that 4 out of 5 consumers perform local searches on search engines using their mobile devices. And as you can see below, searches on smartphones are 88%, while searches on desktops and tablets add up to 84%: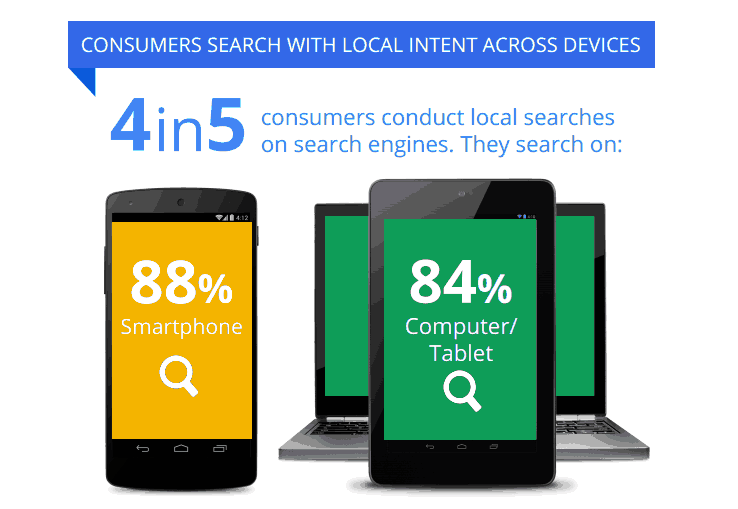 As more people search their smartphones than a computer, it is important to have a mobile version so that your site reaches the majority of people interested in your product.
Your pages must be optimized for mobile devices if you want to keep up with your competitors. And keep in mind that the higher you are on the Google mobile page index, the more prominent your page will be.
6. Videos As A Source Of Information
Just as voice search is becoming much more popular, Internet video is also increasing exponentially. Studies by Google and other organizations show that 6 out of 10 people prefer to watch videos online than television. In many ways, it seems that YouTube has become the new TV.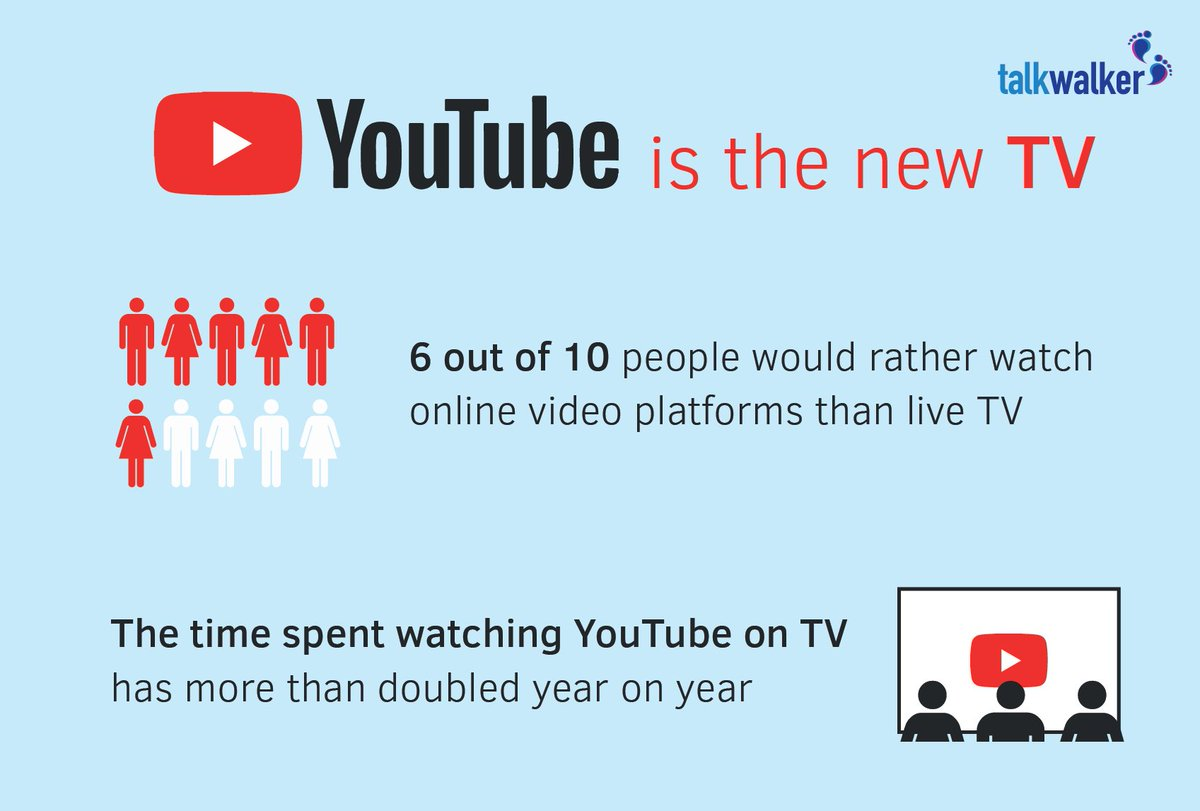 Internet users today, especially young people, prefer information through online videos, either for academic purposes or for entertainment purposes only. That is why the implementation of online video should be on the radar for most companies. Quality video can attract many users if it is dynamic and does not put viewers in sleep mode.
But how does it affect SEO?
To reach more people with your videos, you must optimize them for search users. To do this, use the appropriate keywords in the description and title of your video, which will ensure that your video reaches most people interested in it.
7. CTR and Dwell Time Will Become Important Qualification Factors
As people get used to extremely fast information and Internet connections, website click rates (CTR) and length of stay (also known as the amount of time a person spends on a web page) before departing) are even more important for the success of your SEO efforts.
Both metrics are important as they show a great perception of web browser satisfaction. The amount of time someone stays on a page or other links that you click on can tell you without realizing, the seller, how interested they are in your content, and if they are finding the information they need.
The greater time spent on a page usually indicates the degree of satisfaction of a person to find what they are looking for. We hope that search engines value your stay more.
One thing to keep in mind is that SEO dwell time is different from CTR because CTR tracks the number of people who clicked on a link based on the number that SERP saw, while the length of the stay is more interested. what people do after clicking on the page, not the number of people who click on it.
8. High-quality Content Is More Important Than Ever
Online ads still work to boost business, but we will see that they will become even more expensive in the coming years. And unfortunately, there is no guarantee that customers will respond to your ads. Ninety-one percent of the total advertising investment is seen for less than a second; This led to an expense of $ 38 billion in wasted digital ads in 2017.
That is why creating high-quality content is an essential element of effective SEO strategies. Users want relevant, useful, and timely content, and that is what Google tends to reward with a higher ranking in search engines. People go to search engines with questions and their website needs to provide answers.
The content must be well-researched and follow a logical structure that facilitates navigation and reading.
Quality informational articles are the only type of content that will increase the popularity of a site and beyond. Online consumers are quick to detect and ignore very expensive web pages or blog articles. According to the "Missing the Mark" report by The Economist Group, "71% of readers say that content that looks like a sales pitch deactivated them."
What people want is to be given educational content in an easy way to digest, such as blog posts, videos, podcasts, infographics, etc.
9. Users Demand Great Digital Experiences
No matter how good your content is, none of that matters if your web page doesn't load quickly or if it has a complex user interface.
It has been shown that Internet users leave a web page if it does not load in seconds, which is a very important factor in the world of SEO. A 1-second delay in the loading time of the page can result in a great loss for your business.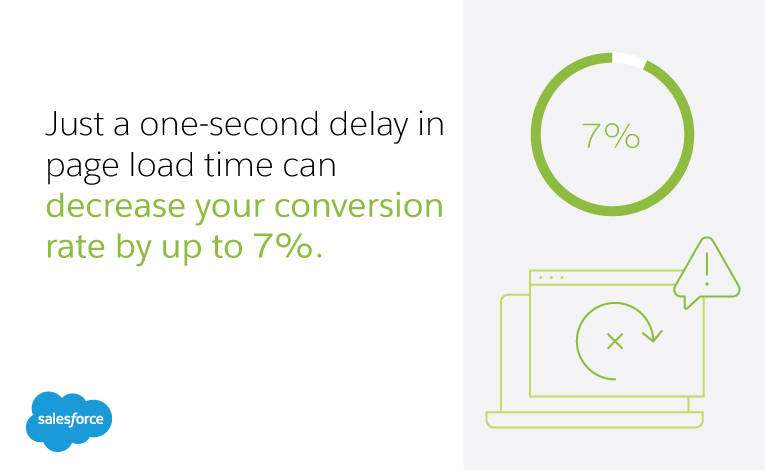 Once the page speed improves, you should also focus on the user experience. Navigation must be logical and easy to understand. Do not use words or jargon unknown to your audience. Even if you think something is creative or intelligent, you should put yourself in the place of the spectator.
Would they understand what you meant in a fraction of a second? Otherwise, they will return from their website and return to SERP. High bounce rates will negatively affect your search rankings.
These factors are the difference between whether your page is in the top positions of a search engine or not.
10. Content-Length Matters
We have already discussed how the level the quality of the content you publish should be increased, but we should also talk about the size. Web pages that contain longer and higher quality content generally get more visibility today. But why is that? Well, the truth is that Internet users prefer to get all the information they need from a reliable source.
Studies have shown that pages with articles of 2,000 words or more often receive more readers than an article with fewer words.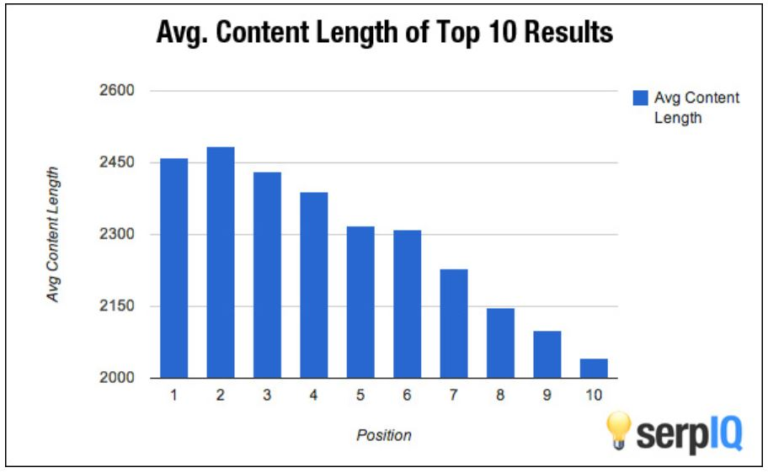 But the high word count alone is not enough: the content must be complete and rich enough to answer all the questions that users have and be able to address the questions related to it.
In addition, the more time users spend on a web page, the more likely Google will reward that page with more organic traffic.
Ideally, you should constantly publish high-quality content so that your site is always running in the eyes of Google and its ranking algorithm.
11. Artificial Intelligence Is The New Norm
Artificial intelligence (AI) is one of the most important technologies today and is being used in a wide variety of industries to create unique and personalized experiences for consumers.
Companies like Google use artificial intelligence to provide better search results for their users. So how did AI become the new norm in Google's algorithms? Let's look at the timeline: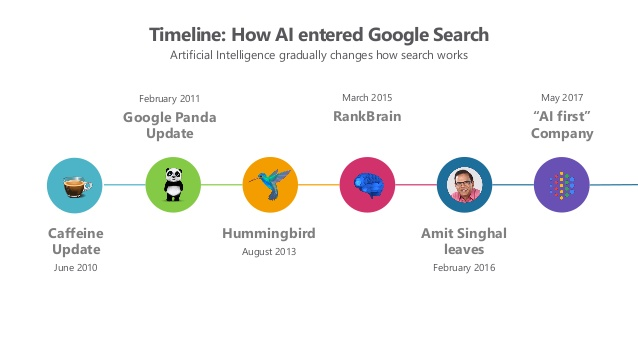 Without delving into the heavy technical aspects, artificial intelligence has progressively learned the characteristics of what makes published articles valuable or not.
Then, AI automatically classifies these web pages and determines their rankings, with very good accuracy. This is already a reality; Currently, companies like Google are applying these technologies.
12. Use Of Other Search Engines
Currently, Google is considered the best available Internet search engine and constantly updates its platform to improve user experiences. But are there other search engines that compete with Google?
While Google is unlikely to lose its popularity, there are other search engines.
Platforms like Amazon require you to optimize your content according to your standards, along with smaller search engines such as YouTube, DuckDuckGo, and Bing.
Therefore, before posting content on your site, make sure it can be ranked well on other search-enabled platforms.
Conclusion
Today, SEO is very important for companies, regardless of the industry. While it's not just about using keywords, it also means optimizing content for users.
After all, Google is a search engine that processes information based on how users behave and is becoming more accurate, which means that new trends appear every year that change the way information is published on the Internet. This ensures that all users can get answers to their questions in minutes (or even seconds).
If you already know these trends, it's great. It's time to reduce them to generate more traffic directed from Google.