One of the most common ways to monetize your website is to display ads on it. Google AdSense is Google's platform that allows any website owner to display ads on their website and earn money from them.
If you want to get more out of Google AdSense or like the idea of ​​making some money from your site, this guide will help you learn more about how Google AdSense works and how to use AdSense on your WordPress site.
How to add Google AdSense to your WordPress website
After installing WordPress and creating a website, you may want to make some money from it. The Google AdSense program is one of the most popular and easy ways to do this.
How does it work?
AdSense is a free program that helps you monetize your site by placing targeted ads provided by Google alongside your site's content.
When someone clicks on the ad, they get paid. Google handles the process of charging all advertisers and networks for the ads, so that you get paid.
NOTE: Before signing up for the Google AdSense program, make sure your site is filled with original and exclusive content and is easy to navigate as Google ads cannot be placed on sites with scraped or copyrighted content.
Step 1 – Google Adsense Signup And Account Activation
Sign up for an AdSense account at https://www.google.com/adsense/start/:
You must enter the website URL and select the language of the website content. If, for example, your site name is nctest.info, the site URL can be nctest.info or www.nctest.info or blog.nctest.info, etc. It cannot be a link to a specific page, post, or directory:
Click Save and continue.
Enter your contact information on the next page. Make sure to enter your name exactly as it is on your bank account. Submit your request:
Read Google AdSense Terms & Conditions and Program Policies and agree to them.
Next, verify your phone number by text message or voice call (this step may not be necessary in all countries):
You will receive a verification code from Google AdSense that you must copy: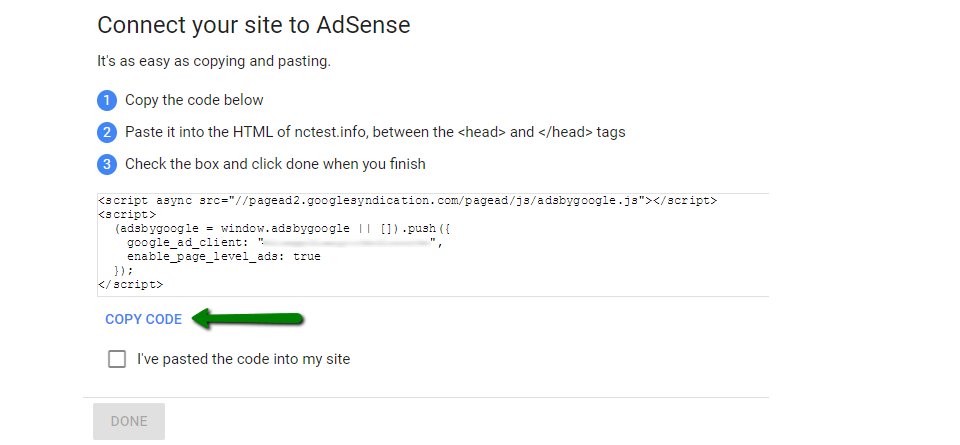 Insert the copied code on your website. There are two ways to do this:
Enter the code manually:
Log in to the WordPress admin panel. Go to Appearance> Editor:

Select your current theme from the Select theme to edit the drop-down menu in the upper right corner. Then choose the Theme Header template (header.php) from the list on the right: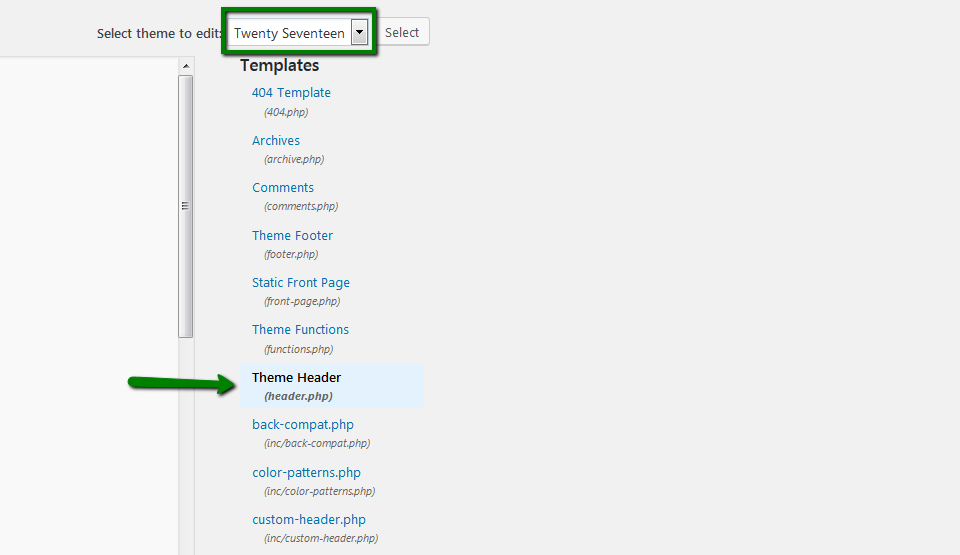 Find the tag and paste the Google AdSense verification code right after it. Save Changes: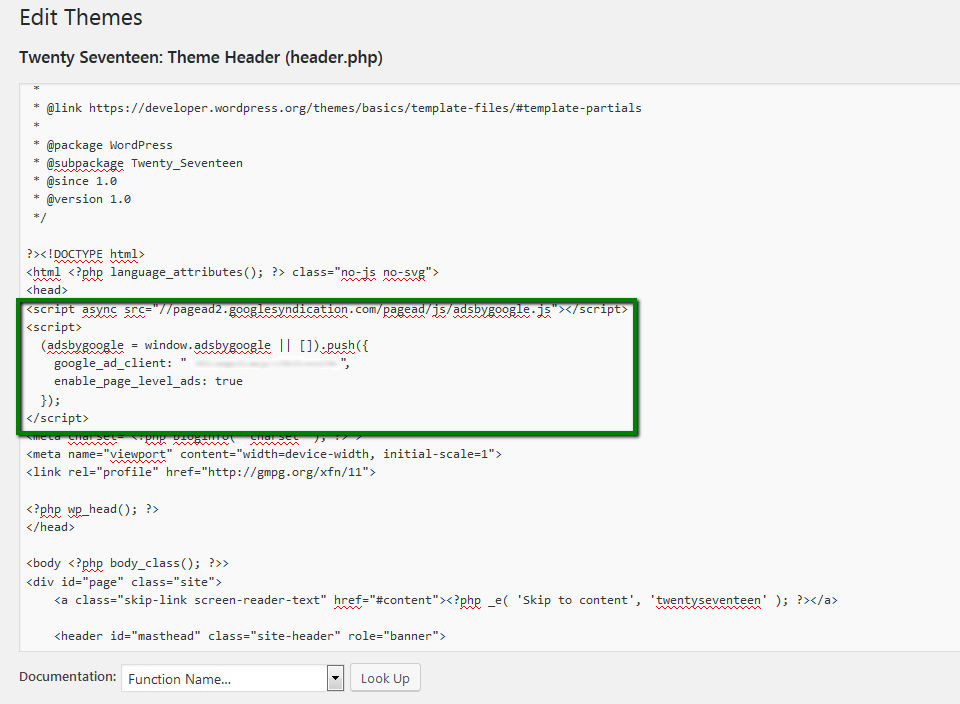 Insert the code using a plugin:
Log in to the WordPress admin panel. Go to Plugins> Add New> Insert Headers and Footers. Install the plugin and activate it: Go to the Settings menu> Insert Headers and Footers. Paste the AdSense verification code in the Headers section. Save Changes: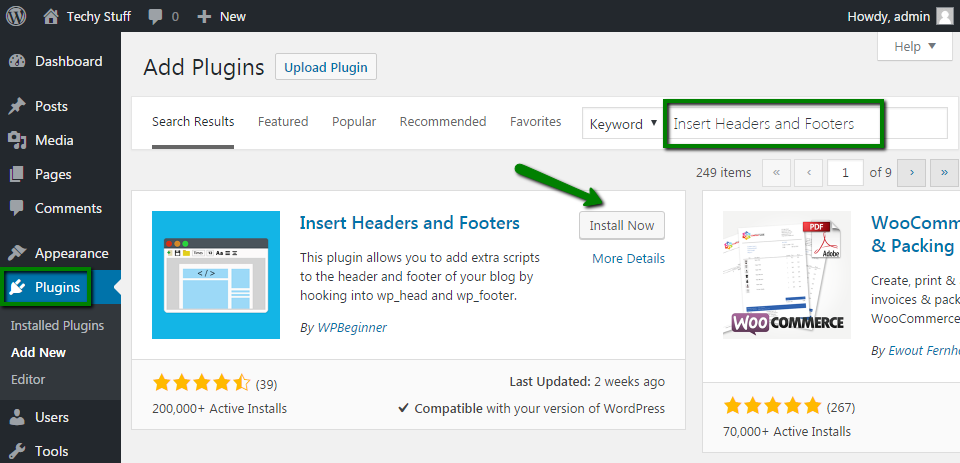 Go back to your AdSense account, check the box to confirm you've pasted the code, and click Done: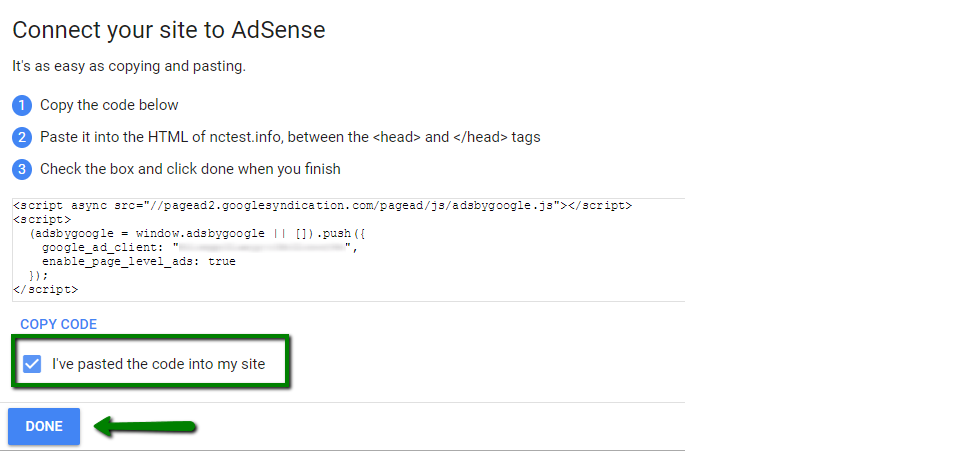 Wait for Google to review your entire site and activate your account. For some sites, the activation process can take a day and for others, it can take up to a few weeks:

NOTE 1: There may be cases where Google cannot activate your AdSense account. If this happens, you will receive an email explaining why. But do not worry! This will allow you to correct the problem and request that your account is activated again.
NOTE 2: The verification code must remain on the website according to Google, so please do not delete it after activating the account.
Step 2 – Creating Google AdSense unit
Once your AdSense account is approved, you will have access to all the options within it that were previously grayed out. Time to create a new ad unit!
An ad unit is a set of ads that are served as a result of a portion of the AdSense ad code. To create the ad unit, follow the steps below:
Sign in to your AdSense account and go to My Ads> Content> Ad Units tab and click New Ad Unit: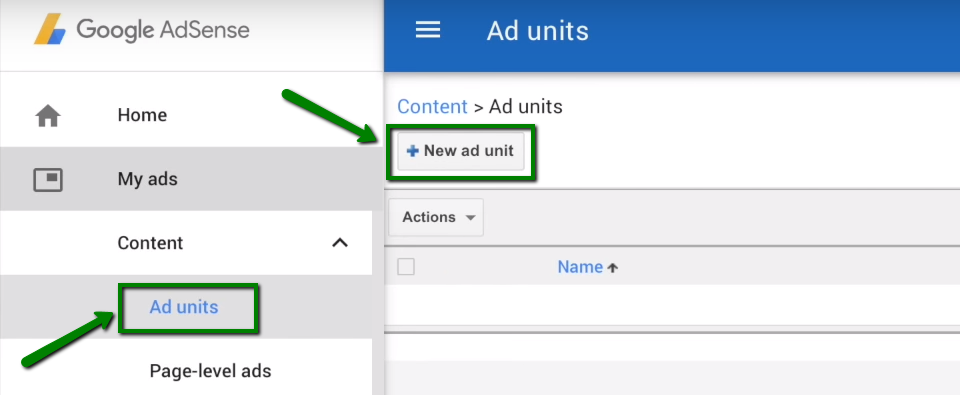 Give your ad unit a descriptive name to help you find it later:
Choose your ad size in the Ad Size section. You can refer to the sample ads provided by Google to help you make the choice:
In our example, we choose a responsive size for the ads, as they automatically adjust their size, appearance, and format to fit any available ad space.
The next step is to select the type of ad that you would like to display on your website. Use the Ad Type drop-down menu to:
Text ads are links with some additional descriptions. Display ads can be simple or animated images that have been shown to pay much more. We chose both display and text ads in our example. There are other types of ads: rich media, flash, video, animated image, audio, link blocks. You can find more information about the different types of ads here.
You can also apply an ad style to your ads if you want to use your site's color scheme: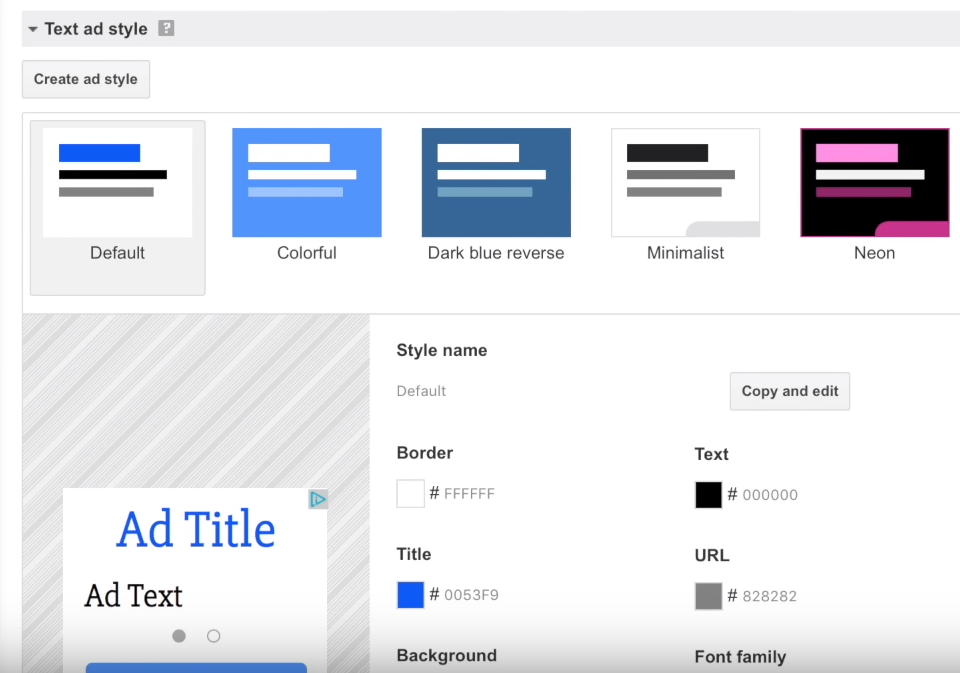 The custom channels menu allows you to set up a custom channel to track your ad unit. However, it is optional.
In the Backup ads section, you can specify what you want to appear in your ad unit if Google doesn't have targeted ads available:
Click Save and get a code. In the Ad code box that opens, copy the AdSense ad code: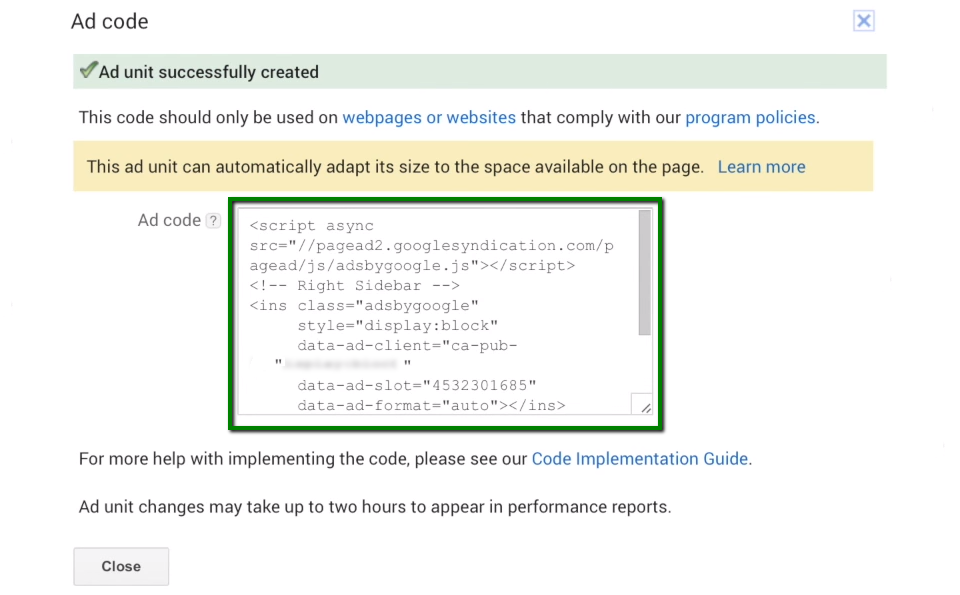 Step 3 – Adding Adsense Unit To Your Website
After copying the ad code from your AdSense account, the next step is to paste it into the source code of your website.
It is possible to insert the ads on some specific pages or posts, sidebars, headers and footers of the website. In this tutorial, we will show you how to paste the code in the right sidebar:
Login to WordPress dashboard and go to Appearance> Widgets:
Choose the text widget from the list of available widgets and drag and drop it onto the blog sidebar area: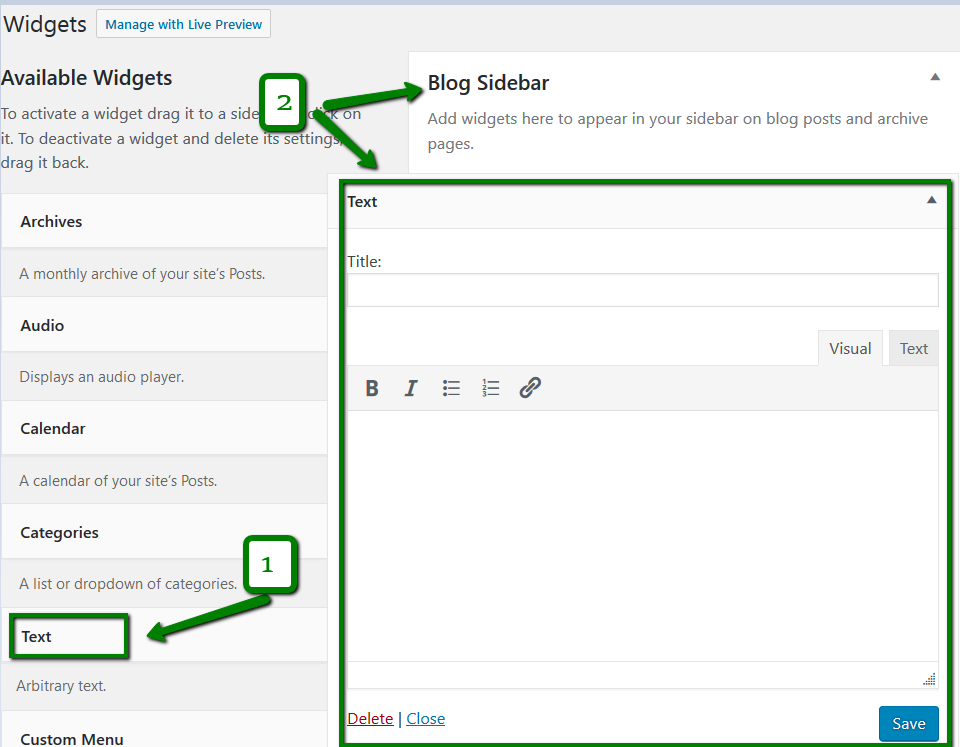 Switch to the Text tab in the Text widget area and paste the ad unit code copied from your AdSense account. Save Changes:
If you have more questions about the Google AdSense program, you may visit their Help Center and check the policies.
That's it!